My Mom makes the best Apple Pie, in my opinion. The crust is super flaky, and the apples inside are fully cooked, perfectly spiced and sweetened, and it is something I look forward to every holiday.
Even though I know I can't possibly mimic Mom's Apple Pie, I thought I would try and make something that at least resembles it.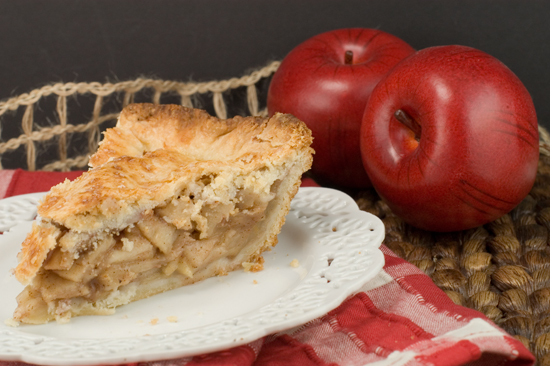 The crust I make is from Cooks Illustrated, and uses Vodka in it. I've made it many times and it is very good. Mom makes her own version, which is also very good. I like the Cooks Illustrated version because it uses the food processor, and I am always looking for a shortcut. I like shortcuts that do not sacrifice the quality of the food. Plus, this dough is very easy for me to handle, without getting so aggravated that I want to rip all my hair out!
For this version, I didn't have any regular vodka, so I used the Smirnoff Cinna-Sugar flavored Vodka I bought for the holidays. The flavor was certainly with the theme of the pie, and in the end you don't taste the vodka anyway.

Print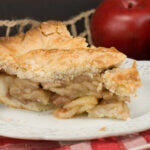 Wicked Easy and Flaky Pie Crust
---
Description
This recipe is for a double pie crust.
---
2

–

1/2

c. unbleached all-purpose flour

1 tsp

. salt

2 Tbsp

sugar

12 Tbsp

cold unsalted butter (

1

–

1/2

sticks), cut into 1/4-inch slices

1/2

c. chilled solid vegetable shortening , cut into

2

pieces

1/4

c. vodka, cold if possible

1/4

c. cold water
---
Instructions
Process 1-1/2 c., salt, and sugar together in food processor until combined, about 2 one-second pulses. Add butter and shortening and process until homogeneous dough just starts to collect in uneven clumps, about 10 seconds (dough will resemble cottage cheese curds with some very small pieces of butter remaining, but there should be no un-coated flour). Scrape down sides and bottom of bowl with rubber spatula and redistribute dough evenly around processor blade.
Add remaining 1 c. flour, and pulse until mixture is evenly distributed around bowl and mass of dough has been broken up, 4 to 6 quick pulses. Empty mixture into medium bowl.
Sprinkle vodka and water over mixture. With rubber spatula, use folding motion to mix, pressing down on dough until dough is slightly tacky and sticks together. Flatten dough into 4-inch disk. Wrap in plastic wrap and refrigerate at least 45 minutes or up to 2 days.
Roll out between two pieces of parchment paper, and refigerate until ready to use.
Notes
I have even got lazy and pulsed the wet ingredients in with the processor, and the crust still comes out flaky and delicious.
This dough truly is easy to work with. I have also found it on occasion to be too moist. If that happens, I just work some flour in to the dough without kneading too much to toughen.
I had quite a few apples I needed to use up (hence the reason for making the pie in the beginning), so I used my trusty Apple Corer/Peeler/Slicer, to quickly peel, core and slice my apples. The whole process takes just a few minutes max, and for me, makes the difference between me making something with sliced apples or not.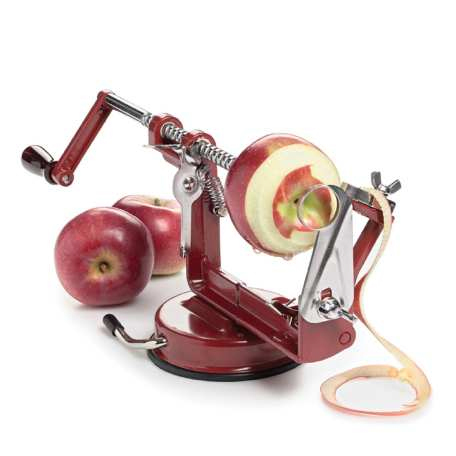 I used a deep dish pie plate, but would recommend a regular plate for the proportions in this recipe. Otherwise increase the apples, flour, sugar, spices etc just a tad to accommodate. If you've ever made an apple pie before, you know that the results will depend on the juiciness of the apples. Sometime your pie comes out perfect and sometime a little too juicy and a little too dry. Unless you're in a pie baking competition, as long as you keep the ratio of the same type and quantity of apples to the dry ingredients, you should have excellent results time after time.
Print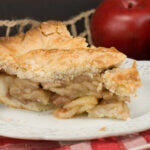 Mom's Apple Pie
---
Author:

Prep Time:

15 mins

Cook Time:

40 mins

Total Time:

55 mins

Yield:

8

1

x
Description
This is truly "Mom's Apple Pie"! Super cinnamon-y and flaky crust. Just what a home made pie should be!
---
7

–

8

cups apples (about

7

–

8

apples)

2/3

c. sugar

1

–

1/2

tsp Apple Pie Spice

1

–

1/2

tsp Cinnamon

4 Tbsp

flour
few pieces butter
---
Instructions
Make a two crust pie dough, and put in the fridge while you prepare the filling.
Preheat oven to 425 degrees F,.
Core, peel and slice 6-7 large apples a put in a large bowl. Add sugar, apple pie spice, cinnamon and flour.
Roll out and line the bottom of a pie plate with one of the pieces of dough. Set the other aside.
Place apples in pie plate, dab with a few pieces of butter, and put second pie crust on the top. Crimp around the edges to seal, cut a few small cuts in the crust to vent, and brush with a little milk or egg. Sprinkle with Sparkling White Sugar.
Bake for approx 40 min. on bottom shelf of oven.
Notes
For a softer, but yet browned crust:
Brush the top crust with a little milk and sprinkle some Sparkling White Sugar on top.
For a harder, but yet browned crust:
Brush the top crust with a little beaten egg and sprinkle some Sparking White Sugar on top.