I got the inspiration for these fabulous Minty White Chocolate Mousse Vanilla Cupcakes from these Peppermint Bark Malted Milk Balls I bought over Christmas. I thought these would be the perfect theme for a cupcake for New Year's!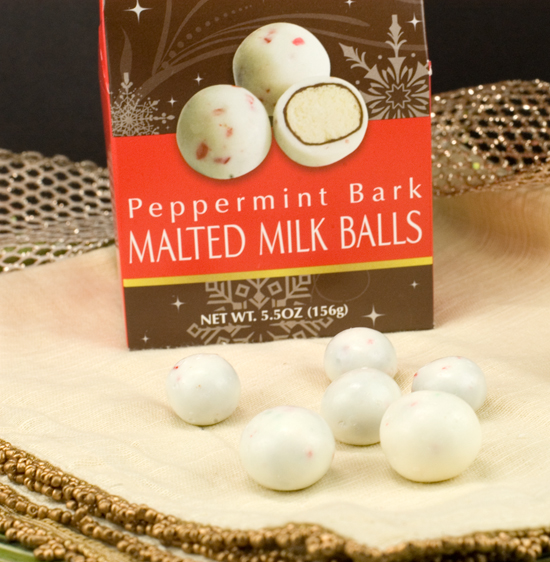 I started with a delicious vanilla cupcake recipe I found on Martha Stewart. 
Then I found the White Chocolate Mousse recipe also from Martha Stewart, and added some mint extract, to give it a subtle mint flavor. Trust me, this mousse is delicious all by itself, but the mint really is delicious especially during the holiday season.
Lastly, I found a great recipe for White Chocolate Peppermint Cream Cheese frosting on the cakemixdoctor.com site, which I thought would be perfect for these cupcakes.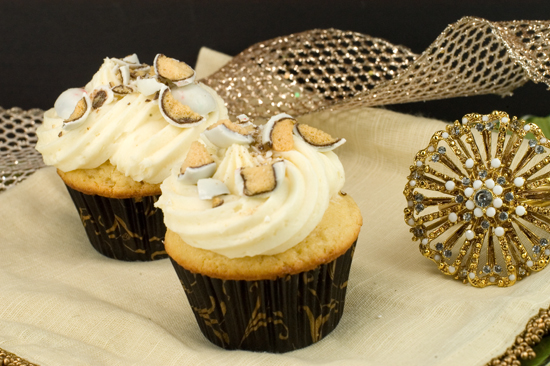 These cupcakes are truly decadent, and you don't want to know how many calories are in them. But to celebrate a special occasion like New Year's, they are the perfect cupcake. And you're only having one, right? Good luck with that one!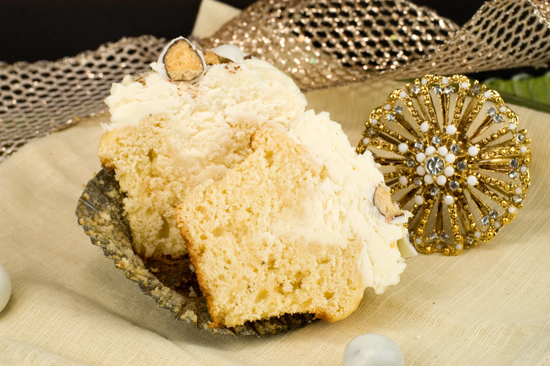 In retrospect, I would make these shortly before you need them. I put some in the refrigerator for overnight, and the mousse filling and icing got too hard (hence the chocolate in them), and although it was really good, lacked the creamy texture mousse and icing should have. I should have had my thinking cap on, as it is reasonable to think if refrigerated, the chocolate will re-harden.
This is what I love about cooking. Every recipe is an adventure. When recipes don't come out exactly as you would expect, you learn why, and remember for the next adventure. And by this you become a better cook, with every recipe you make!
Happy New Year Everyone!
Print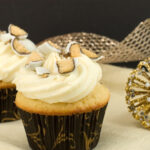 Vanilla Cupcakes
---
3 cups

all-purpose flour

1 1/2 teaspoons

baking powder

3/4 teaspoon

salt

12 tablespoons

(

1 1/2

sticks) unsalted butter, room temperature

1 1/2 cups

sugar

4

large eggs

2 teaspoons

pure vanilla extract

1 1/4 cups

milk
---
Instructions
Preheat oven to 350 degrees. Line cupcake pans with liners; set aside. In a medium bowl, whisk together flour, baking powder, and salt. In a large mixing bowl, cream together butter and sugar until light and fluffy. Add eggs, one at a time, mixing until incorporated; scrape down sides of bowl, and beat in vanilla.
Add flour mixture and milk alternately, beginning and ending with flour. Scrape down sides and bottom of bowl.
Divide batter evenly among liners, filling each about three-quarters full. Bake until tops spring back when touched, about 20 minutes, rotating pan once if needed. Transfer to a wire rack; let cool for 5 minutes. Remove cupcakes from pan, and let cool completely on wire rack.
Print
Minty White Chocolate Mousse
---
1

envelope (7 grams) powdered gelatin

12 ounces

best quality white chocolate, roughly chopped

2

–

1/2

cups heavy cream

1/2 tsp

. (or more to taste) mint extract
---
Instructions
Dissolve gelatin in 1/4 cup cold water, and set aside for 5 minutes. Place chocolate in the bowl of a food processor, and pulse until very finely chopped.
Prepare an ice-water bath; set aside. Place 3/4 cup cream in a small saucepan, and bring just to a boil over medium-high heat. Add gelatin, and stir for 30 seconds to dissolve completely. Pour into food processor with the motor running, and process until chocolate mixture is smooth.
Transfer to a medium bowl and place over ice water bath. Chill until mixture is thick enough to fall from a spoon in ribbons.
Whip remaining 1 3/4 cups heavy cream to soft peaks. Fold into chocolate mixture. Add extract, and mix well. If not using immediately, refrigerate in an airtight container.
Notes
This recipe made "more than enough" of filling for the cupcakes.
Print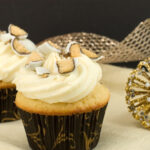 White Chocolate Peppermint Cream Cheese Frosting
---
Author:

Prep Time:

10 mins

Total Time:

10 mins
6 ounces

white chocolate, coarsely chopped

4 ounces

(

half an

8-ounce package) reduced-fat cream cheese, at room temperature

4 tablespoons

(

1/2

stick) butter, at room temperature

1 teaspoon

peppermint extract

2

to

2 1/2

cups confectioners sugar, sifted
---
Instructions
Place the white chocolate in a small glass bowl in the microwave oven on 50% power for 1 minute. If not completely melted, put in for another minute. Make sure to use 50% power as you don't want to burn your chocolate. Remove the bowl from the oven and stir with a wooden spoon or rubber spatula until it is smooth. Set the chocolate aside to cool.
Place the cream cheese and butter in a large mixing bowl. Beat with an electric mixer on low speed until well combined, 30 seconds. Stop the machine. Add the melted white chocolate and blend on low speed until just combined, 30 seconds. Add the peppermint extract and 2 cups of the confectioners' sugar and blend on low speed until the sugar is incorporated, 30 seconds more. Increase the mixer speed to medium and beat until the frosting is fluffy, 1 minute more, adding up to 1/2 cup more sugar if needed to make a spreadable consistency.
Notes
I doubled this recipe for the full recipe of Vanilla Cupcakes, and "just made it" topping cupcakes with a piping bag!
The recipe listed is a single recipe. Double the amounts if you would like to double the recipe.