These hand pies are perfect for lunch time, snack time, anytime… The filling is precooked assuring a perfectly balanced and perfectly cooked filling.
How many times have you gone through all the steps of making an apple pie only to cut into it and find uncooked apples and a watery filling base?

For me, many times…..

As I found out with my Weeknight Scalloped Potato recipe, it's better to cook the potatoes in the cream sauce before putting n the casserole to bake. This assures perfectly cooked potatoes and a the perfect consistency and taste for the sauce. 

Same goes for apple filling. There are too many variables on how apples cook and how much water they hold to get your pie perfect every time the traditional way. And who wants to go through all the steps of making a pie to find out it came out horrible? Not me.

So, whether you're making Apple Hand Pie's or a whole Apple Pie, make sure to precook your apples.

The choice of apples is very important! What type apples you choose can make the difference between applesauce filling and sour tasting apples.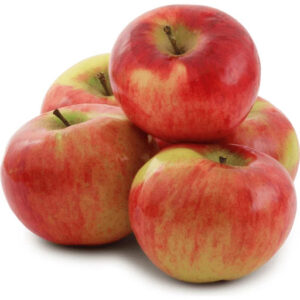 What type apples do I use?

Good for pies and crisps:

Braeburn, Honeycrisp, Granny Smith, Rome or Northern Spy apples.
Bad for pies and crisps:

McIntosh, Gala, Fuji or Red Delicious. 

I use and have always used a mixture of Granny Smith and Braeburn or Rome. I use fewer Granny Smith than Braeburn or Rome, I like the tart Granny Smith mixed in with the Braeburn or Rome apples. The Braeburn or Rome apples hold their shape when baked. 

You will need about about 4 Braeburn or Rome apples and 2 Granny Smith apples this Hand Pie recipe. If you are making a 9 inch two crust pie, you need about 7 Braeburn or Rome apples to 2 Granny Smith apples. 

How are these apples precooked?

Peel and core apples. Cut the apples the same size to ensure even cooking.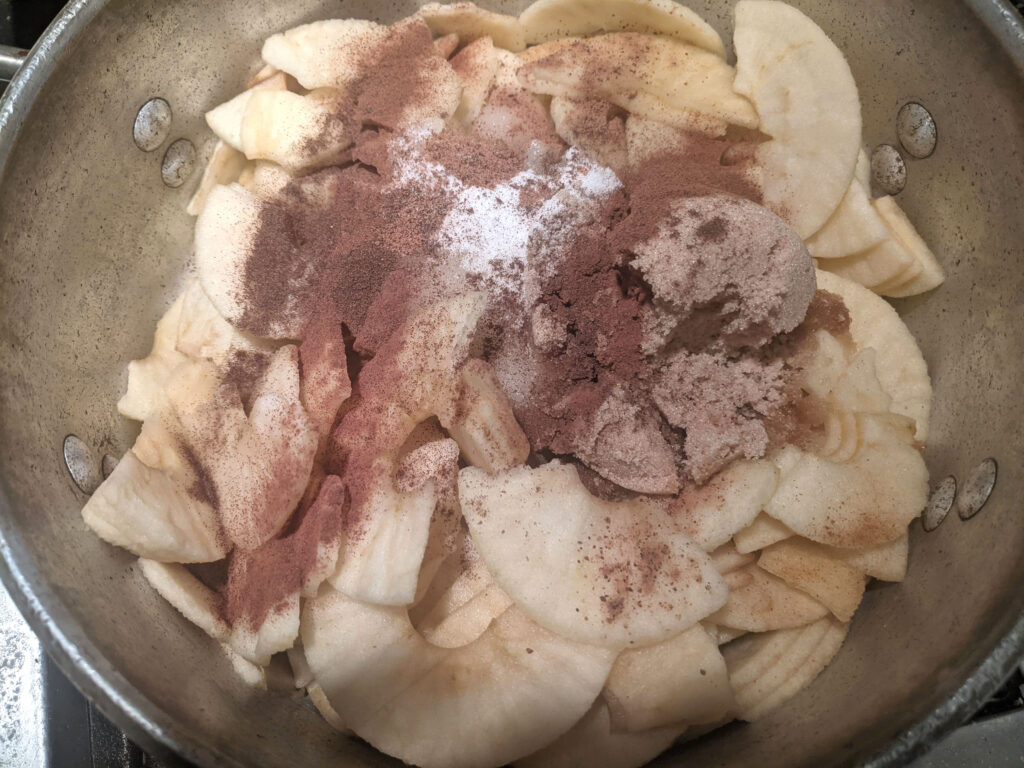 Add butter, spices sugars and lemon.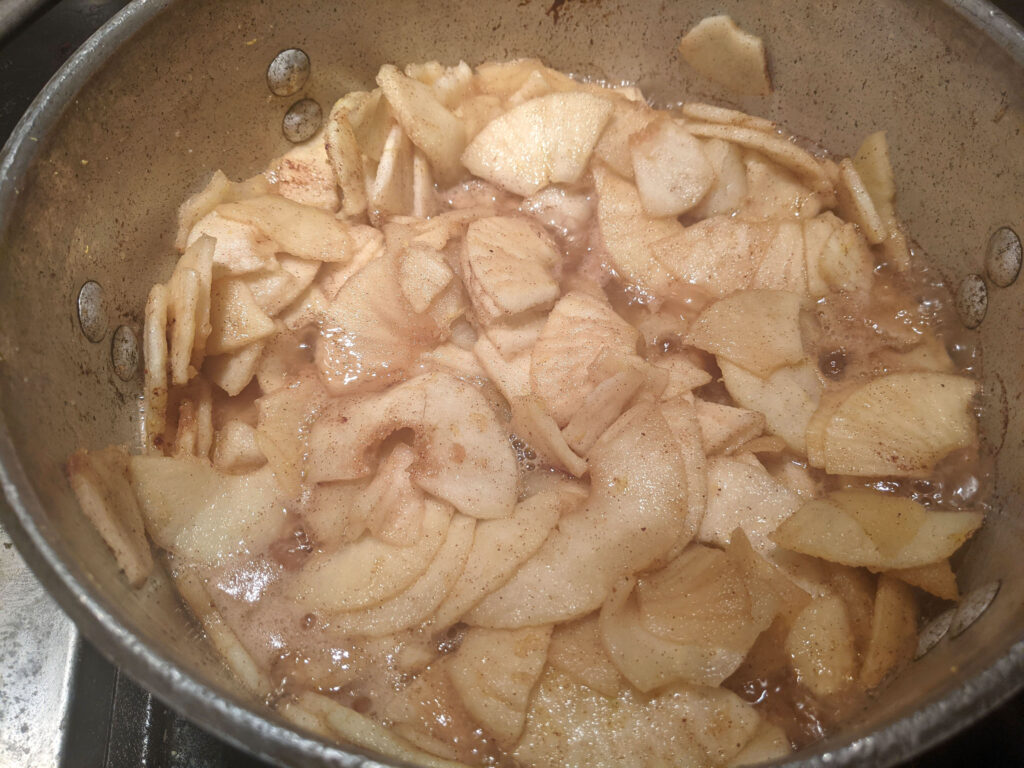 Cook about 10 to 15 minutes. Mix cornstarch in a little water and add to apple mixture. Cool.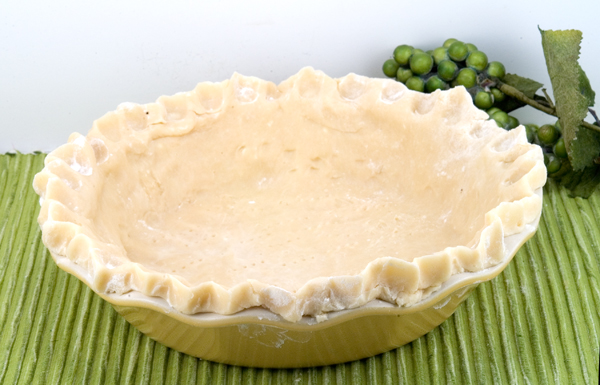 What type of pie crust can I use?

Some people just prefer store bought pie crusts because they are easier and they have no time to make home made. I prefer my Foolproof Pie Crust recipe. But hate the drudgery of mixing the butter into the flour. Until I found this great shortcut using the food processor. I also use vodka in my crust. Vodka allows you to add more water to your dough but keeps it stays soft for easy rolling. The alcohol in the vodka will end up burning off, and you will not taste it in the pie crust. I found this great recipe on America's Test Kitchen years ago, and it's my go-to recipe for pies, hand pies and tarts. Just make sure to allow enough time to refrigerate at least 1 hour before using.

For this recipe, I'm making the hand pies in heart shapes for Valentine's Day. Of course, you can make these in any shape. Round, square, triangles, or any fun shape for a holiday. Star shaped would be fun for Fourth of July, or shamrocks for St. Patrick's Day. This recipe makes two 9 inch pie crust circles. If you are cutting shapes to make tarts, you will need less filling than you will need for a pie. Precooking the apples is a good idea whether you are making a pie or tarts.

How to stop the crust from sticking to my counter when rolling out?

I use precut parchment paper sheets sized exactly to my baking sheets. I put one on the bottom, sprinkle a little flour, put my dough on the flour, sprinkle a little more flour on the top, and then put another parchment sheet on top of the dough. The roll out slightly. I flip over, pull up the parchment slightly to see if it needs any more flour, and continue rolling out.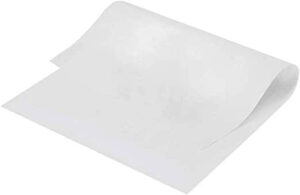 Sheet sized Parchment Baking Sheets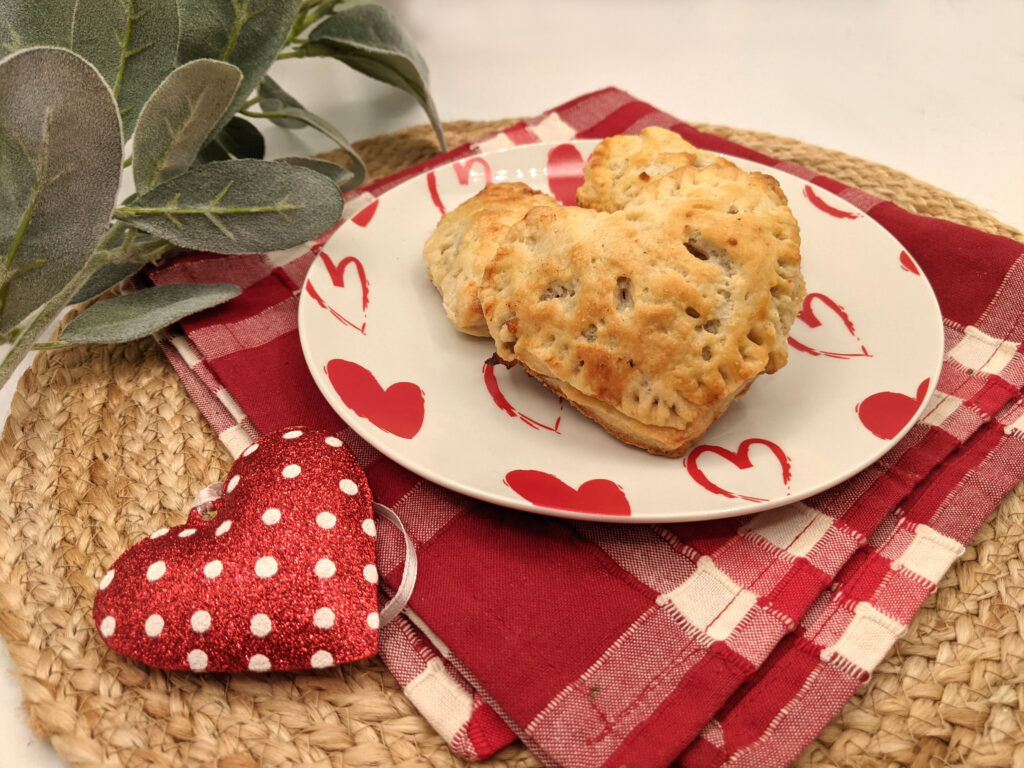 Print
Crust:
Apple Filling:
5 Braeburn, Honeycrisp, Rome or Northern Spy apples and 2 Granny Smith
2 tablespoons cold unsalted butter, divided
1/2 cup brown sugar
1/4 cup granulated sugar
1 teaspoon ground cinnamon, plus more if desired
1/8 teaspoon ground nutmeg, plus more if desired
1/8 teaspoon ground allspice, plus more if desired
1/4 teaspoon salt
Zest of 1 lemon
2 tablespoons fresh lemon juice
2 tablespoons cornstarch
---
Instructions
Crust:
Process 1-1/2 cups flour, salt, and sugar in food processor until combined, about 2 one-second pulses.
Add butter and shortening and process until dough just starts to collect in uneven clumps, about 15 seconds (dough will resemble cottage cheese curds and there should be no uncoated flour).
Scrape bowl with rubber spatula and redistribute dough evenly around processor blade. Add remaining 1 cup flour and pulse until mixture is evenly distributed around bowl and mass of dough has been broken up, 4 to 6 quick pulses. Empty mixture into medium bowl.
Sprinkle vodka and water over mixture. With rubber spatula, use folding motion to mix, pressing down on dough until dough is slightly tacky and sticks together. Divide dough into two even balls and flatten each into 4-inch disk. Wrap each in plastic wrap and refrigerate at least 45 minutes or up to 2 days.
Apple Filling:
Peel and core apples. Slice into approx. 1/4 inch slices. Make sure to cut all the same size so they cook evenly.
In a large saucepan, over medium heat, melt 1 tablespoon unsalted butter.
Add the sliced apples, brown sugar, granulated sugar, cinnamon, nutmeg, allspice, salt, lemon juice and lemon zest. Cook, stirring for about 10-15 minutes until apples have slightly softened but not lost their shape.
Mix a little water into 1-2 tablespoons cornstarch to make a slurry. Add cornstarch slurry little by little and cook until you get the consistency you want.
Set aside and let cool at room temperature.
Assembling the Hand Pies:
Roll each disc out to a 12 inch circle.
Cut shapes with cookie cutters. Try a use a cutter no less than 3 inches wide. You may want to use a smaller size on the bottom and a slightly bigger size on the top. Put a little water along the edge before sealing the top and bottom together.
Baking:
Preheat oven to 400 degrees F.
Line a baking sheet with parchment paper.
Brush each tart with a mixture of an egg with a little milk. Sprinkle with coarse sugar.
Bake at 400 degrees F for about 20 minutes or until slightly browned.
Cool before eating. Filling is hot.
Notes
If you are making a 9 inch pie, increase the apples to a total of 8-9 apples.
Affiliate Disclosure:
Afoodieaffair may contain affiliate links. If you purchase an item from an affiliate link, Afoodieaffair does get a commission on the sale which goes towards continuing to provide great content. Only affiliates for products I trust in and are appropriate with the content on this blog, appear on this site.