I found a recipe for these great Peach Crumb Bars I know my father would have loved. What a coincidence  that this weekend is Fathers Day! He passed away last year and I will truly miss him, especially this Fathers Day. He loved sweets, ant sweets, and these would've been perfect for Fathers Day. These crumb bars are for you, Dad.
Usually when I try recipes that I see on the web, in magazines or cookbooks, I make them exactly as the recipe says. Even if they are fantastic, I always seem to want to add my own touch to them.
There is literally nothing to add or change to this recipe. Well, except using various fruits for the filling depending what you're in the mood for. It is that good. It is super easy to make. The crust and topping has the same ingredients, and is so yummy; just the right texture. Crumbly and buttery. I can't say enough. Try this and you won't be sorry!
Thanks to Brown Eyed Baker for this great recipe!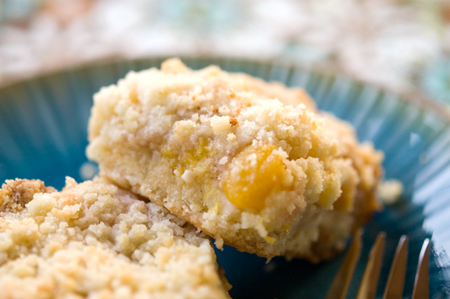 Peachy Crumb Bar
For the Dough:
3 c. all-purpose flour
1 c. granulated sugar
1 tsp baking powder
1/4  tsp salt
1 c. (2 sticks) unsalted butter, cold
1 egg, lightly beaten
For the Filling:
5 c. diced or sliced peaches (about 7 peaches, peeled)
2 Tbsp lemon juice
1/2  c. all-purpose flour
1 c. granulated sugar
1/4  tsp salt
1/2  tsp ground cinnamon
1/4  tsp ground nutmeg
Preheat the oven to 375º F. Grease a 9×13-inch baking pan.
In a medium bowl whisk together the flour, sugar, baking powder and salt. Use a pastry blender to cut in the butter, and then the egg. The dough will be crumbly. Pat half of the dough into the prepared pan. Place the pan and the remainder of the dough in the refrigerator while you prepare the filling.
I use a large hole flat grater over the bowl with the flour mixture to grate my very cold butter. It makes cutting in much easier!
Place the diced (or sliced) peaches in a large bowl and sprinkle with lemon juice. Mix gently. In a separate bowl whisk together the flour, sugar, salt, cinnamon and nutmeg. Pour over the peaches and mix gently.
Spread the peach mixture evenly over the crust. Crumble the remaining dough over the peach layer.
Bake in the preheated oven for 45-55 minutes, or until the top is slightly brown. Cool completely before cutting into squares. Makes 24.
As usual, I couldn't wait until cooled, so I tried a little square that was still warm. This is excellent warm as well, and would be excellent with apples for the Fall!