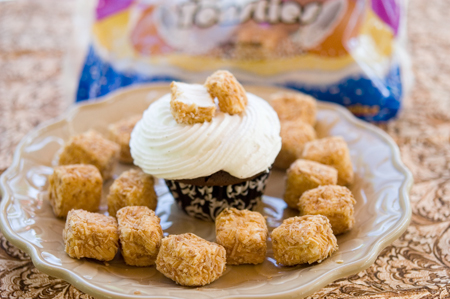 I love summertime. It seems like it's the only time you see those toasted coconut marshmallows in the markets. I could eat the whole bag. I thought they would be great to top a cupcake.
I used a boxed cake mix, but you can make any of your favorite chocolate cake recipe. I filled with a home made coconut cream filling, topped with a marshmallow frosting, and then a toasted coconut marshmallow on top.
Today is the first day of summer. This is the perfect day to welcome it!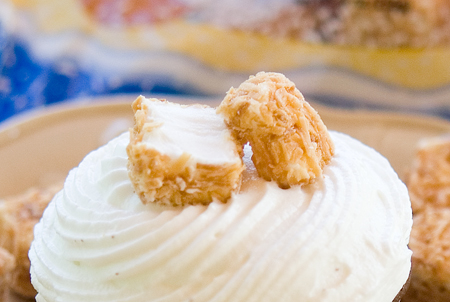 Chocolate Cupcakes with Coconut Cream Filling
Make your favorite chocolate cupcakes. Fill with coconut cream filling & top with marshmallow frosting and marshmallow.
Coconut Cream Filling:
6 large egg yolks
3/4 c. sugar
6 Tbsp cornstarch
1/8 tsp salt
3 c. milk
4 oz. (1-1/2 c.) sweetened angel-flake coconut
1-1/2 tsp pure vanilla extract
Unsalted butter, for wrap
Place egg yolks in a large bowl; whisk to combine; set bowl aside.
Combine sugar, cornstarch, and salt in a saucepan. Gradually whisk in milk. Cook, stirring, over medium heat until mixture thickens and comes to a boil, 10 to 12 minutes. Remove from heat.
Whisk 1/2 cup hot milk mixture into the reserved egg yolks to temper. Slowly pour warm yolks into the saucepan, stirring constantly. Cook slowly, stirring, over medium-low heat, until mixture begins to bubble, 5 to 6 minutes. Remove from heat. Stir in coconut and vanilla.
Transfer filling to a medium mixing bowl. Lightly butter a piece of plastic wrap, and lay it directly on top of filling to prevent a skin from forming. Chill until firm, at least 1 hour.
Marshmallow Frosting:
(I use my standard frosting recipe, and add a little marshmallow fluff to it)
1 lb. confectioners sugar
1/2 c. Crisco shortening
1 tsp. almond (or you could use coconut extract)
milk to desired consistency
1/3 c. marshmallow fluff
Cream together the sugar and shortening. Add extract and milk to desired consistency. Add marshmallow fluff. Put on top of cupcakes with spatula or pipe on.
Coconut cream filling recipe from marthastewart.com