I love all upside down cakes. Pineapple, apple, blueberry and of course peach. Summer's the perfect time for peaches and making peach upside down cake. I took my favorite recipe for Pineapple Upside Down Cake, and change the topping. I love, love, love this recipe. It's derived from an old Amish recipe and has one of my favorite spices in the batter, Mace. It really gives the cake that memorable flavor, and to me, makes the entire cake.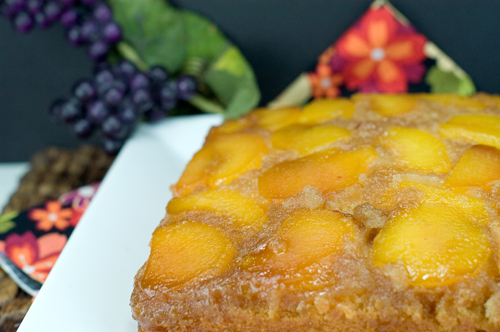 I took the peaches and nectarines I had from my last trip to the farmstand, peeled them and sliced in to slices. The rest is easy-peasy, and viola…a delicious cake perfect for any occasion, or just a cook enjoying the "fruits" of her labor!
This cake is so velvety, and has the perfect ratio of flavors to compliment the topping. I was holding myself back from eating it while I was taking pictures!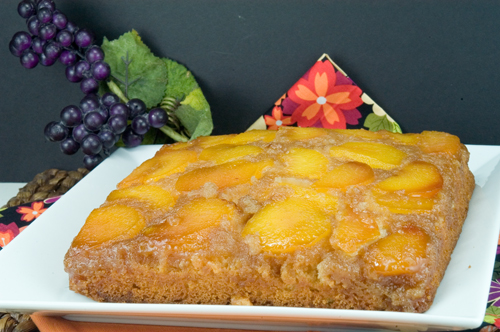 Print
Topping:

1

–

1/2

c. to 2 c. sliced fresh peaches

1/4

c. unsalted butter

1/2

c. brown sugar
Cake:

1

–

1/4

c. sifted unbleached all-purpose flour

2/3

c. granulated sugar

2 tsp

. baking powder

1/2 tsp

. salt

1/4 tsp

. ground mace

1/3

c. (2/3 stick) butter, softened

1/2

c. milk

1 tsp

. vanilla extract

1

egg
---
Instructions
Preheat oven to 350° F.
Peel, pit and slice the peaches. Melt butter in an 8X8 baking dish, in the preheated oven until melted. Make sure not to burn. Add brown sugar and stir until coated with butter. Even out over the bottom of pan. Arrange peach slices on top of the brown sugar mixture. Set aside.
In a mixer bowl, resift the flour, sugar, baking powder, salt & mace. Add the softened butter, milk & vanilla. Beat on low speed for 1-1/2 minutes, then add the egg and beat 1-1/2 minutes longer. Spread the batter evenly over the peaches with a rubber spatula – the batter is quite thick. Bake for 45 to 50 minutes, or until a toothpick inserted into the middle of the cake comes out clean.
Remove from oven, loosen edges with knife, and invert immediately onto platter. Let cool before serving.