This recipe was one of those that came from a magazine years ago, probably sponsored by Good Seasons Italian salad dressing mix. I have been making this salad for 30 years or so! It is the easiest salad to make, and the most addicting! I think its the Parmesan in it that has you craving it! It's a basic pasta salad..naturally you can add or delete anything to this salad, but I particularly like the fact that the veggies in it won't spoil if you have it the next day for leftovers. When you put things like cucumbers in a salad, it has to be eaten that day, or the cucumbers get slimy. In this, I put the tiny grape tomatoes, so if you feel you will have leftovers, they can be left whole and won't get mushy. The only thing that softens slightly is the broccoli, and if you put in raw, it will take a while to soften. If you blanch in boiling water as I sometimes do, it will soften more quickly, but this salad is so delicious and so addicting, you won't have any left anyway.
The original recipe calls for Fettuccine, but I have made this with Rotini, or any other pasta I might have. I like the Rotini because it is easier to eat, and the dressing and cheese gets stuck in the twirls of the pasta.
Print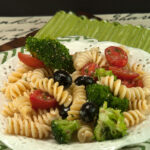 Pasta Salad Italiano
---
1

lb Fettuccine, or any other type dry pasta

1

–

15

oz can black olives, drained

1

pkg grape sized cherry tomatoes

1/2

to

3/4

c. grated Parmesan cheese

3

c. fresh broccoli florets

2

envelopes of Good Seasonings Italian dressing, prepared
---
Instructions
Boil a very large pot of water and cook pasta according to package directions. If you want to blanch the broccoli, remove the pasta with tongs or a large slotted spoon reserving water to blanch the broccoli in. Make sure the pasta is thoroughly strained, and spread out on a large food safe tray to cool and dry for approx. 2 hours. Do not rinse the pasta.
Meanwhile place the broccoli, tomatoes, olives, cheese and salad dressing into a zipper bag, and place in the refrigerator for about 2 hours, or until you are ready to mix the salad.
Mix the vegetable ingredients with the pasta. Let sit in the refrigerator for about an hour to blend ingredients. Adjust the taste with more cheese, salt and pepper, or dressing if needed.
What ever pasta you make this from, DON'T rinse your pasta! The sauce sticks to your pasta much better leaving the starch on the pasta. When making any pasta salad (and potato salad for that matter), I always cook ahead of time, strain, and lay out on a tray in a single layer, and cool and "dry" to room temperature, Then, you can add all your ingredients, or you can throw in a Ziploc bag until later in the day when you're ready to use it. Just don't put any dressing on the pasta before you put in Ziploc bag. The dressing will "continue to cook" your pasta and blow it up! Just put it cooled right in the bag until ready to use.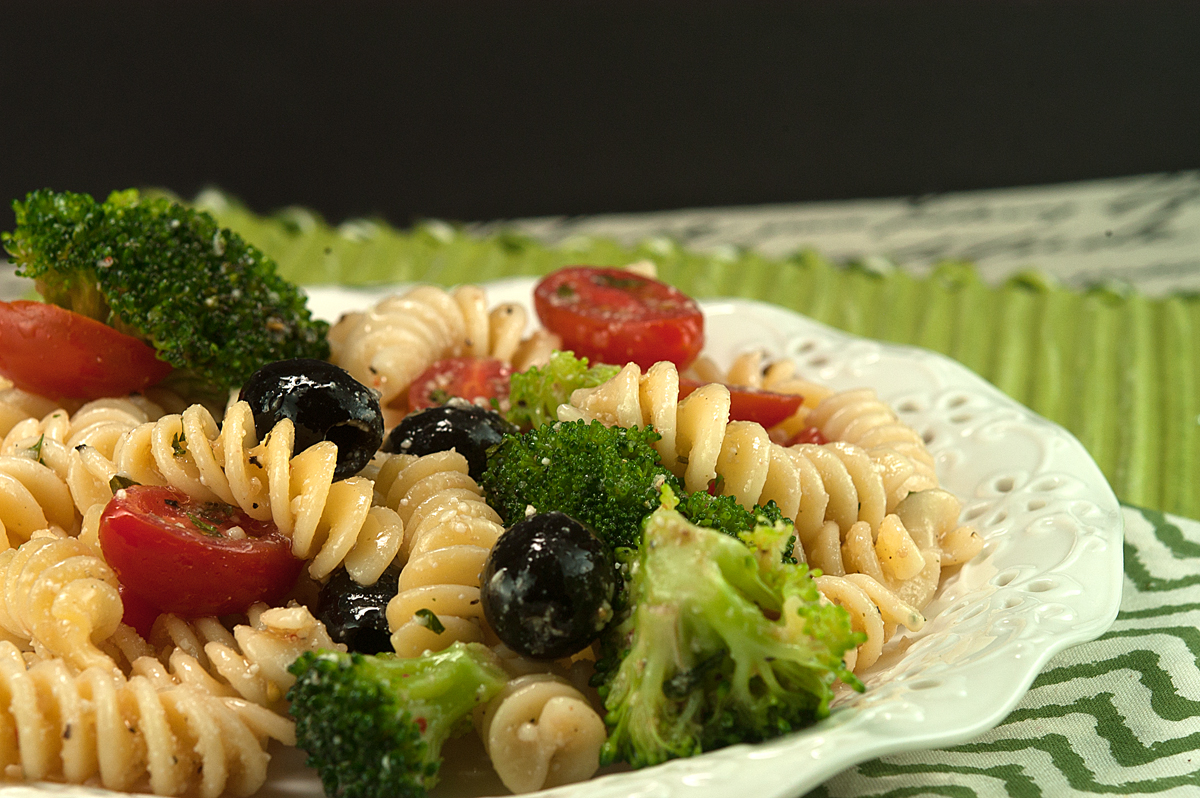 Save
Save
Save
Save