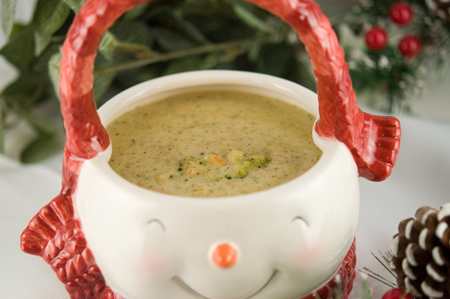 I was out yesterday at lunchtime and just felt like having a bowl of soup. There's not many places to run in and get a delicious bowl of soup to go. Luckily, I was right near Panera Bread. They have many delicious soups (you can even get soup in a bread bowl), sandwiches, salads, pastries, etc. Its a great place to get a great lunch, that is a great change from the drive through fast food restaurants. Here's a great copycat version of their Broccoli Cheddar soup.
Panera Bread Broccoli and Cheddar Soup
1 tablespoon butter, melted
1/2 medium onion, chopped
1/4 cup flour
1/4 cup melted butter
2 cups half-and-half
2 cups chicken stock
1/2 pound fresh broccoli
1 cup carrots, julienned
1/4 teaspoon nutmeg
salt & pepper, to taste
8 ounces grated sharp cheddar

Saute onion in butter. Set aside.
Cook melted butter and flour using a whisk over medium heat for about 4 minutes. Be sure to stir frequently.
Slowly add the half-and-half, continue stirring.
Add the chicken stock whisking all the time.
Simmer for 20 minutes.
Add the broccoli, carrots and onions. Cook over low heat until the veggies are tender, about 20 minutes.
Add salt and pepper. By now the soup should be thickened.
Pour in batches into blender and puree.
Return the puree to the pot and place over low heat, add the grated cheese; stir until well blended.
Stir in the nutmeg.
Note: After it's finished, if you feel you want the soup thinner, add some additional chicken stock or half and half.