I've been looking over saved recipes today and saw several for stuffed shells. I'm not sure why I saved them because I am not really a "stuffed shell" kind of gal. Something about my phobia of too much mushy filling and very little pasta. I think I saved them because the fillings sounded very interesting. I decided to make both recipes. This one has a broccoli and ricotta filling, very little sauce, and mozzarella on top. I will say the filling was very tasty. I think personally I would have enjoyed more if I used the filling inside of lasagna rolled up. I think there would be more pasta versus filling. But that's just me.
I made my own marinara for this recipe, but you can also used jarred if you wish.
Broccoli and Cheese Stuffed Shells
16 packaged dried jumbo pasta shells
2 c. broccoli florets, chopped
1 Tbsp water
1 – 15 oz carton light ricotta cheese
1/2 c. shredded part skim mozzarella cheese (2 oz.)
2/3 c. pasta sauce
2 Tbsp shredded part skim mozzarella cheese
Preheat oven to 350° F. Cook shells according to package directions; drain and rinse with cold water.
Meanwhile, in a medium microwave-safe bowl, combine broccoli and the water. Cover with wax paper. Microwave on high for 2 minutes. Drain. Stir ricotta and a 1/2 c. shredded cheese into cooked broccoli. Spoon mixture in to shells. Arrange in an un-greased 2 qt. baking dish. Spoon pasta sauce over shells. Sprinkle with the 2 Tbsp shredded cheese.
Bake, uncovered, about 15 minutes or until heated through. Makes 4-5 servings.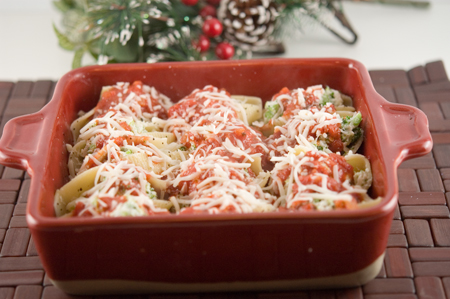 Broccoli and Cheese Stuffed Shells Ready for the Oven!