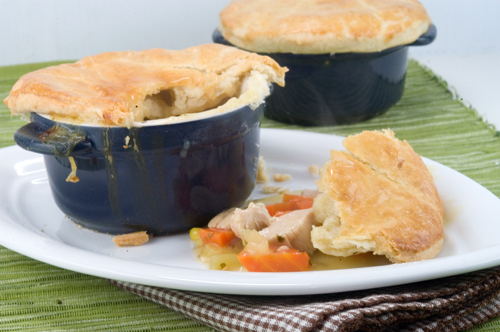 I felt like having chicken pot pies and remembered I had some great ramekins my friend Emily gave me for Christmas.
I made a basic chicken stew/pot pie filling that was easy enough, but wasn't sure of the topping/crust to put on top. I have added potatoes and peas to recipe, as this isn traditional in chicken pot pie. However, I do not like potatoes or peas in the filling, so I omitted it. It's entirely up to you what you put in.
I mulled over a crumble topping I had seen, puff pastry (which I am not that crazy over), and finally decided of good ol' fashioned pie crust topping.
I decided on Ina Garten's crust recipe, and am I glad I did. It was flaky, delicious and only took about 25 minutes to brown in the oven.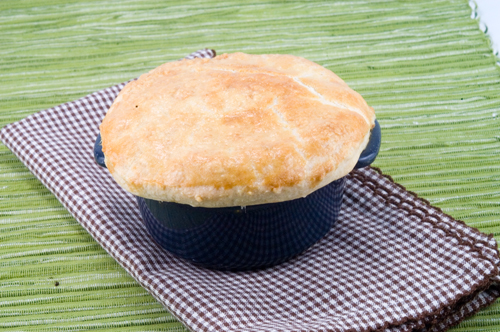 These pies turned out delicious. They are the perfect dinner for a cold winter's night when you just want something to warm you up.
Thanks Emily, for the great inspiration for a great recipe!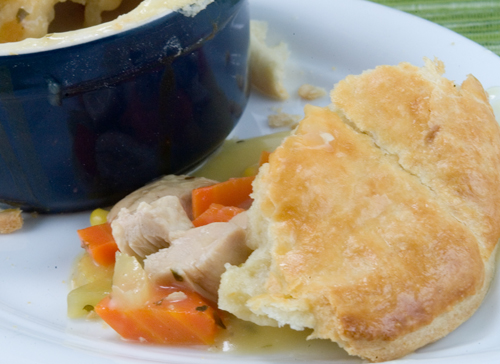 Print
2 Tbsp

canola or vegetable oil

1

–

1/2

lb. chicken breasts, boneless, skinless

1

small onion, diced

3

large carrots, peeled and diced

2

celery stalks, diced

2

red potatoes, peeled and cubed (optional)

1/4

c. kernel corn

1/4

c. frozen peas

3

–

15

oz. cans low sodium chicken broth
Salt & Pepper

1 Tbsp

parsley, dried

1 Tbsp

celery flakes, dried

1/4

c. light cream

3 Tbsp

. cornstarch
For the crust:

3

c. all-purpose flour

1

–

1/2

tsp. kosher salt

1 tsp

. baking powder

1/2

c. vegetable shortening

1/4

lb cold unsalted butter, diced

1/2

–

2/3

c. ice water

1

egg, beaten with

1 Tbsp

. water, for egg wash
salt & pepper
---
Instructions
In a french skillet, heat oil on medium high heat.
Cut chicken breast into big chunks, and saute until just starting to brown. Remove from pan and cut in to smaller pieces.
Add chicken back to skillet, and add onion, carrots, celery, potatoes, corn, peas, chicken broth and seasonings.
Cover, and let cook on low until vegetables are tender, approx. 30 min.
Put about 1/4 c. light cream into a larger cup. Add a little hot mixture to the cold cream to temper, and add to hot mixture. Mix a little water into the cornstarch, and add to hot chicken broth mixture to thicken to your desired consistency.
Spoon into individual ramekins, and set aside.
For the Crust:
Mix the flour, salt, and baking powder in the bowl of a food processor fitted with a metal blade.
Add the shortening and butter and pulse 10 times, or until the fat is the size of peas. With the motor running, add the ice water; process only enough to moisten the dough and have it just come together.
Dump the dough out onto a floured board and knead quickly into a ball. Wrap the dough in plastic and allow it to rest in the refrigerator for 30 minutes.
Divide the dough into quarters and roll each piece into an 8-inch circle.
Brush the outside edges of each bowl with the egg wash, then place the dough on top. Trim the circle to 1/2-inch larger than the top of the bowl. Crimp the dough to fold over the side, pressing it to make it stick. Brush the dough with egg wash and make 3 slits in the top. Sprinkle with sea salt and cracked pepper.
Place on a baking sheet and bake for 1/2 hour, or until the top is golden brown and the filling is bubbling hot.
Notes
I made 4 ramekins, but did have some chicken mixture leftover. You could make more pies, or save in refrigerator for chicken stew over mashed potatoes for another night.