There's nothing like a bowl of comforting Minestrone Soup. I can eat this soup in Summer or Winter. Loads of veggies beans and pasta in a rich tomato based broth. Nothings better.
I was cruising through the internet looking at different blogs and saw this great Minestrone recipe on Chef Dennis' blog. Normally I don't measure when I make a Minestrone. Now there are pros and cons to that. If you end up with a soup you really like you don't really know exactly how you made it. However when you use a recipe you have to measure everything out. I followed Chef Dennis' recipe and it came out delicious. I will say as it cooked in the end I added more chicken broth because I think the pasta was swallowing up all my broth. Now I know Minestrone is supposed to be full bodied, but I do like a little broth in my soup.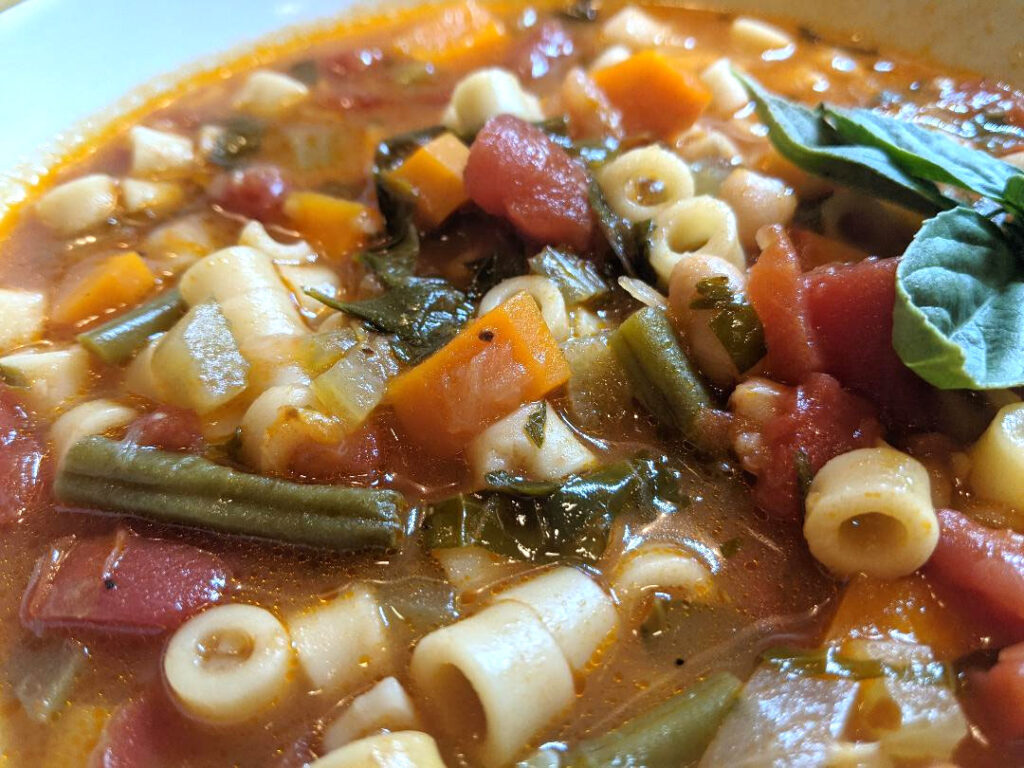 It came our delicious. And super easy to make. I made when I came home from work and it was ready in no time.

As always, if I make this for a holiday or event ahead of time, I cook the pasta separately and put in at the last minute. If you are making for your family I throw it in after the vegetables are cooked and its fine.

This is delicious anytime of year!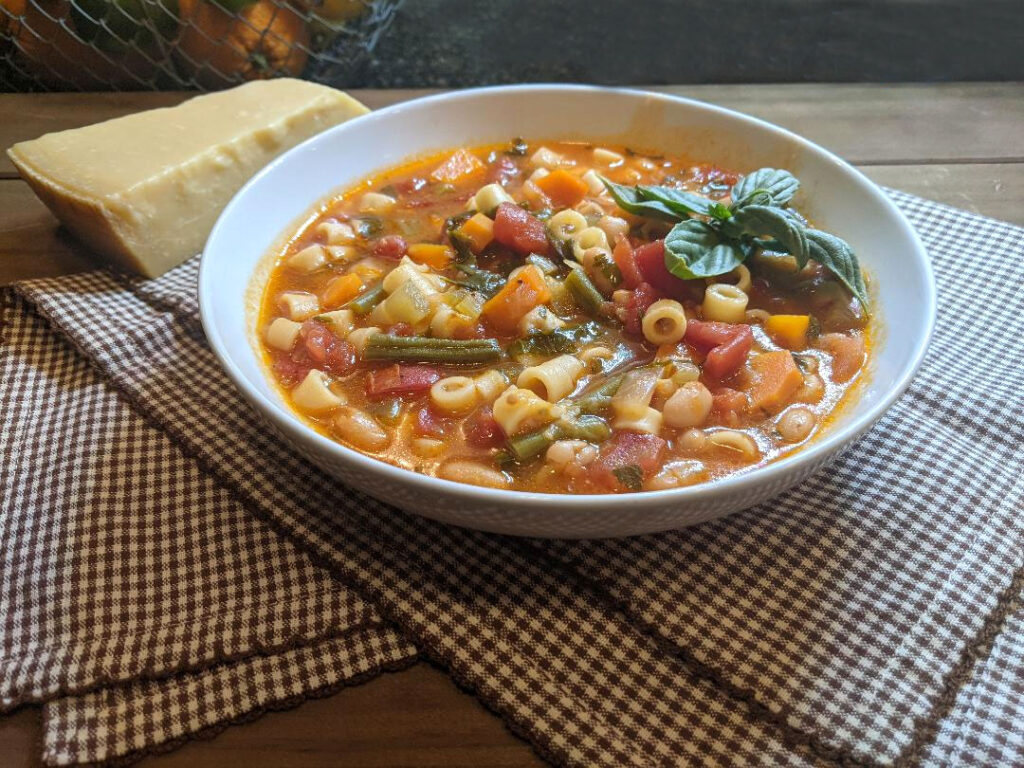 Print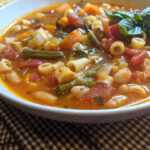 Minestrone Soup
---
Description
Delicious and hearty. This soup is full of vegetable, beans and pasta.
---
2 Tablespoons olive oil
1 cup onion large dice
1 cup carrot sliced
1 cup celery sliced
2 cloves garlic minced
1 ½ cup green beans cut into 1 inch pieces
1 ½ cup zucchini quartered and sliced
3 ounces tomato paste
6 cups chicken broth or vegetable broth
30 ounces diced tomatoes canned undrained
1 teaspoon thyme finely chopped
½ teaspoon dried oregano
1 teaspoon sea salt
½ teaspoon black pepper
¼ teaspoon crushed red pepper
2 bay leaves
1 cup ditalini pasta uncooked
15 ounces kidney beans canned, drained and rinsed
2 cups baby kale (or chopped) or your favorite green
fresh chopped parsley garnish -optional
grated Romano or parmesan garnish -optional
---
Instructions
Add 2 tablespoons of olive oil in a large Dutch oven or stockpot over medium-high heat.
When the oil is hot add the carrots, onions, and celery to the pan. Cook the veggies for 4-5 minutes over medium-high heat.
Add the green beans, zucchini, and garlic to the pan and continue to cook the vegetables for another 2-3 minutes.
Add the tomato paste, oregano, thyme, sea salt, black pepper, and crushed red pepper and continue cooking for another 2 minutes, mixing well.
Add the broth, diced tomatoes (and juice), and bay leaves to the pot and mix well.
Raise to high heat and bring the mixture to a boil. When the mixture has reached a boil, reduce the heat to a simmer and continue cooking for 40 – 60 minutes.
Add the pasta, beans, and kale to the pot and continue simmering uncovered, for 20 – 30 minutes or until the pasta is cooked al dente and the greens are tender.
Turn off the heat and remove the pot from the burner. Remove the bay leaves.
Serve the minestrone and garnish with grated Romano or Parmesan cheese, chopped Italian parsley and black pepper.
Notes
You can add more chicken broth in the end if you feel the soup does not have enough broth for your liking.