These bars remind me of the cherry squares my Mom and Aunt used to make. My Aunt won a Blue Ribbon at the Topsfield Fair in Massachusetts with those Cherry Squares, so I remember them well.
These Chocolate Cheesecake Bars are very similar. Spaces on top where the ooey gooey (Is that a word?) filling seeps out.  Chocolate and Almond…what better combination.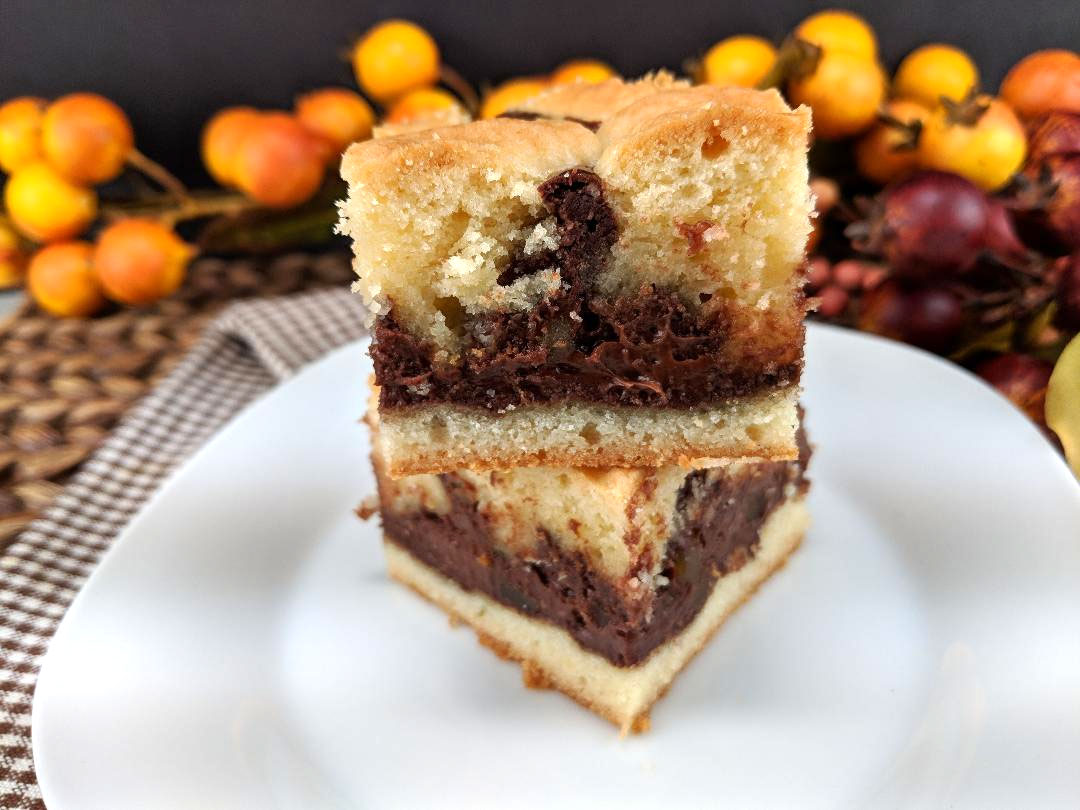 The gooey middle is just like cheesecake with the flavor of chocolate and almond. The crust is the perfect density to hold that delicious gooey mixture. Perfect buttery crust on the top and bottom, with a hint of almond in the crust as well.
The original recipe for these calls for Semisweet Chocolate Chips. I hate to use chocolate chips for melting in recipes. They always taste like "chocolate chips".
I use a really, really good chocolate. Guittard, Callebaut or Valrhona. I can get Guittard at my local specialized grocer so I always opt for that. Your finished product is only as good as the ingredients you put into it.
Make sure your butter, eggs and cream cheese is at room temp. If you don't want to wait and are impatient as I am, I put the butter into the very small microwave I have. It doesn't have much wattage so I put in for about a minute on Power level 1 or 2. Keep watching though because microwaves vary and you don't want melted butter just softened. Same with the eggs. Put cream cheese minus the foil wrapper in for a bit as well to bring to room temperature.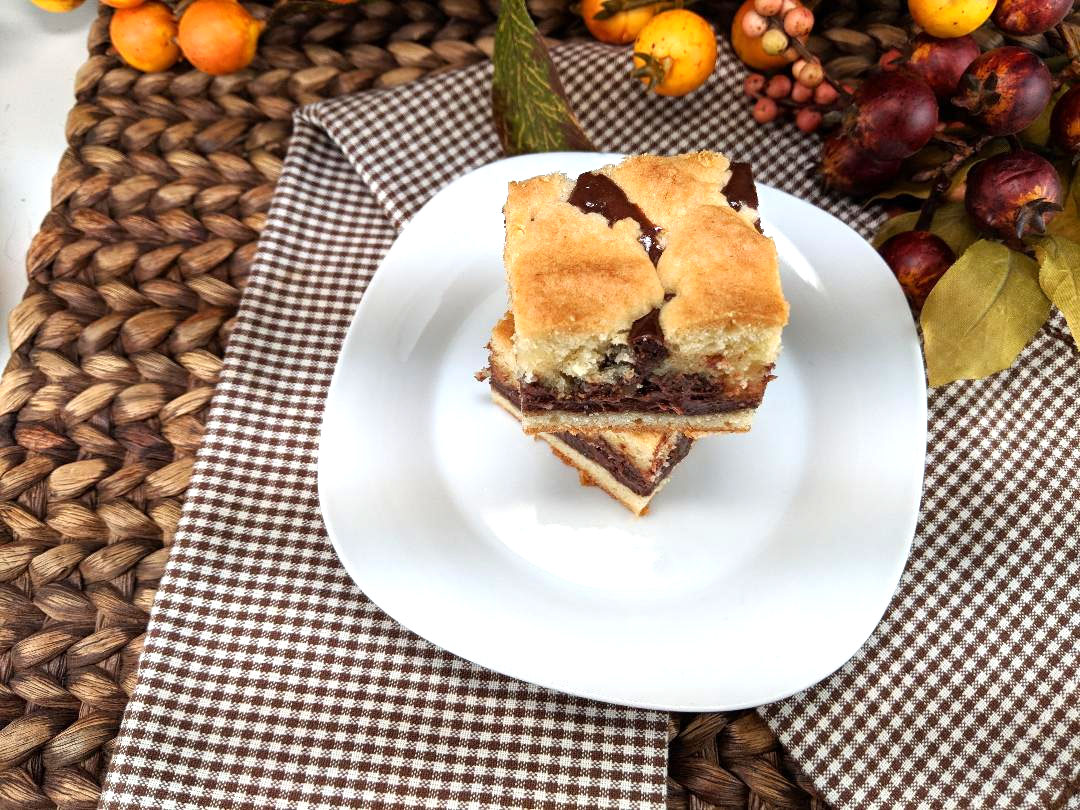 The crust is super easy to make. I put on disposable latex gloves to press the dough into the bottom of the greased pan. Put a little flour on your fingers so the dough wont stick to the gloves.
When I made the melted mixture I used a emulsion blender to make sure all the ingredients were perfectly blended. Just make sure you keep the blade flat on the bottom of the pan! If you lift, you could have melted chocolate all over the place! Then you pour the melted filling you prepared on top of the bottom crust, and then top with small clumps of the remaining dough. Bake.
That's it!
This recipe is super delicious, and really easy to make.
I made mine the night before. I put in the refrigerator overnight. Right before I needed I put in a 250-300 degree F oven for about 15 minutes or until the filling warms up a bit. The sides of the pan felt pretty warm so I l knew it was probably warmed through.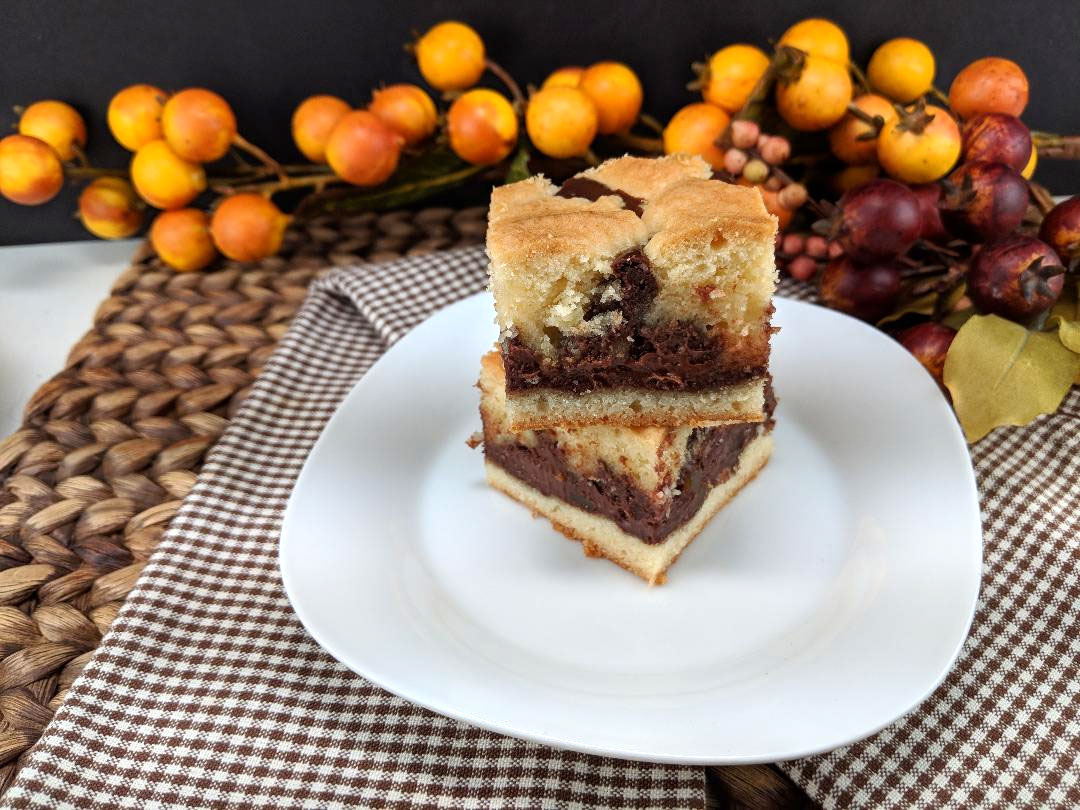 Ingredients
CRUST AND TOPPING:
1 cup butter, softened
1-1/2 cups sugar
2 large eggs, room temperature
1/2 teaspoon almond extract
3 cups all-purpose flour
1 teaspoon baking powder
1/2 teaspoon salt
FILLING:
12 ounces semisweet baking chocolate, cut into small pieces
1 package (8 ounces) cream cheese
1 can (5 ounces) evaporated milk
1 cup chopped walnuts
1/2 teaspoon almond extract
Instructions
1
In a large bowl, cream butter and sugar until light and fluffy. Beat in eggs, one at a time, beating well after each addition. Beat in extract. Combine the flour, baking powder and salt; gradually add to the creamed mixture and mix well. Press half of the dough onto the bottom of a greased 13x9-in. baking pan. Set aside remaining dough for topping.
2
For filling, in a large saucepan, combine the chocolate chips, cream cheese and milk; cook and stir over low heat until smooth. Remove from the heat; stir in walnuts and extract. Spread over dough.
3
Break off small pieces of remaining dough; drop over filling. Bake at 375° until topping is golden brown, 35-40 minutes. Cool completely on a wire rack. Cut into bars. Refrigerate leftovers.