This  crisp apple strudel is the best you have ever tasted!
Affiliate Disclosure:
Afoodieaffair may contain affiliate links. If you purchase an item from an affiliate link, Afoodieaffair does get a commission on the sale which goes towards continuing to provide great content. Only affiliates for products I trust in and are appropriate with the content on this blog, appear on this site.

I love apple strudel. But I have never been able to make anything that stood out, until now.

I saw this great Apple Strudel recipe from Michael's Inspiredbycharm blog. I will tell you, this blog is my new obsession. Michael is not only a whiz at recipes, he is a decorator extraordinaire, does some great DIY projects and, he paints to boot!

The filling in this strudel is so good, you can use it to top vanilla ice cream and you will be in heaven! For that matter, it would be delicious in turnovers, squares or anything else you need an apple filling for. 

Equipment needed: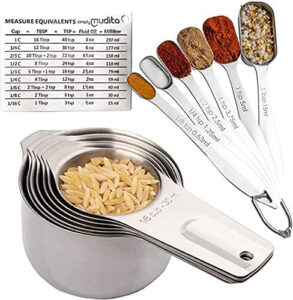 Measuring Cups & Spoons
Short on space? These measuring cups stack perfectly to store in a kitchen drawer for easy access.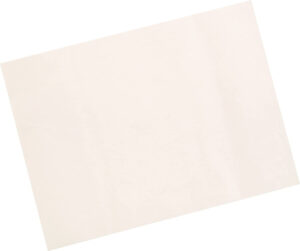 Precut Silicone Parchment Paper
Convenient precut sheets. You can easily lift the Strudel's to the baking sheet. Making several sheets of cookies. Silicone parchment is reusable to accommodate several batches of cookies.


And it's super easy to make!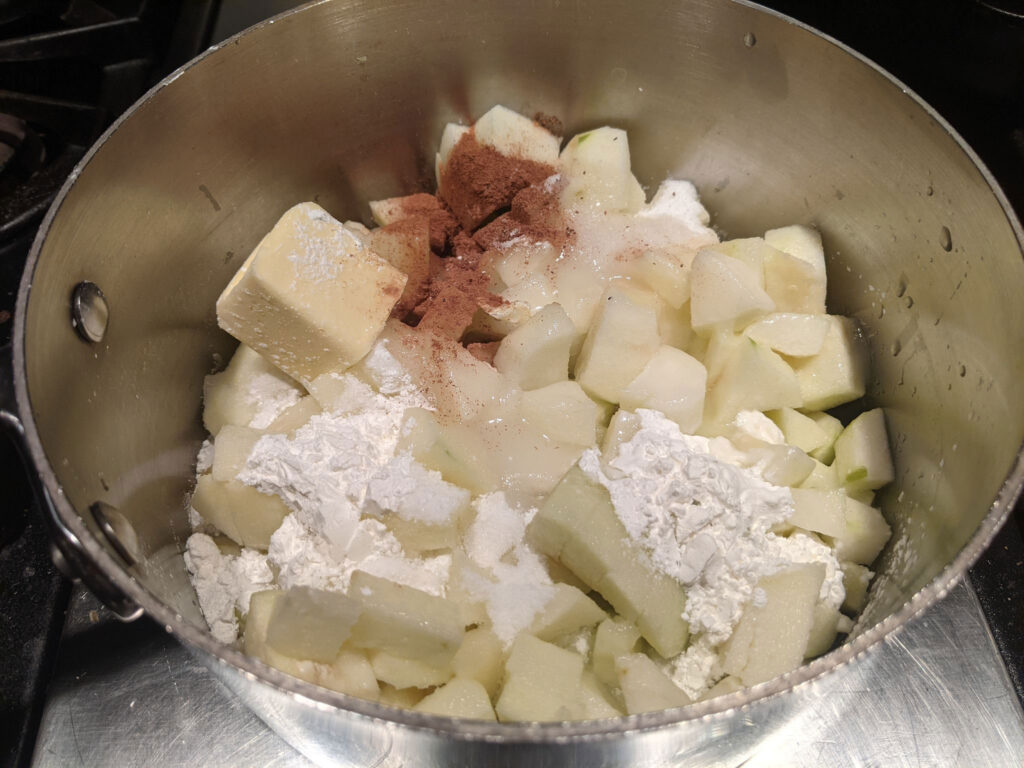 Put all filling ingredients into a saucepan and cook until thick about 7 minutes. Let cool.





I usually use Dufour frozen puff pastry, but didn't have any so I used Pepperidge Farm instead. Or, if you are adventurous and have time, make your own puff pastry.

On a piece of parchment, roll the puff pastry out to about 15% bigger than out of the package.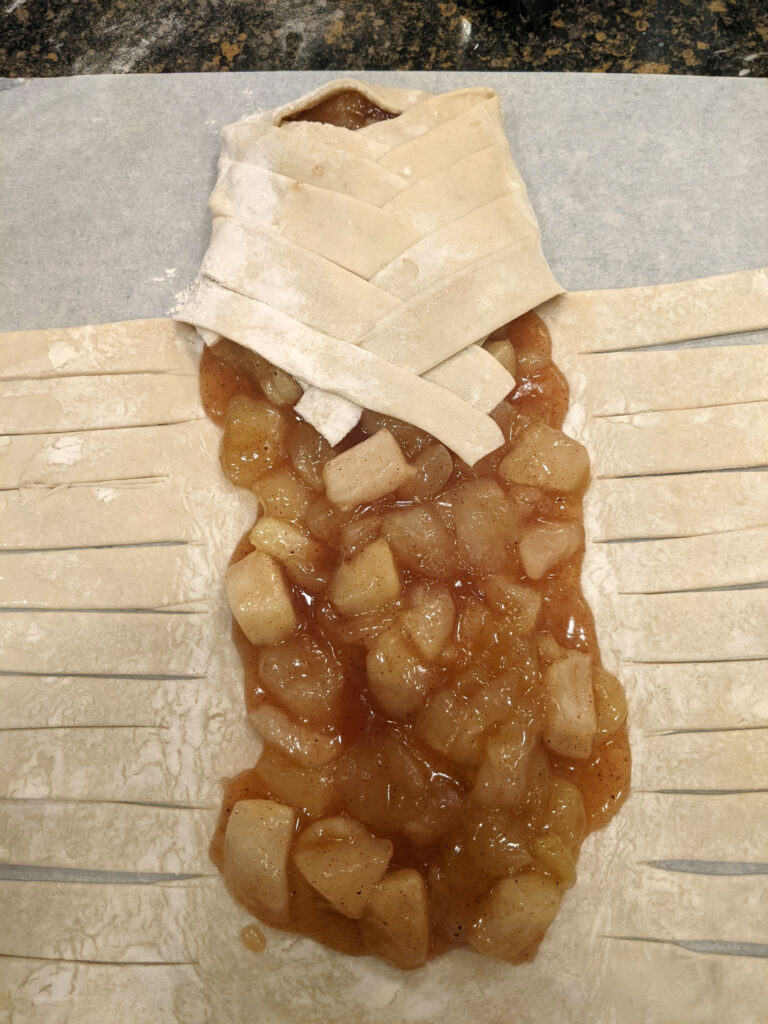 Fill the middle half with the cooked apple filling staying about an inch away from on the top and bottom. 

Cut slats in the left and right sides.

Wet the tips of the slats and crisscross onto the apple filling.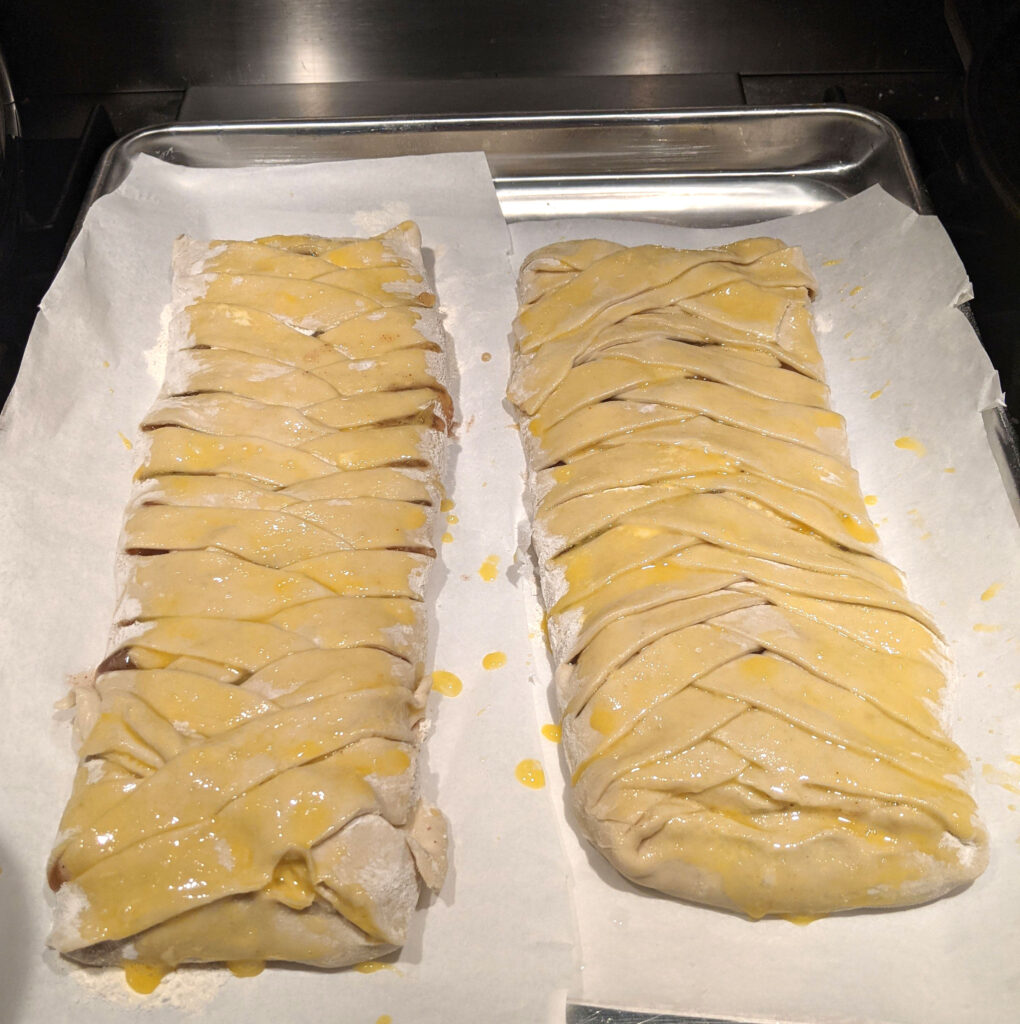 Brush with an egg wash.

Lift the parchment and place on a cookie sheet.

Do the same for the other strudel.

Cut the excess parchment away.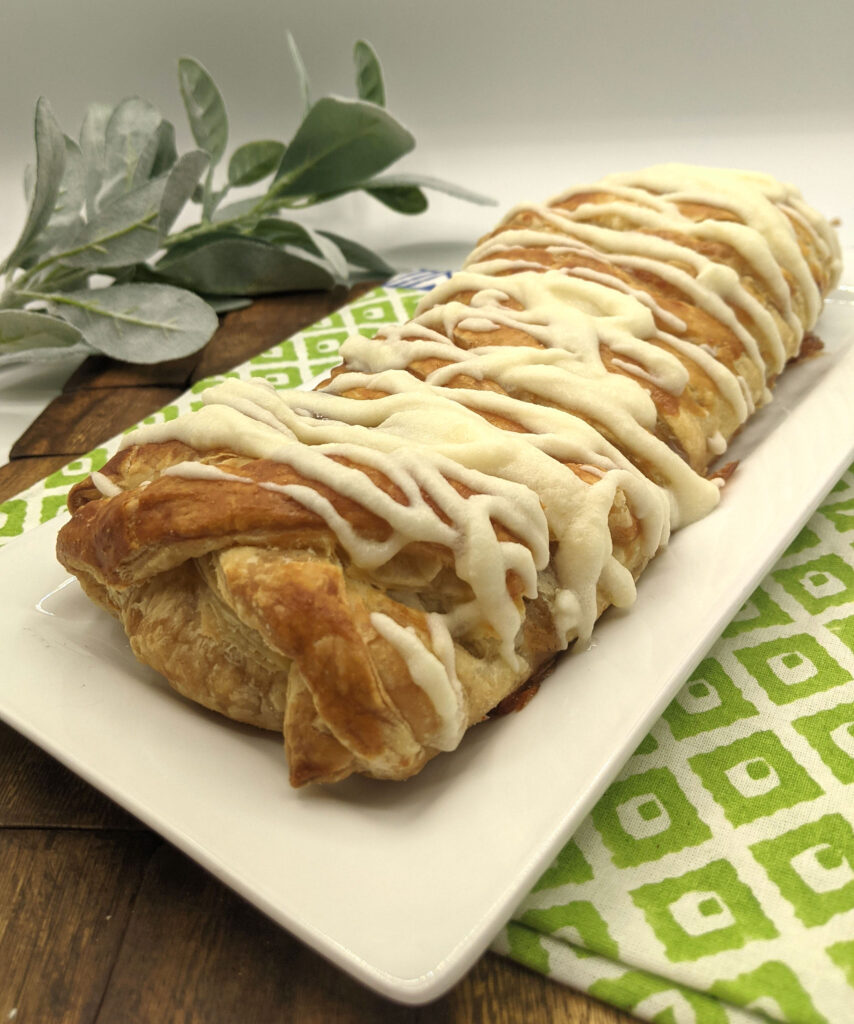 Bake for 35 to 40 minutes or until the tops are browned.

The use of Granny Smith apples gives the filling a tart taste which is perfect in the strudel against the sweet glaze on top. Really, really good!



Print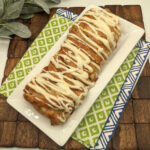 Crisp Apple Strudel
---
Author:

Total Time:

1 hour

Yield:

20
Description
Delicious tart apple filling in a crispy puff pastry with a sweet vanilla glaze on top.
---
4 large Granny Smith apples – cored, peeled, and diced
1 cup sugar
2 tablespoon unsalted butter
2 tablespoon cornstarch
1 teaspoon cinnamon
1/4 teaspoon nutmeg
1/2 teaspoon kosher salt
1/4 cup water – plus extra for sealing the dough
1 package (2 sheets) frozen puff pastry – thawed
1 egg – beaten
Glaze:
1 stick unsalted butter – melted
1 teaspoon vanilla
3 tablespoons milk
1/2 teaspoon kosher salt
2-3 cups confectioners' sugar
---
Instructions
Preheat oven to 375 degrees F.
In a medium saucepan, combine the apples, sugar, butter, cornstarch, cinnamon, nutmeg, salt, and water.  Stir to combine.  Cook at medium heat for about 7 minutes or until the sauce starts to thicken. Set aside and allow the apple mixture to cool.
In the meantime, unfold your puff pastry onto a piece of lightly floured parchment. Use a rolling pin to make each puff pastry sheet about 15% larger in size.
Place half of the cooled apple mixture down the middle one-third of one puff pastry sheet.
Use a sharp knife to cut horizontal strips along both the left and the right outer thirds of the puff pastry. (Make about 16 strips on each side.)
Lightly moisten the ends of all the strips with water. Then fold the strips over the top of the apple mixture. To create a braided look, first fold over a strip from the left, then a strip from the right. Continue left, right, left, right until all of the strips are in place.
Seal both ends with a little water.
Repeat this process with the rest of the apple filling and the second puff pastry sheet.
Lift each strudel along with parchment to a baking sheet. Repeat with the other strudel and cut away an excess parchment paper. Brush both tops with beaten egg.
Bake for 35-40 minutes or until golden brown. Allow the strudel to cool slightly.
In the meantime, prepare a glaze by whisking together the butter, vanilla, milk, kosher salt, and confectioners' sugar. Start with 2 cups of confectioners' sugar. Add more to create a glaze that is thick but still can be drizzled. (If the glaze becomes too thick, add a bit more milk to thin it.)
Slice and serve warm.
Prep Time:

20 min

Cook Time:

40 min

Category:

Desserts