I've always made Italian Wedding Soup with meatballs made from Beef and Pork. Although the soup does taste unbelievable, I've always wondered how it would be with the meatballs made from Chicken instead.
So this weekend, I decided to make an Italian Wedding Soup with Chicken Meatballs since, once again, we're having a snow storm and it's freezing out.
I saw this recipe from the Barefoot Contessa that I pinned a while ago. I used Ina's recipe for the Chicken Meatballs, but stayed with my basic recipe for Chicken Soup, which, in most cases, I don't measure. I just throw this in, and throw that in, and it always comes out super delicious.
This time is no different. The soup was super delicious, and the meatballs were "out of this world"! And a lot better for you than the Beef meatballs!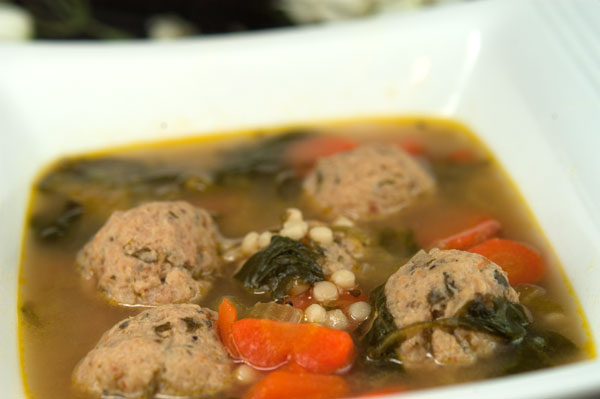 The seasonings are perfect. I used Al Fresco Chicken Sausage with Red Peppers to mix in with the ground Chicken, which not only gave them great flavor, it gave the meatballs some great color in the soup.
I also varied the way Ina cooks the meatballs to put in the soup. She bakes them in the oven and then puts them in the soup. I never, ever bake or fry meatballs before putting into soups or sauces. I personally think it gives the soups or sauces a browned flavor, which is good in some things, but not in others. This is one of those "not in other" occasions in my opinion.
My husband's grandmother was from Italy, and she always just dropped the uncooked meatballs right in to the hot sauce or soup. So I've always done it that way.
I like these Chicken meatballs so much I like them better than the Beef ones, and will make this my "go to" recipe for Wedding Soup!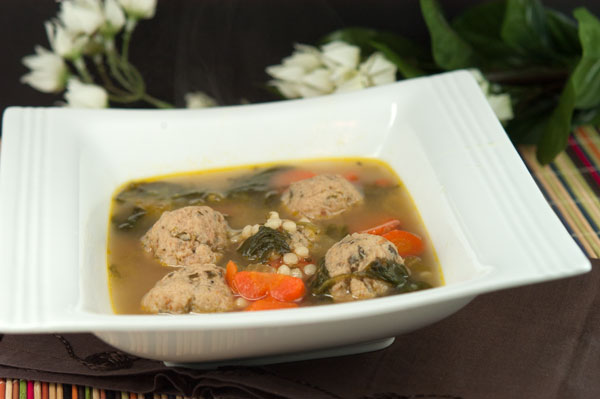 Use a melon scooper to scoop out and roll slightly and drop into the soup. Viola! Soups done before you know it!
Italian Wedding Soup with Chicken Meatballs
Author:
Ingredients
For the meatballs:
¾ pound ground chicken
½ pound chicken sausage, casings removed
2/3 cup fresh white bread crumbs
2 teaspoons minced garlic (2 cloves)
3 tablespoons chopped fresh parsley
¼ cup freshly grated Pecorino Romano cheese
¼ cup freshly grated Parmesan cheese, plus extra for serving
3 tablespoons milk
1 extra-large egg, lightly beaten
Kosher salt and freshly ground black pepper
Soup:
1 Tbsp butter (substituting olive oil, as I did would work as well)
½ cup onion, chopped (roughly 1 small)
½ cup carrot, peeled and sliced into coins (roughly 2 carrots)
2 cloves garlic, peeled and minced
6-8 cups chicken broth
Salt and pepper for seasoning
1 -2 Tbsp dried parsley
½ cup acini di pepi (can use orzo)
10 ounces frozen spinach, thawed
Instructions
For the meatballs, place the ground chicken, sausage, bread crumbs, garlic, parsley, Pecorino, Parmesan, milk, egg, 1 teaspoon salt, and ½ teaspoon pepper in a bowl and combine gently with a fork (if you have difficulty blending together, use a hand mixer for a minute to blend together). With a teaspoon, drop 1- to 1¼-inch meatballs onto a sheet pan lined with parchment paper. (You should have about 40 meatballs. They don't have to be perfectly round.) Set aside until soup is hot and almost boiling, then drop into hot soup.
For the soup: In a large stock pot, melt the butter. Add the onion, carrots, and garlic and cook until tender but not too soft, about 5 minutes.
Add 6 cups of chicken broth and bring to a boil. Turn down the heat to simmer, cover, and cook for 30 minutes. Taste and add salt and pepper as needed.
Drop in the meatballs and cook 15 minutes. Add acini di pepi and cook 5 minutes then add spinach. Cover and simmer for 30 minutes. If you need more broth, add the remaining 1-2 cups.
Notes
Although there are actual amounts here for the soup, you can add more or less of the ingredients to suit your tastes or needs. As long as you don't omit any of the ingredients, it should taste just fine. [br][br]I rarely measure ingredients for soup.