Nothing screams Fall cooking and comfort food like Homemade Macaroni and Cheese. I saw this great recipe on the Seasons and Suppers blog, and knew that was next on my list. Add some delicious Meatloaf and you've got a Sunday supper!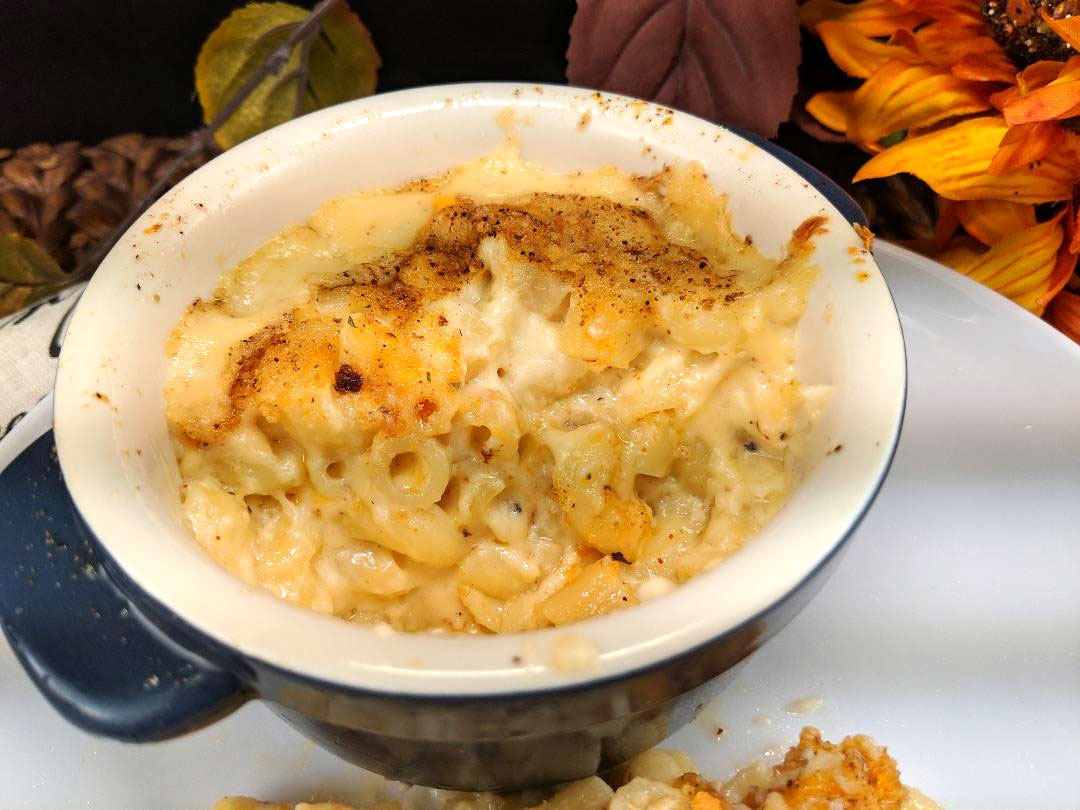 There's nothing easier than making homemade Mac and Cheese. Melt some butter, add in some flour. Add milk, cook til thickened. Add cheeses and melt. Add cooked elbow macaroni, mix and bake.
Who can't do that? It's a tad more than making mac and cheese from the box and loads tastier!
Trust me, next time you have a comfort food craving, try this Mac and Cheese. You'll be ever so glad you did.
Ingredients
8 oz dry elbow macaroni
Cheese Sauce:
1/4 cup butter
1/3 cup all-purpose flour
3 cups whole milk
7 oz aged white cheddar
3 oz orange sharp cheddar
1/2 tsp kosher salt
1/4 tsp chili powder
1/8 tsp garlic powder
Topping:
Bread Crumbs for sprinkling
1/2 oz aged cheddar grated
1/4 tsp chili powder
Instructions
1
Add water and a bit of salt to a large pot and place over high heat for the pasta. While it's heating, prepare the cheese sauce.
2
For the cheese sauce: In a large saucepan, melt the butter over medium heat. Whisk in the flour and continue to whisk and cook for about 2 minutes.
3
Very slowly add the milk, a little at a time, whisking constantly. Once all the milk has been added, cook, stirring frequently until the sauce thickens, about 10 minutes. (Don't rush this step. The mixture will not be thick, but will noticeably thicken after 8-10 minutes of cooking).
4
Remove the saucepan from the heat. Add the cheese, salt, chili powder and garlic powder. Stir until the cheese is melted and all the ingredients are incorporated, about 3 minutes. Set aside for a minute.
5
Preheat oven to 350 degrees F with rack in the center of the oven. Oil or butter an 8-inch square baking dish, an 8-inch cast-iron skillet or individual baking dishes.
7
When the pasta water is boiling, add the macaroni and cook for 2 minutes less than the package directions indicate. When the pasta is cooked, drain and immediately. Make sure your pasta is well drained.
9
Add the cooked pasta to the cheese sauce and mix gently, but thoroughly. (It might look like too much sauce or too little pasta, but trust me, it will all be good in the end). Spoon or ladle the mixture into a prepared baking dish or individual dishes. Sprinkle the top of each with a sprinkling of bread crumbs, bit of additional grated sharp cheddar cheese, then sprinkle with the chili powder.
10
Bake in the preheated 350 degree F oven uncovered for 20 to 25 minutes, until the sauce has bubbled up around the edges and the top has a nice golden crust. Let sit for a few minutes before serving.