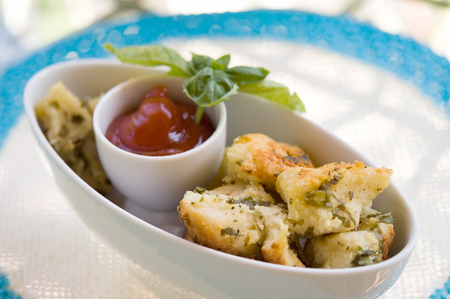 I saw this recipe on What's Gaby Cooking blog, and thought it sounded pretty interesting. I made it from prepared pizza dough to cut the preparation time. I wasn't sure of I had he same amount of dough with my prepared package as it called for in the home made dough, so I adjusted the herbs and garlic just in case. I think for the amount of prepared dough, the adjustment was just right. You can also use refrigerated biscuits in place of the pizza dough.
Garlic Herb Monkey Bread
1- 18 oz. pkg prepared pizza dough
1/2 c. butter, melted
1/2 c. Pecorino Romano cheese, grated
2 Tbsp fresh parsley, chopped
3 scallions, chopped
5 basil leaves, chopped
3 cloves garlic, minced
1 cup Marinara or Pizza sauce
Preheat oven to 400° F.
Flour your working surface and flatten your prepared dough as much as possible. Using a large knife, cut into approx. 1 inch squares. Set aside while preparing garlic herb mixture.
Butter bundt pan.
Melt the butter in a small bowl. Combine the cheese, herbs, garlic in a large bowl. Add the melted butter and mix together with a spoon. Toss in the cut dough and make sure it all gets a coat of the butter mixture. Layer the cubes into the bundt pan. Let sit for 30 minutes for the dough to rise a little more.
Place bundt pan into the oven and bake for 25-30 minutes until the bread and cheese is golden brown. Serve with warmed marinara sauce or pizza sauce.