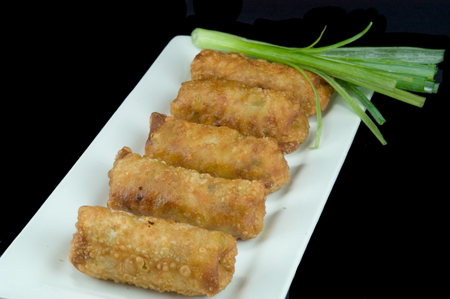 I've always wanted to make egg rolls, but never really got around to it. The other day, I bought these egg roll wrappers and decided I would undertake the  take out favorite, "egg rolls". Making the filling is super easy, and filling and rolling them is much easier than I had imagined (I had nightmares of my pie crust debacle, when I couldn't figure out why on earth the pie crust kept splitting). These pre-made egg roll wrappers are very easy to work with, and I had no problem what so ever with splitting or tearing.
There are probably many variations to egg roll filling. This is a basic one, which was truly delicious. I used my favorite House of Tsang oyster sauce in this recipe that is a very sweet instead of extremely fishy tasting, as a lot of other sauces are. A while ago, I couldn't find this brand anywhere, so tried every brand I could find and only found one brand that was similar.  I ended up buying a case of 6 bottles so I'd have when I needed.
You will never want to get these from take out again, when you see how easy these are to make. BTW, these would go beautifully with my Fried Rice recipe.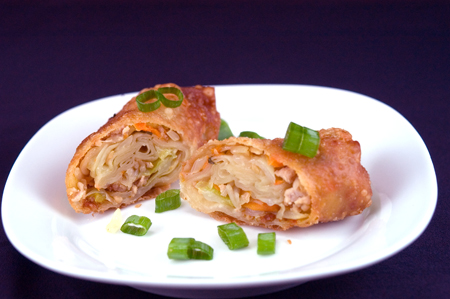 Print
Egg Rolls
---
Prep Time:

10 mins

Cook Time:

10 mins

Total Time:

20 minutes

Yield:

6

1

x
1

pkg egg roll wraps

3 Tbsp

canola oil

1

lb lean ground pork

1 tsp

minced fresh ginger

2

c. cabbage, finely chopped

1/4

lb. fresh bean sprouts

1/2

c. carrot, shredded

3

green onions, finely chopped

2 Tbsp

oyster sauce
canola oil for frying
Sauce for dipping
---
Instructions
Add 2 Tbsp canola oil to wok or fry pan and heat til glistening. Stir fry meat and ginger in skillet over high heat until lightly browned; 2-3 minutes.
Add cabbage, bean sprouts, carrots and green onions; cook 2 minutes. Stir in oyster sauce. Let mixture cool.
Use 2 Tbsp filling for each egg roll. Orienting the egg roll wrap in a diamond shape in front of you, fold bottom corner over filling, then fold in side corners. Brush top corner with water and roll up wrap tightly to enclose filling; sealing roll with top flap.
In a large skillet, heat oil to 350 degrees F. Place rolls flap down, a few at a time, turning occasionally until golden; 2-3 minutes. Drain on paper towels.
Notes
Baking Option:
Heat oven to 400 degrees F. Place rolls on a baking sheet coated with non-stick spray. Lightly brush the tops with olive oil and bake until golden brown, about 10-12 minutes.