I love Chicken Fajitas. It's great for a weeknight meal especially for families that are coming in for dinner at different times. Everyone can make their Fajita just how they like it.
I wanted to find a great marinade and poured over several recipes I found on line. I found this one from Elise Bauer on Simply Recipes which sounded delicious. The chicken is marinated beautifully, and cooks rather quickly. If you but the peppers and onions already cut in to strips as I did, the preparation is super fast. The only time involved is in marinating the chicken.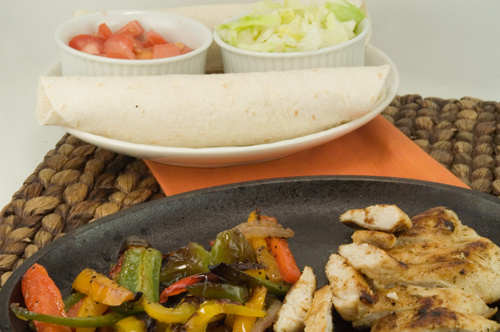 Print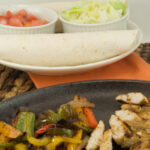 Chicken Fajitas
---
Skinless, boneless chicken breasts
Salt
Tbsp canola oil
large onion, sliced in to strips
bell peppers of various colors, sliced into strips
Marinade:

2 Tbsp

lime juice

3 Tbsp

olive oil
garlic clove, minced

1/2 teaspoon

salt

1/2 teaspoon

ground cumin

1/2 teaspoon

chili powder

1/2

jalapeno, seeded and minced

1/4 cup

chopped cilantro
Accompaniments:
Sour cream
Thinly sliced iceberg lettuce
Shredded cheese
Tomato, diced
---
Instructions
Slice the thickness of chicken breasts in half to make each piece approx. 1/2″ to 3/4″ thick.
Mix all the marinade ingredients together in a bowl. Add the chicken, mix well, cover and let marinate at room temperature for 1 hour, or as long as you can.
Heat a large heavy skillet on high heat until hot. Add a tablespoon of canola oil to the pan. As soon as the oil begins to smoke, lay the chicken breast pieces in the pan. Depending on the size of the pan, and if you have had to cut the chicken breasts, you may have to work in batches. Let the chicken cook undisturbed for 2-3 minutes, until you have a good sear. Once seared well on one side, turn the pieces over and cook for another 2-3 minutes until well seared on the second side.
Once seared on the second side, remove to a plate and cover with aluminum foil to rest for 5 minutes. Stack the seared chicken breasts and then cover them in foil. Together they will retain heat better as you cook the peppers and onions. Make sure to test for doneness by using your instant read thermometer or by cutting into one piece with the tip of a sharp knife. It should be just done, if not, you can put it back in the hot pan for a minute or two.
While the chicken is resting, cook the onions and peppers. Add another tablespoon of oil to the frying pan. Heat on high. As soon as the oil is hot, add the onions and peppers to the pan. Spread the onions and peppers in an even layer in the pan. Let them cook undisturbed for 2 minutes. Stir the vegetables and continue to cook for another 2 minutes.
Slice the chicken against the grain into strips. Serve at once with the peppers and onions, some warm tortillas, and sides of shredded cheese, salsa, guacamole, and/or thinly sliced iceberg lettuce and tomatoes.
Adapted from Elise Bauer/Simply Recipes