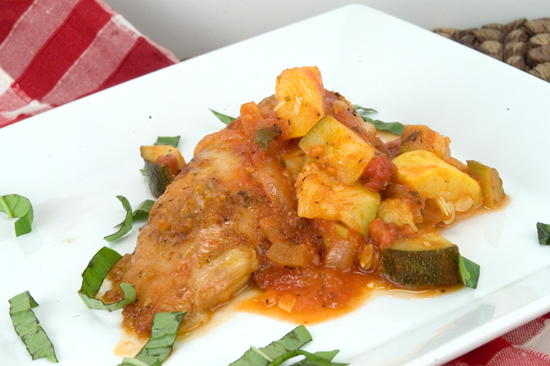 Tonight I made Chicken Caprese and Zucchini Tomato Saute. I suddenly got a great idea. Chicken along with the Zucchini and Tomato Saute would be unreal. It would basically taste like a Modern Chicken Cacciatore. So I took a piece of the chicken and topped with the veggie mixture. Delicious. It would even be better if you put a sauteed chicken breast in the veggie mixture and let it simmer for 20 minutes or so. Serve with some buttered noodles and it would be delicious.
Just make the Zucchini & Tomato Saute. Cook for approx 20 minutes. Then, in another skillet, saute some really good chicken breasts in a little oil until browned on both sides. Add to vegetable mixture, and simmer for approx 10 minutes or so.
Serve with veggie mixture on top of chicken breast.