An old fashioned classic. Date Crumb Bars. I used to love the boxed Date Bar Mix made by Betty Crocker. Another thing they don't make anymore… They were so easy. This recipe is similar to those, and pretty easy to make and take to any function.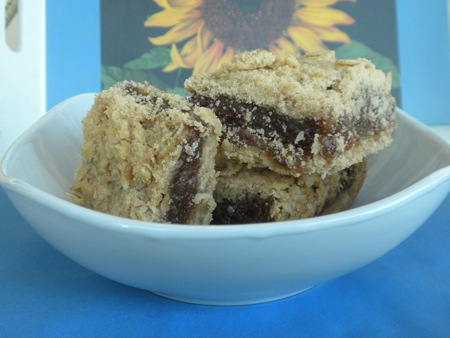 Date Crumb Bars
Filling:
1 lb. pitted dates
1 c. firmly packed brown sugar
2/3 c. water
1 tsp vanilla extract
Crust:
1-1/2 c. old fashioned oats
3/4 c. whole wheat flour
3/4 c. all purpose flour
1 c. firmly packed brown sugar
1/2 tsp. baking soda
1 c. (2 sticks) chilled unsalted butter
For filling: Combine all ingredients in medium saucepan. Bring to simmer, stirring to dissolve sugar. Simmer 1 minute. Puree mixture in processor. Cool.
For crust:
Preheat oven to 350° F. Butter 13 X 9 inch baking pan. Mix oats, flours, sugar and soda in medium bowl. Grate butter with a grater into mixture and mix in with fingers until mixture resembles coarse crumbs. Firmly press half of crumb mixture into bottom of prepared pan.
Spread filling over crust. Sprinkle remaining crumb mixture over filling. Bake until topping is golden. brown, about 38 minutes. Cool in pan.
Cut into squares and serve.