When I saw this delicious looking dessert on the cover of Allrecipes Fall Recipes magazine I knew I had to make it….right away!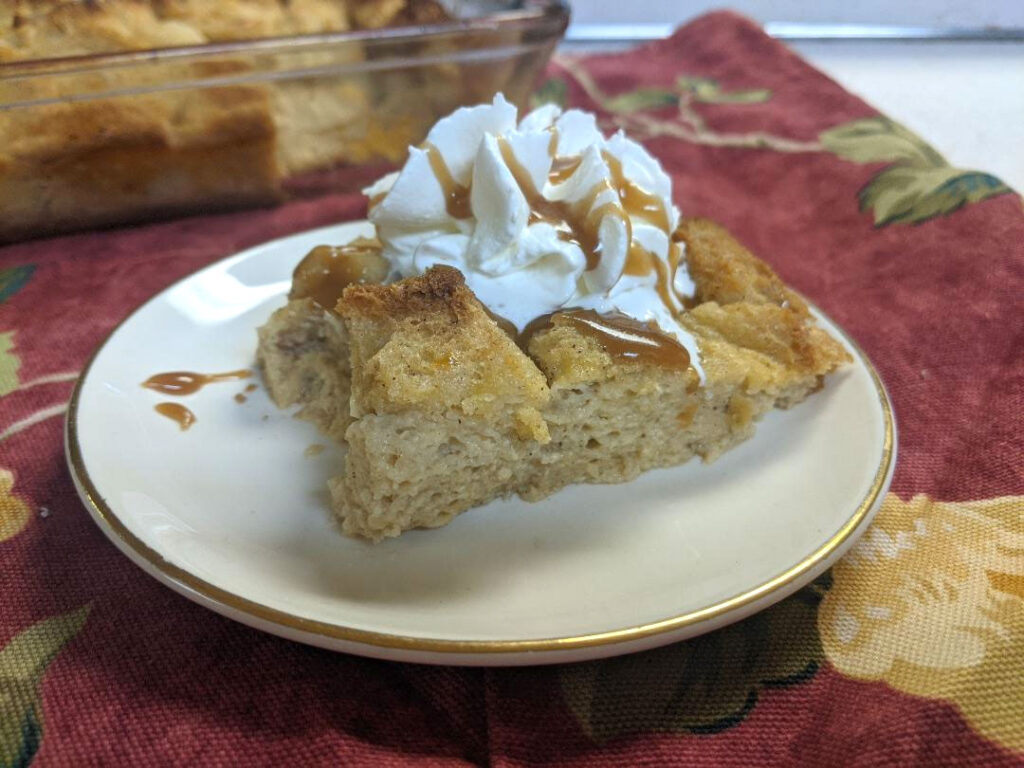 Who doesn't love bread pudding with a creamy custard and apples with a sweet caramel syrup and whipped cream?

This was super easy to make and perfect for any pot luck or dessert.

This will be one of your Fall favorites for sure!

Simply toast the bread in the oven to dry out.

Saute apples in butter until soft.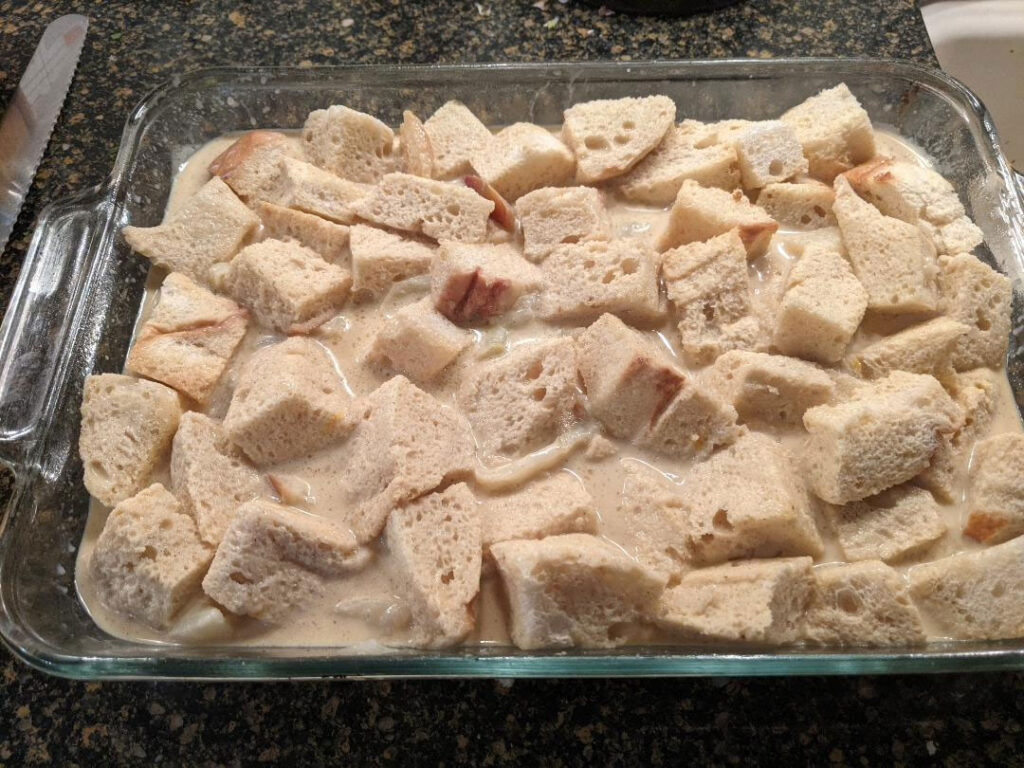 Add bread and apples to baking dish and mix. Add custard to bread mixture.

Let mixture sit for approx. 30 minutes.

Then bake.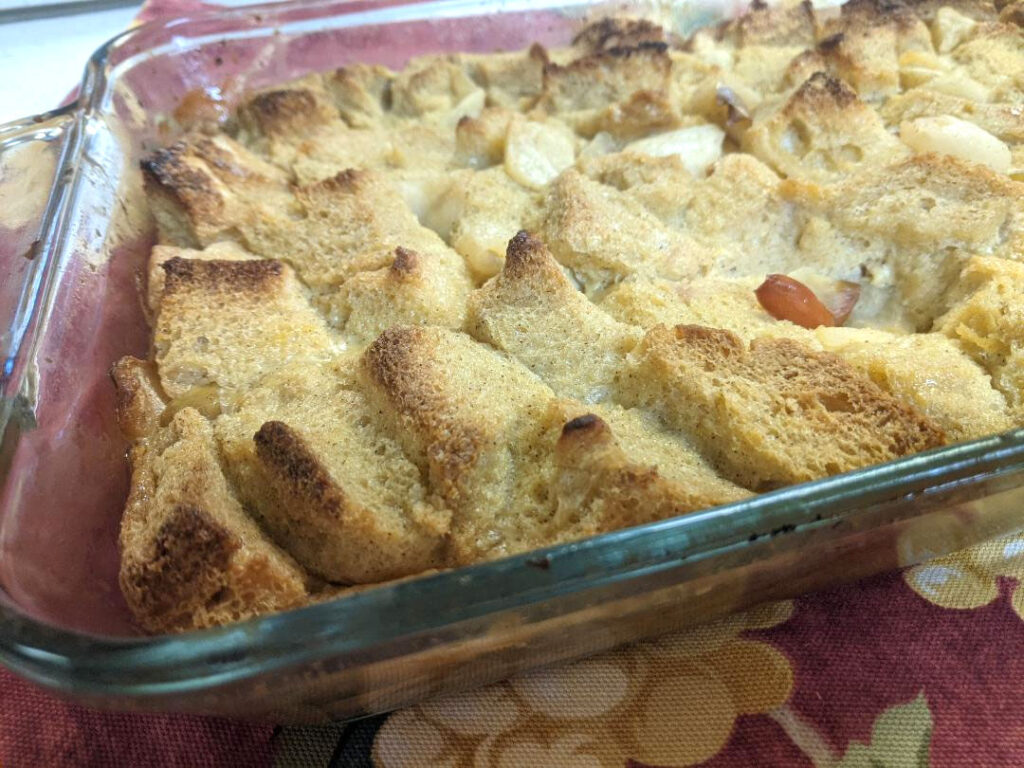 To make caramel, pour all ingredients into a saucepan and cook until thick. If you are using right away cook to your desired thickness. The more you cook, the thicker it will get. If you are using later or the next day, cook to a thin consistency and then reheat to your desired consistency. Again be careful, the more you cook, the thicker it gets.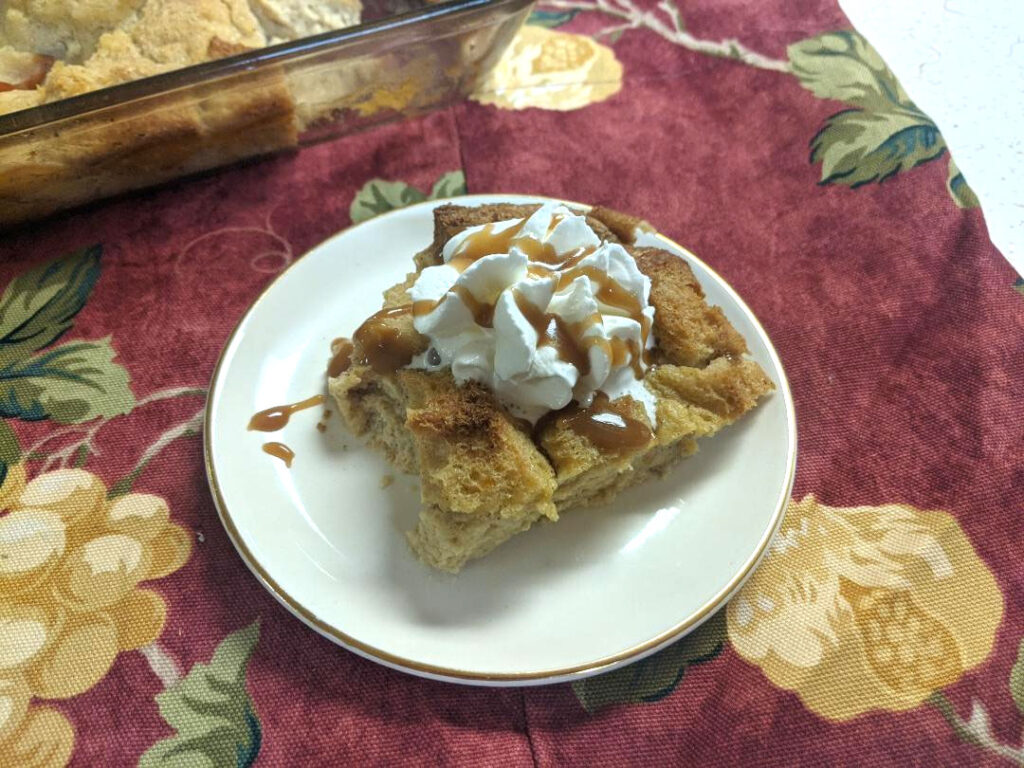 Print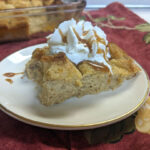 Apple Bread Pudding with Caramel Sauce
---
Description
Deliciously creamy topped with sweet caramel syrup and whipped cream.  Nothing can be better for a delicious dessert.
---
1 (14 ounce) wide loaf French bread, crust removed and bread cut into 2x1-inch cubes
2 tablespoons butter
2 apples – peeled, quartered, cored, sliced crosswise into 1/4-inch thick pieces
1 cup muscovado or packed brown sugar, plus more for garnish
½ teaspoon ground cinnamon
¼ teaspoon salt
4 large eggs
2 large egg yolks
3 cups milk
1 cup heavy cream
1 teaspoon vanilla extract
---
Instructions
Preheat oven to 325 degrees F (165 degrees C). Grease a 9×13-inch baking dish.
Spread bread cubes on a baking sheet and bake until crisp, about 20 minutes.
Meanwhile, melt butter in a skillet over medium heat. Saute apples until tender, 7 minutes, then transfer to prepared baking dish along with bread. Toss to combine.
Whisk together sugar, cinnamon, and salt in a large bowl. Whisk in whole eggs and yolks until well combined, then whisk in milk, cream, and vanilla. Pour mixture evenly over bread mixture. Let stand, covered, 30 minutes at room temperature.
Preheat oven to 325 degrees F (165 degrees C).
Bake pudding until bread has absorbed custard and is set, about 50 minutes.