I posted this recipe years ago, and have made it several times since. I had always shied away from trying to make Carbonara. It always looked so hard to make. Using egg yolks in a hot mixture always looked like disaster. Then I saw a "Jamie At Home" TV show, and he made it look so easy, so I decided to try it.
Jamie has such a way of teaching that anything he makes, you can too! I've made pizza dough that is so easy and delicious, you'll never but that store bought elastic stuff again.
Now he has a Food Tube channel, and you can get updates with some great recipes! I just saw the latest one that was for Classic Carbonara. I never knew it was the pasta liquid and the grease that makes the sauce in Carbonara!
Check out Jamie's Food Tube, and try this great Classic Carbonara recipe. You won't believe you made this restaurant quality dish!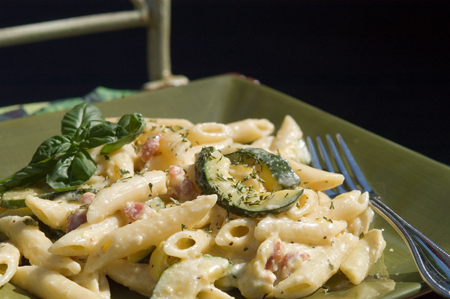 Ingredients
3 large egg yolks
1/3 cup Romano cheese , plus extra to serve
5 oz. piece of Pancetta, diced
1 lb. dried ziti or spaghetti
1 clove of garlic
1 Tbsp. Whole peppercorns, ground
6 medium zucchini, sliced
Instructions
1
Put the egg yolks into a bowl, finely grate in the Parmesan, season with pepper, then mix well with a fork and put to one side.
2
Cut any hard skin off the pancetta and set aside, then chop the meat.
3
Cook the spaghetti in a large pan of boiling salted water until al dente.
4
Meanwhile, place the pancetta in a medium frying pan, then place over a medium-high heat.
5
Peel the garlic, then crush with the palm of your hand or back of a knife, add it to the pan and leave it to flavor the fat for 1 minute. Cook for 4 minutes, or until it starts to crisp up.
6
Meanwhile, grind the whole peppercorns in a pestle until fully ground. Sift through a sifter to extract the fine granules of the pepper (if you do not have a pestle, just use coarsely ground pepper instead). Add pepper to the egg mixture.
7
Pick out and discard the garlic from the pan, then, reserving some of the cooking water, drain and add the spaghetti. Toss well over the heat so it really soaks up all that flavor, then remove the pan from the heat.
8
Add a splash of the cooking water and toss well to stop the frying, season with pepper, then pour in the egg mixture – the pan will help to cook the egg gently, rather than scrambling it. Toss well, adding more cooking water until it's glossy.
9
Serve with a grating of Parmesan and black pepper.