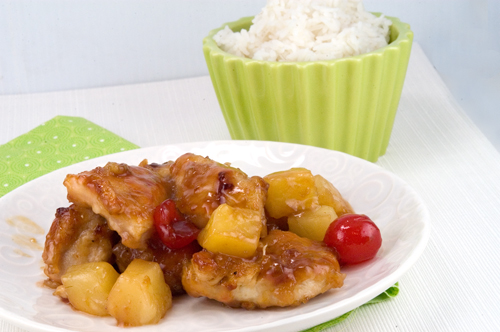 My mom gave me this recipe, she got it from a relative in Canada. It is truly sweet "and" sour, and reminds me of the sweet and sour chicken you get at Chinese restaurants, only a million times better! It's great with just plain white or brown rice, Fried Rice, or basically anything you'd like to serve it with.
This recipe is super easy to make, and would also be fantastic as an appetizer.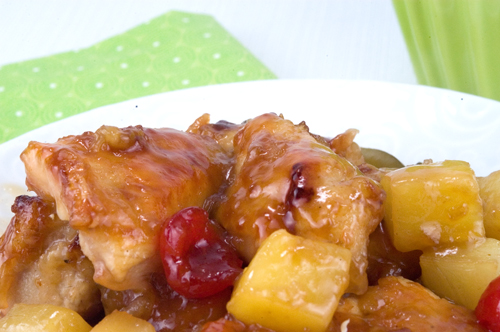 Author:
Total time:
1 hour 20 mins
Tender white meat chicken, in a sticky, sweet and sour sauce perfect for a main dish or appetizer.
Ingredients
2 whole boneless, skinless chicken breasts
1/2 c. cornstarch
1-1/2 tsp salt
little pepper
1/3 c. canola oil
1 – 15 oz can pineapple chunks or tidbits
2 Tbsp soy sauce
1/2 c. white vinegar
3/4 c. white sugar
2 Tbsp cornstarch
12/2 tsp ginger
1 green pepper, sliced
8-10 red Maraschino cherries
Instructions
Cut boneless chicken into large chunks. Heat 1/3 c. oil in large frying on medium high heat. In a separate bowl, add 1/2 c. cornstarch, 1-1/2 tsp salt and a little pepper; coat chicken with mixture. Fry chicken until golden brown.
Drain juice from can of pineapple in a saucepan. To pineapple juice, add 2 Tbsp soy sauce, and 1/2 c. white vinegar. Bring to a boil. Add in 3/4 c. white sugar, 2 Tbsp cornstarch and 1/2 tsp ground ginger.
Place browned chicken in a oven safe casserole, pour liquid over chicken and bake for 30 minutes at 350°F.
Add pineapple chunks and sliced green pepper to chicken mixture and cook for another 25-30 minutes.