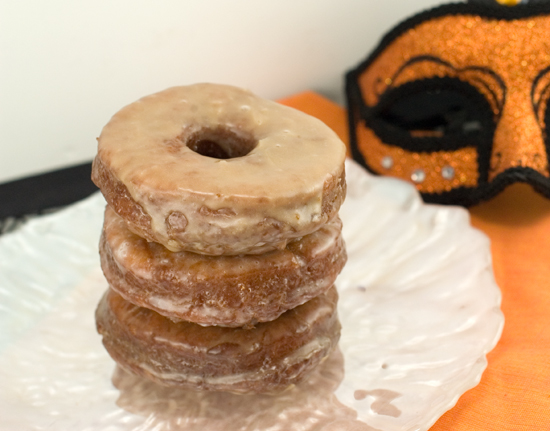 First off, let me say, I've never made donuts. A saw this recipe for Pumpkin Donuts and it looked so easy, I just started making them on the spot. Yes, dinner needed to be made, and yes, I did just get home from work. But, when inspiration strikes, it strikes.
I saw this donut recipe. where else?…..Pinterest! This recipe's from Bromabakery.com.
So on with the donuts.
I will say, I thought donuts were a lot harder to make. Either this recipe is super easy, or I've been in the dark. You just mix together the dry ingredients, mix together the wet ingredients, and them mix it all together. Roll out to about 1/2 inch. And finally I get to use the donut cutter I bought at King Arthur Flour last year!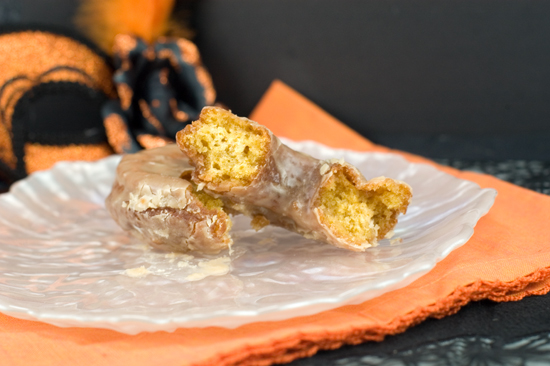 I put about 2 inches of oil in a dutch oven pan, and bring to about 350 degrees F. And then I put a donut on a metal spatula and immersed into the oil and left there until the donut rose to the top. Once it starts browning, it releases from the spatula and rises to the top of the oil. I only cooked about 4 at a time, so the oil wouldn't lower its temp.
I realized I didn't have any Pumpkin Pie Spice, so the Substitutions Page came in real handy for making up the Pumpkin Pie Spice for this recipe.
I added a little maple extract to the icing. I thought the maple flavor would add to the pumpkin flavor…it did!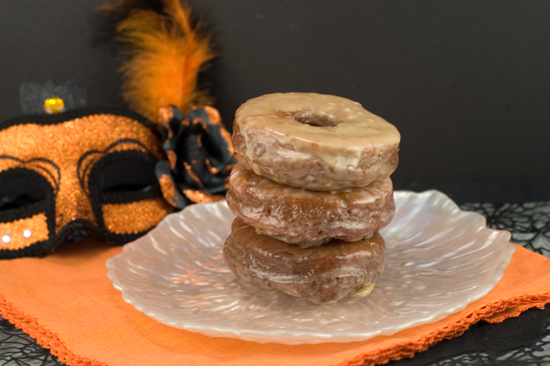 Pumpkin Donuts
Ingredients
For the donuts:
3½ cups all purpose flour
4 teaspoons baking powder
1 teaspoon salt
2 teaspoons pumpkin pie spice
1 cup sugar
2 tablespoons butter
2 eggs
2 teaspoons vanilla
½ cup buttermilk
1 cup pumpkin puree
For the buttermilk glaze:
3 cups powdered sugar
½ cup buttermilk
½ teaspoon vanilla
Canola oil for frying
Instructions
In a large bowl, whisk together the flour, baking powder, salt, spice and sugar. Whisk together all of the remaining ingredients (except for the canola oil) in a second, medium bowl. Make a well in the center of the dry ingredients. Pour the wet ingredients into the dry ingredients, and stir them around the bowl until the mixture is well combined. Turn out onto a lightly floured surface, rolling the donut dough to approximately1/4-1/2″ thick. (I know this will seem quite thin, but the donuts puff up immensley while frying). Cut with a donut cutter.
Meanwhile, whisk the glaze ingredients together in a small bowl until smooth.
Heat 2 inches of oil in a large skillet over medium-high heat. When the oil is hot, gently slide the donuts into the oil, frying on the first side until the edges of the donut are lightly browned, flip carefully and allow to cook on the other side until lightly browned. Remove and dunk immediately into buttermilk glaze. Allow to air dry on a cooling rack before serving.