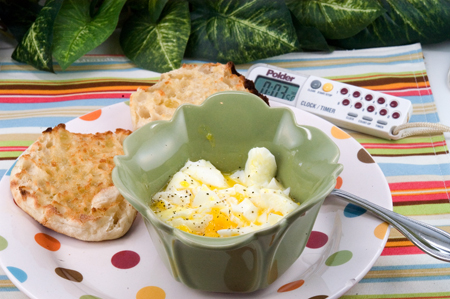 Its funny how you remember the smallest what may seem unimportant things from your childhood. I have so many memories of visiting my grandmother's house.  Playing Parcheesi and Rummy 500 card games on the porch on a warm summers day. Her making me breakfast when I slept over. She made everything, french toast, pancakes, oatmeal, and I especially remember a boiled egg in an egg cup all chopped up.
Every once in a while, I feel like having an egg just like the one she used to make me. The yolk was in between runny and getting cooked, and the white had to be cooked. I do remember not wanting to eat it, if the white was at all runny.
I've made these eggs several times since then, sometimes they come out OK, sometimes not. I made them yesterday, feeling like have one of grandma's eggs and toast on the porch. It was a warm, sunny morning, and I must have associated that with mornings at Grandma's on the porch and her eggs that I loved.
As I always do, I went on the Internet, and look up medium boiled eggs, as I don't make them that often and keep forgetting how long to cook. I came across this method from Lilies Have Dreams blog and made them. They came out perfect.  The yellow was not too runny, not too cooked, and the white was perfectly cooked. I put in an egg cup, chopped it up, added salt & pepper, butter my English Muffins and I was off to the porch with my coffee.
What a wonderful was to start Memorial Day! Relaxing on the porch with Grandma's eggs and a glorious day!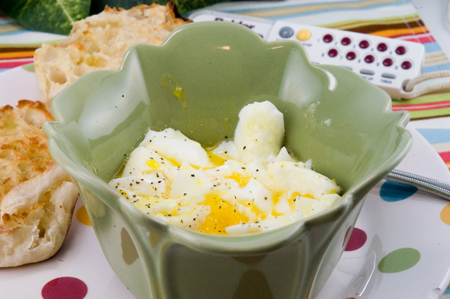 | | |
| --- | --- |
| Perfect Medium Boiled Eggs | |
Author:
Mmm..Just like Grandma's. Perfect medium boiled eggs.
Instructions
Place eggs in pan with enough cold water to just cover the eggs. Place pan on stove, covered, and bring to boil.
Once water begins boiling, reduce heat to medium and time for 3 1/2 minutes more.
At conclusion of 3 1/2 minutes, scoop each egg out of the pan with a spoon and run under cold water for several seconds.
Tap with a knife to crack shell and then peel (or you can stick your butter knife in the egg and split in half and scoop out the egg).
Chop up egg and add salt and pepper.