I have been making favorites from John Hadamuscin's Special Occasions  Cookbook forever. But I have never made these Hudson Valley Apple Crumb Bars. I have a laundry list that I make when I first look at the cookbook. And, I noticed there are "several" recipes I have never made. This is one of them… More to come….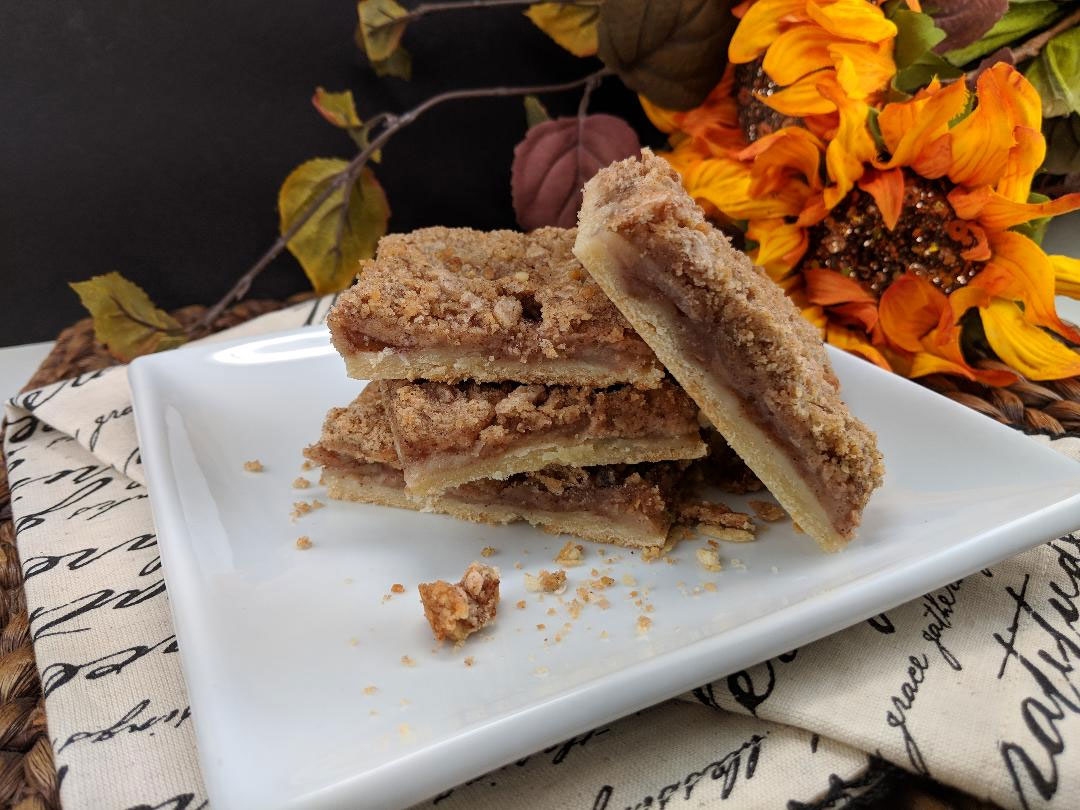 Sadly, when I was Googling his name I noticed that he passed away September 1, 2018. I have several of his cookbooks, and have made many recipes from them (Apple Pandowdy, Orange Pumpkin Muffins and Summer Meatloaf). All were extremely good. For me, his cooking and recipes were compatible to Lee Bailey who's recipes I "LOVE". Both had cookbooks come out around the same time. I look at John's picture in his Special Occasions cookbook with his dark hair, and can't believe it was 30 years ago! Recent pictures of him show hos gray hair. That's when you ask yourself…where is the time going? It proves cookbooks and recipes are timeless. It seems like yesterday I got this cookbook! Yesterday I made that Apple Pandowdy. But yet, his recipes are still wholesome and delicious, and will live on for generations to come.
I will finally make these Hudson Valley Apple Crumb Bars in honor of you John! Thank you for such inspiration….apparently I've learned from the  best. RIP.
Ingredients
Crust:
2/3 c. (1 1/3 sticks) butter
1 (3 oz.) pkg. cream cheese, softened
1/4 c. dark brown sugar, firmly packed
1 lg. egg
1 tsp. vanilla extract
2 c. all-purpose flour
1/4 tsp. salt
Filling:
1/3 c. sugar
2 tbsp. all-purpose flour
1 tsp. ground cinnamon
1/4 tsp. grated nutmeg
8 c. thinly sliced tart baked apples
Topping:
1 c. all-purpose flour
3/4 c. dark brown sugar, firmly packed
1 tbsp. ground cinnamon
1/2 c. (1 stick) cold butter
Instructions
1
Preheat the oven to 375 degrees. Lightly grease a jelly roll pan (approximately 10 1/2 x 15 inches.)
2
FOR THE CRUST: Cream the butter, cream cheese, and brown sugar together in a mixing bowl, then beat in the egg and the vanilla. Stir in the flour and salt until just blended in. Using your fingers, press the dough into the pan in an even layer.
3
FOR THE FILLING: Mix the sugar, flour, and spices in a small bowl and toss this mixture with the apples. Arrange the apples in an even layer over the dough.
4
FOR THE TOPPING: Combine the flour, brown sugar, and cinnamon in a small mixing bowl. Cut in the butter until coarse crumbs are formed. Sprinkle the crumbs evenly over the apples.
5
Place the pan in the oven and bake for about 40 minutes, or until the apples are tender and the topping is nicely browned. Cool in the pan on a wire rack and cut into 2 inch square bars.