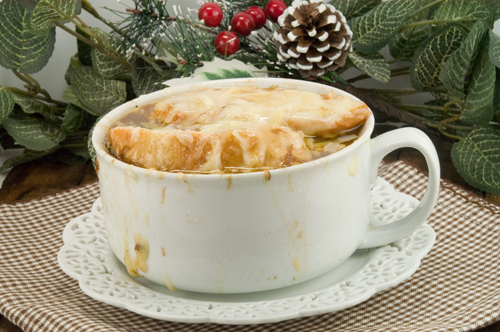 What do I think of at holiday time when it comes to soup? French Onion soup, hands down. I love the rich taste of the caramelized onions, red wine and rich beef broth. Top it with a thick piece of toasted crusty bread topped with ooey, goey melted Gruyere cheese, nothings better.
I always seem to make it for Christmas, but only occasionally make it for Thanksgiving. As not everyone likes French Onion soup, this year, I made two soups, to try and keep everyone happy.
There is nothing like French Onion soup, and this recipes is my favorite.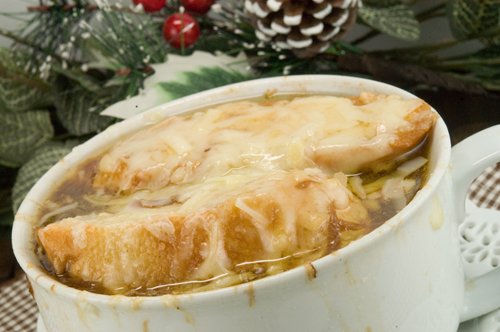 | | | |
| --- | --- | --- |
| Ther Best French Onion Soup | | |
Author:
Cook time:
2 hours 15 mins
Total time:
2 hours 30 mins
Caramelized onions, red wine, and rich beef broth. Topped with crusty french bread and melted Gruyere cheese. Delicious.
Ingredients
14 c. red, white & yellow onions, thinly sliced
4 Tbsp extra virgin olive oil
2 Tbsp butter
2 garlic cloves, minced
1 tsp salt
1 tsp sugar
1-1/2 c. red wine (or 2 c. red wine if not using the sherry)
1/2 c. sherry
6 Tbsp flour
2-1/2 qt beef stock (or 4 qt all beef stock)
1-1/2 qt chicken stock
3/4 lb. Gruyere cheese
1 – Baguette, cut in to thick slices and toasted
Instructions
In very large heavy stockpot or dutch oven, over medium heat, add extra virgin olive oil and butter. When butter is melted, stir in sliced onions and garlic. Cook until translucent; about 10 minutes. Stir in salt & sugar and cook for about 45 minutes, or until caramelized and dark walnut color. Adjust heat to medium high and add wine and sherry stirring until reduced and slightly syrupy; about 1-2 minutes. Stir in flour and cook for 2-3 minutes. Add stock & cook on simmer for approx. 1-1/2 hours.
When you're ready to eat, preheat the broiler. Arrange the baguette slices on a baking sheet in a single layer. Toast until lightly browned. Sprinkle the slices with the Gruyere and broil until bubbly and golden brown, 3 to 5 minutes.
Ladle the soup in bowls and float several of the Gruyere croutons on top.
You can also ladle the soup into bowls, top each with 2 slices of bread and top with cheese. Put the bowls into the oven to toast the bread and melt the cheese.
Notes
14 cups of sliced onions seems like a lot, but they will cook down to virtually nothing.
If you have a Mandoline or food processor with a slicing disc, to cut your onions, it will make the slicing of the onions a breeze.
Adapted from Julia Child's "The Way to Cook".