This is literally The Best And Most Addictive Pasta You'll Ever Taste! I mean it!
It's derived from a recent post for pasta with chicken.

I didn't feel like going through the steps for cooking the chicken, etc, so skipped that step and went right to the pasta and vegetables.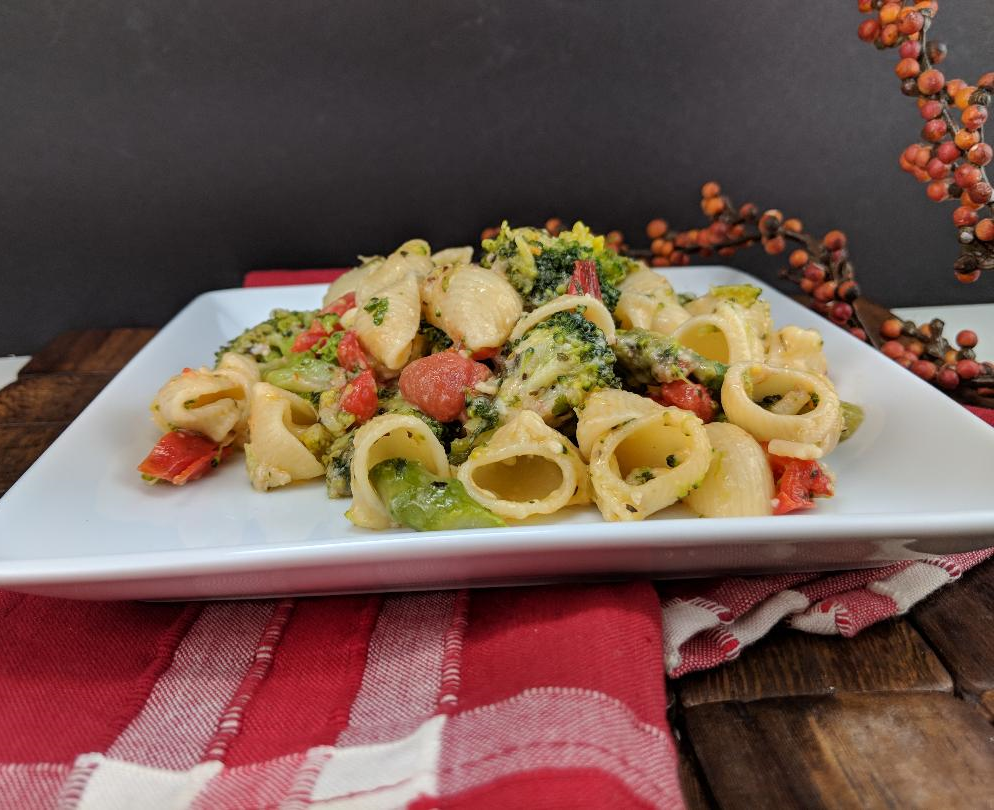 I added asparagus and red peppers to the veggies and used the same sauce.
I adjusted the ingredients for 2 people and still had leftovers.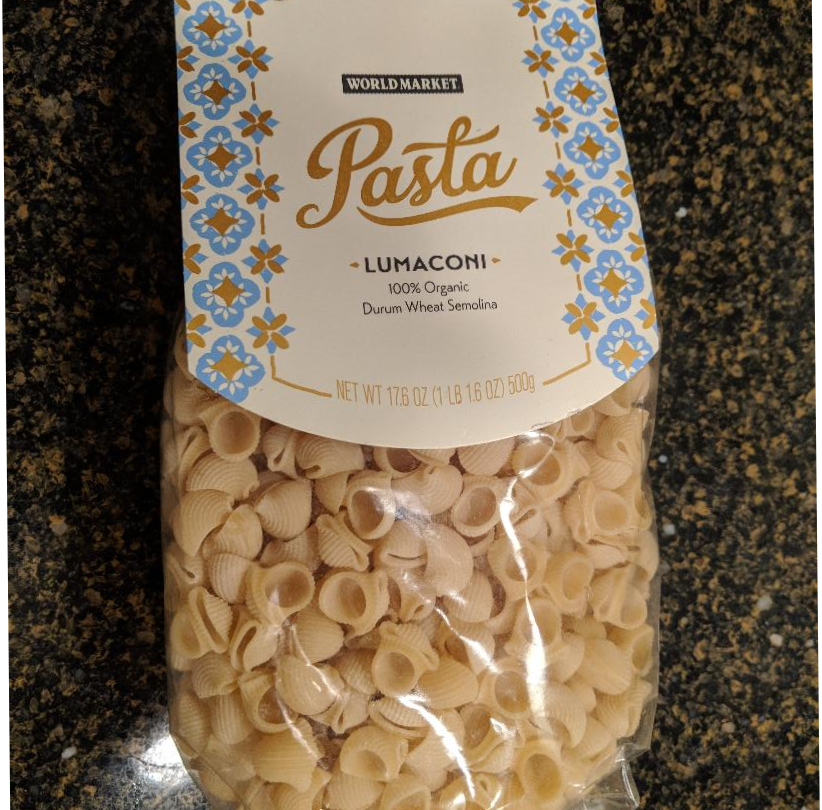 In my opinion, Lumaconi pasta is the BEST for this dish. It holds the delicious sauce and cheese perfectly. I bought mine from World Market. If you're lucky enough to have a World Market nearby, you can purchase right in the store. If not you can find online or at your favorite Italian food store.
If you love pasta with veggies and garlic with a creamy, tomatoey, buttery sauce, this is for you. People will ask you where you "bought" it! Trust me. Fair warning, it is addictive!
The Best and Most Addictive Pasta You'll Ever Taste!
Print Recipe
Ingredients
1-1/2 cups small broccoli florets
8 stalks asparagus, chopped in to bite sized pieces
8 ounces pasta (about 1/2 of a pound box) (or any other pasta)
3 tablespoons extra-virgin olive oil
1 red pepper, chopped
1/4 teaspoon red pepper flakes
2 garlic cloves, minced
1/2 cup cherry or grape tomatoes
8.25 ounce Chicken Broth
4 tablespoons unsalted butter, diced
1/2 cup grated Pecorino Romano (or Parmesan), plus more to pass
Freshly ground black pepper
Instructions
1
Bring a large pot of water to a boil over high heat, then salt it generously. Add the broccoli and asparagus and cook until crisp-tender, about 2 minutes (Resist the urge to cook more than that. The veggies continue to cook as they sit, and cook again in the pan with the sauce). Transfer broccoli and asparagus with a slotted spoon to a bowl. Return the water to a boil, add the pasta and cook, stirring occasionally until al dente to tender but not mushy, about 8 minutes.
2
While the pasta cooks, combine the oil, red peppers and red pepper flakes in a large skillet. Cook over medium-high heat, stirring, until lightly browned and fragrant, about 2 minutes. Add the minced garlic and cook one more minute. Add the cherry tomatoes and cook, stirring, until somewhat soft, about 1 minute. Be careful not to cook any more, or the garlic will burn. Add 8.25 ounces of chicken broth, the remaining 2 teaspoons salt, and stir in 4 Tbsp butter and 1/4 cup of the Pecorino until incorporated. Stir back in the vegetables, bring to a simmer, and remove from the heat.
3
Drain the pasta in a colander in the sink. Transfer to a bowl and toss with the remaining 1/4 cup Pecorino. Pour the sauce and veggies over the pasta, season with pepper, and toss to combine. (If the sauce around the pasta seems "tight", add a little more broth, until it loosely naps the pasta.) Serve in large bowls and pass additional cheese at the table, if desired.