I love Haddock, and I love Scallops. So naturally when I was at the seafood market purchasing some fish for dinner, and these huge dry Scallops, I knew something was brewing for dinner besides the haddock. Hence, this delicious Seafood Stuffed Haddock.
I always but Dry Scallops because I think their the tastiest. But sometime even they are not too sweet and tasteless. These were not the case. They were pretty pricy ($19.99/lb), so I only bought three of them. That was just enough though to add to the stuffing for my fish.
I never, ever use previously frozen fish. If I can't get fresh, I get it another day. To me, there's no comparison between fresh fish and previously frozen. And remember, if your fish smells like fish, it's not fresh. Just like Scallops, your fish should smell like the sea. Not like old fish:(
I always, always soak my fish in a little milk. Even if you're cooking the fish the day you bought. The normal soak is 10-20 minutes. In case the fish has even a slight fishy smell (which it can get even after 1 day old), the milk soak with remove any odors, and ensure your finished dish is perfect every time.
Don't be tempted to leave out the Dry Sherry. It totally makes the stuffing, even if you only use a little sprinkle. Trust me.
Unlike just baking fish in a baking dish, this Stuffed Haddock takes a little longer to cook because it's rolled up. Use your instant read thermometer to calculate the temperature of your fish. If you don't have an instant read thermometer, GET ONE! It's the only way to know the internal temperature of your fish, and overcooked fish is not so good. The best ones give you a digital instant read in seconds. The dial type instant reads take too long to read, and you end up holding your oven door open way too long, losing precious heat. Trust me it's worth the investment, I've been using mine for YEARS!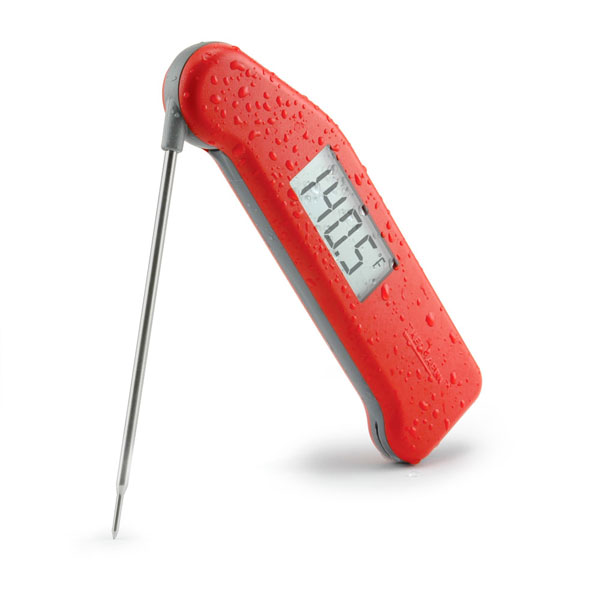 I took my basic stuffing recipe, and added these great scallops. These scallops were amazingly delicious. Between the great stuffing, sweet scallops and flaky Haddock, this dish was a home run.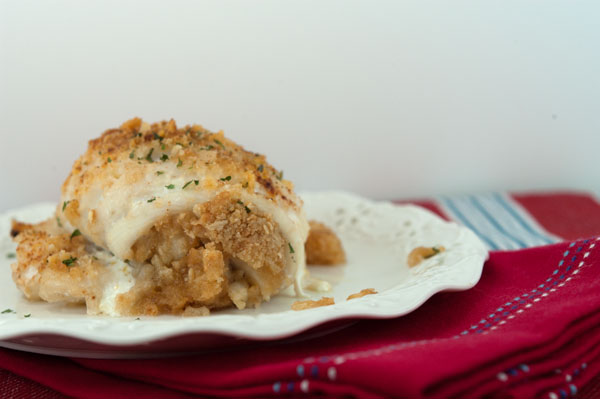 Print
1

pound or so Haddock, or other white fish

3

really good sized Dry Sea Scallops, chopped into small pieces

1 cup

milk

3/4

stack Ritz or Town House or other buttery type crackers

1/2

stick Butter, melted

1/4 tsp

Worcestershire Sauce

1/2 Tsp

fresh Lemon Juice

1 Tbsp

Milk

1/2 tsp

Dried Parsley

1/2 tsp

. Dry Sherry (the real thing… not the cooking wines you see n the supermarket)
---
Instructions
Preheat oven to 375 degrees F.
Rinse and using paper towels, pat dry fish filets.
Place in a baking dish, and add milk. Let sit for 15 minutes or so while making stuffing.
Using a zipper type plastic bag and a rolling pin, crush crackers.
Place in a large bowl, add butter, Worcestershire, lemon juice, milk, parsley and dry sherry. Add dry cracker crumbs to the wet mixture. Add chopped scallops.
Remove fish filets from milk, and with paper towels, pat dry.
Place approx. 1/4 cup stuffing mixture on fillet about 3 inches from one end. Carefully roll fish filet. Carefully place rolled fish into a baking dish sprayed with some non-stick cooking spray. If you would like to try and add more stuffing to the already rolled fish, you can add by sticking some stuffing in to the middle with your hands.
You can sprinkle some additional dry crumbs on the top of the fish if you'd like, or even a small amount of bread crumbs, or nothing at all.
Bake for approx. 25 minutes or so, or until an instant read thermometer reads 145 degrees.