Yay! Its Summer! Time for Chicken Milanese. Since I saw this recipe on the Barefoot Contessa, I've been hooked. Ina is the queen of cooks as far I'm concerned. I make these during the week for a quick supper…crispy chicken cutlets topped with arugula salad with my lemon vinaigrette. Oh my, that is the best. Nice and light for Summer.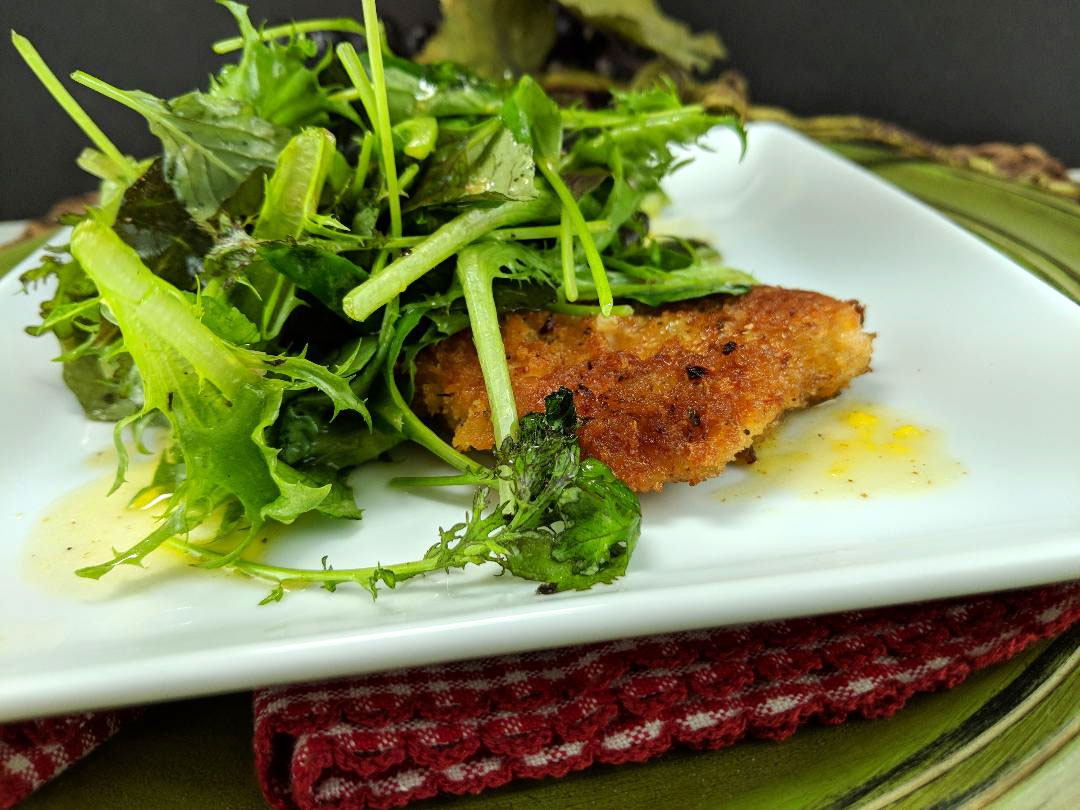 Well, I have to say, I have this all during the year. Sometime I crave the crispy just sauteed chicken cutlets with light lettuce, a couple cherry tomato's and that addicting lemon vinaigrette. That vinaigrette is so addicting I can drink it. If you love lemon you will love my concoction! I have made these a ton of times. The cutlets at the end seem to be more well done than the ones in the beginning when cooked on the stove. Obviously the pan is getting way too hot by the end. But they end up sooo crunchy. Honestly, I have Chicken Milanese in restaurants and no one makes it like I do. It gotta be made with a really good quality chicken, got be super crispy and gotta have this delicious lemon vinaigrette!
I use an electric skillet instead of the stove. You heat the oil and/or butter at 250 degrees. Raise the temperature to 275 degrees to cook the cutlets. Every electric skillet is different so you have to figure out what temp works better. You don't want them to get too browned too soon or the cutlets wont cook properly. I like the cutlets to be golden brown, not dark brown (which to me is burnt). Burnt cutlets don't present well, and certainly don't taste very good. If you cook more than one batch wipe out the bread crumbs left in the pan from the first batch and add some more oil and butter. They do maker a mess in the pan. Let it heat up and start cooking your cutlets. If you don't, the crumbs and stale oil from the first batch burns the next cutlet batch.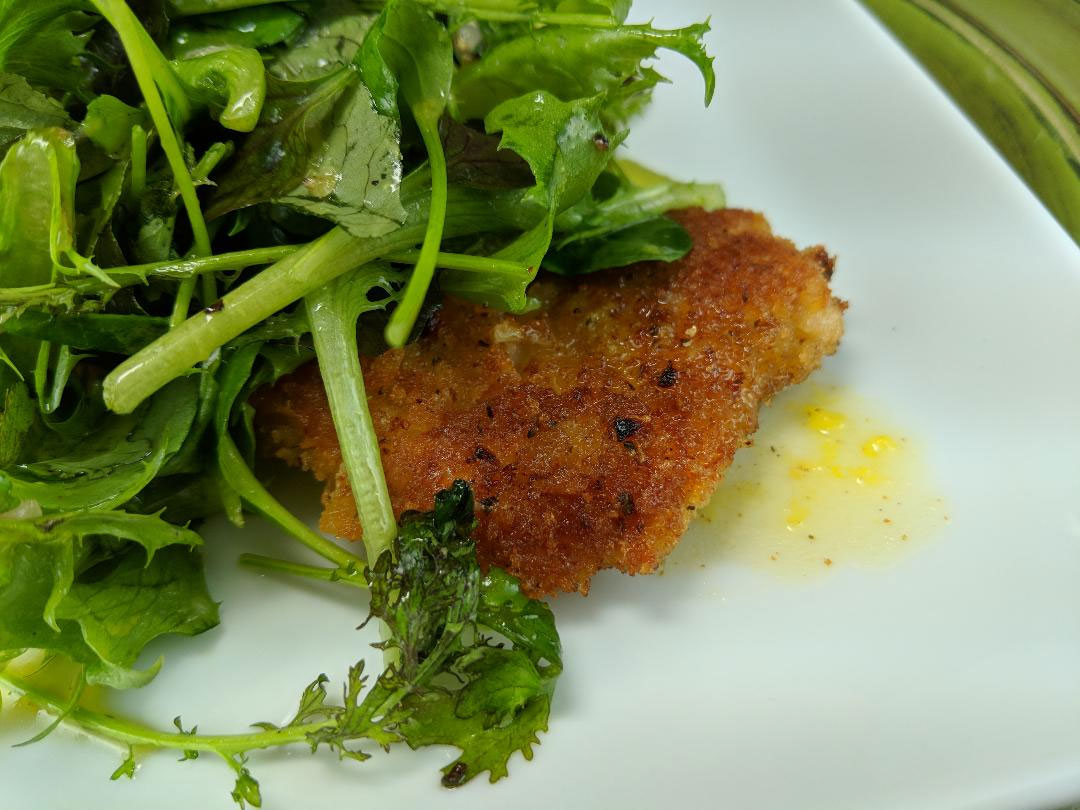 I would recommend using Panko Breadcrumbs over regular breadcrumbs. The cutlets come out extra crispy with the Panko breadcrumbs. And in this recipe, it's all about the crunch and that addictibe lemon dressing! Even when you place the lemon vinaigrette salad on top! They stay crispy!
Anyone can make these cutlets. I take a really good boneless chicken breast (Bell and Evans) and half horizontally, and pound out to a thin cutlet. Or sometimes I buy the cutlets already thinly sliced. Dip in flour, egg and Parmesan crumbs. Make sure to let them rest in the crumbs a minute and coat again to make sure they are coated well, and absorb the egg. I try to hold them tin the refrigerator about a half an hour to let the crumbs set. Use fresh Parmesan Cheese in the crumbs. If you don't have it you can use the jarred stuff, but FRESH IS BETTER!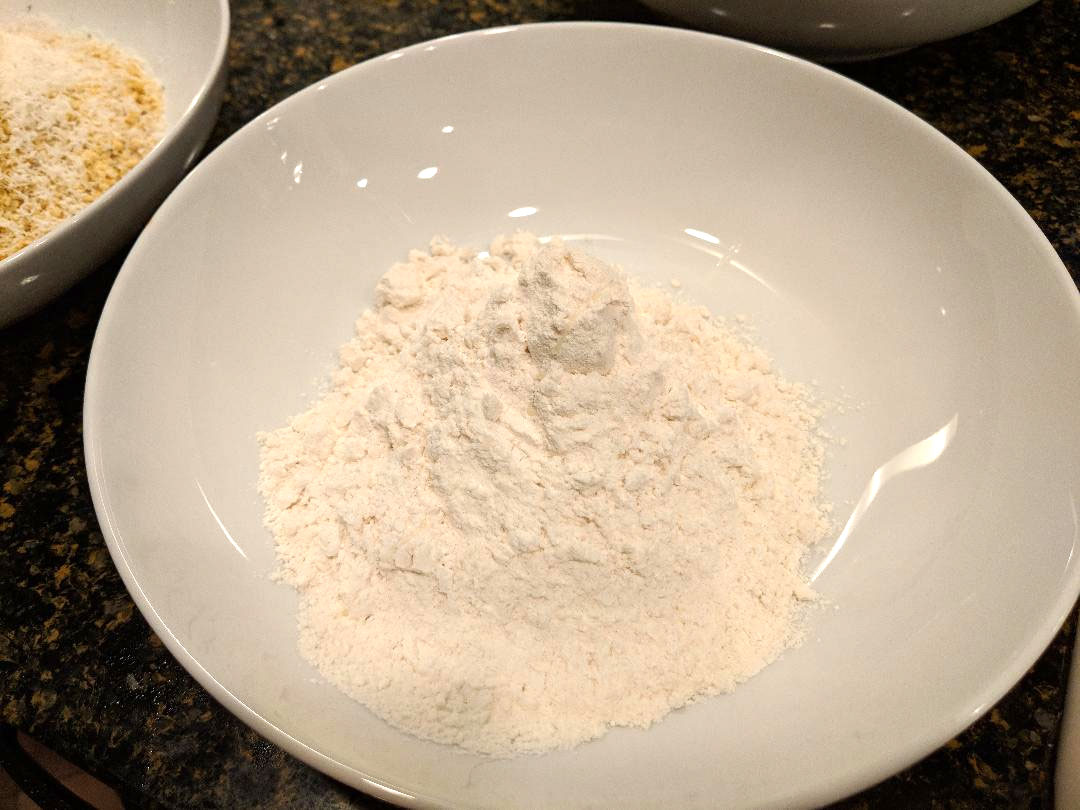 Dip in flour…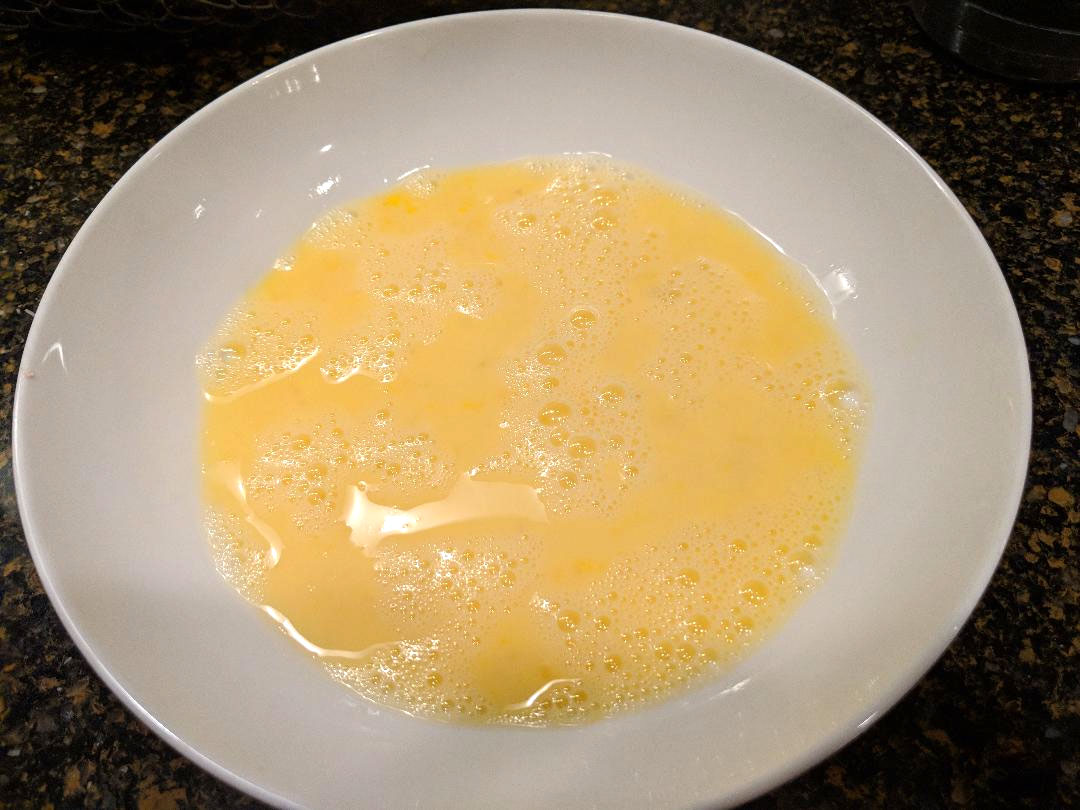 Dip in egg…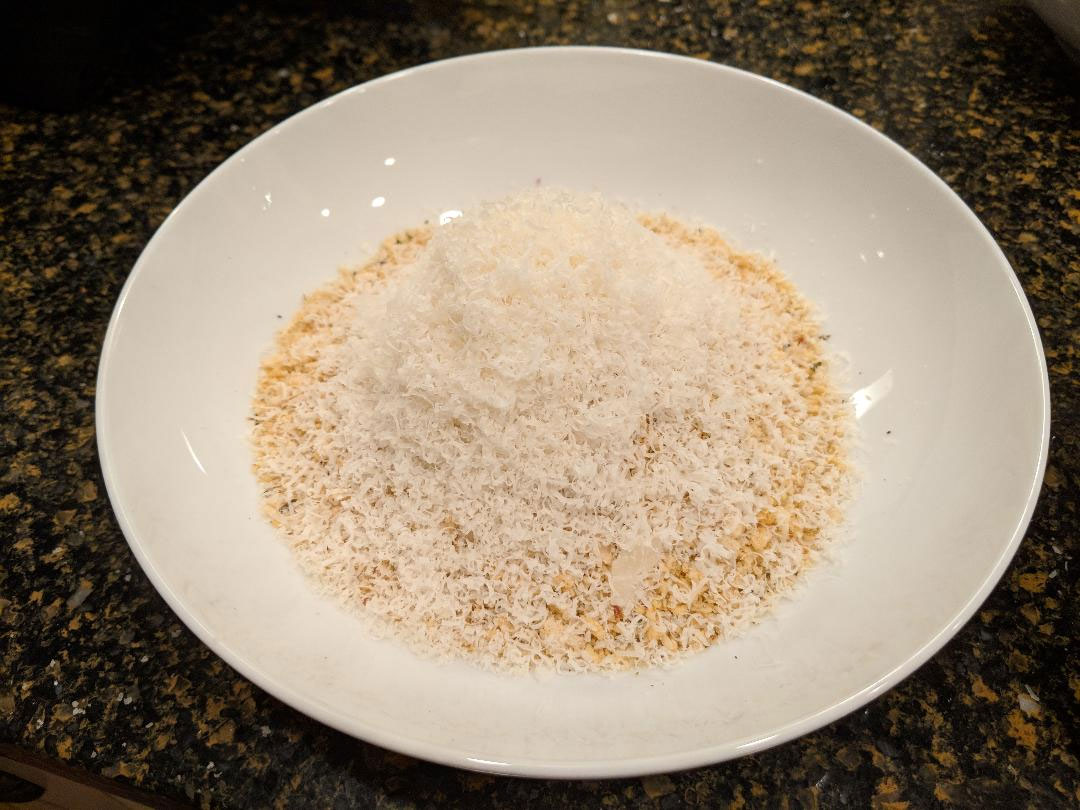 Dip in bread crumbs and cheese…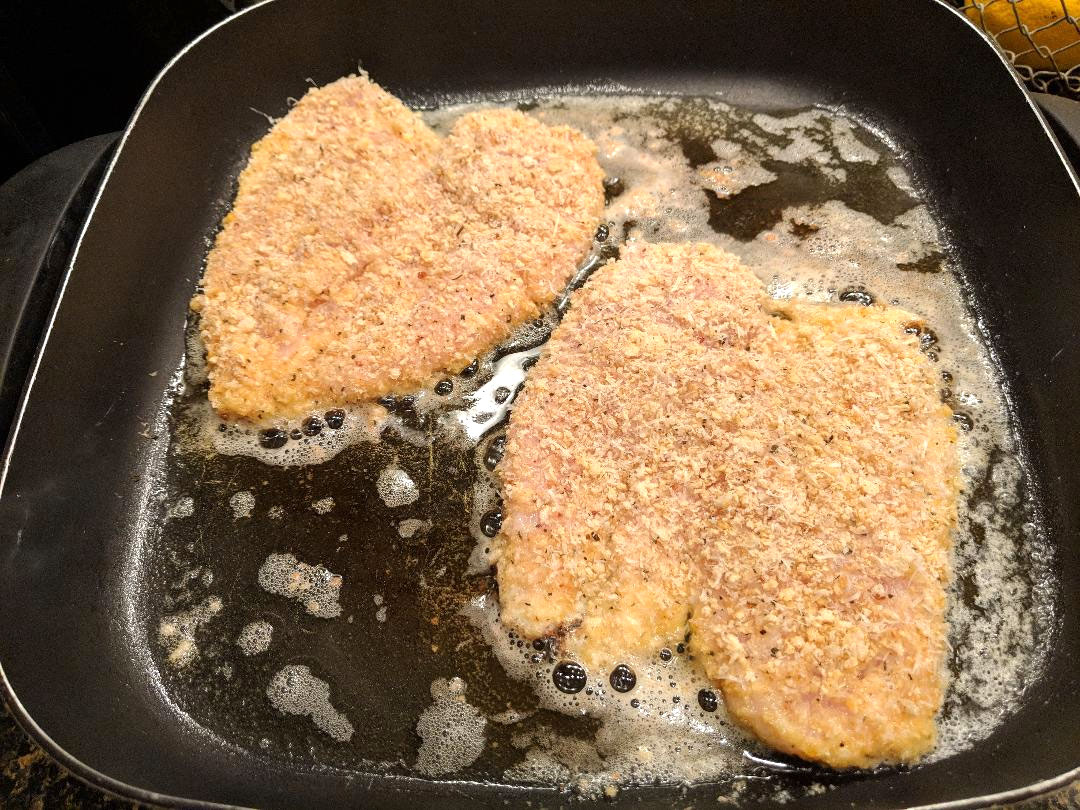 Cook on 275 degrees in oiled and buttered electric skillet about 4 to 5 minutes per side.
Remove to a paper towel lined plate. If making quite a few, place cutlets on a wire rack over a sheet pan and put in the oven on very low temperature to keep warm.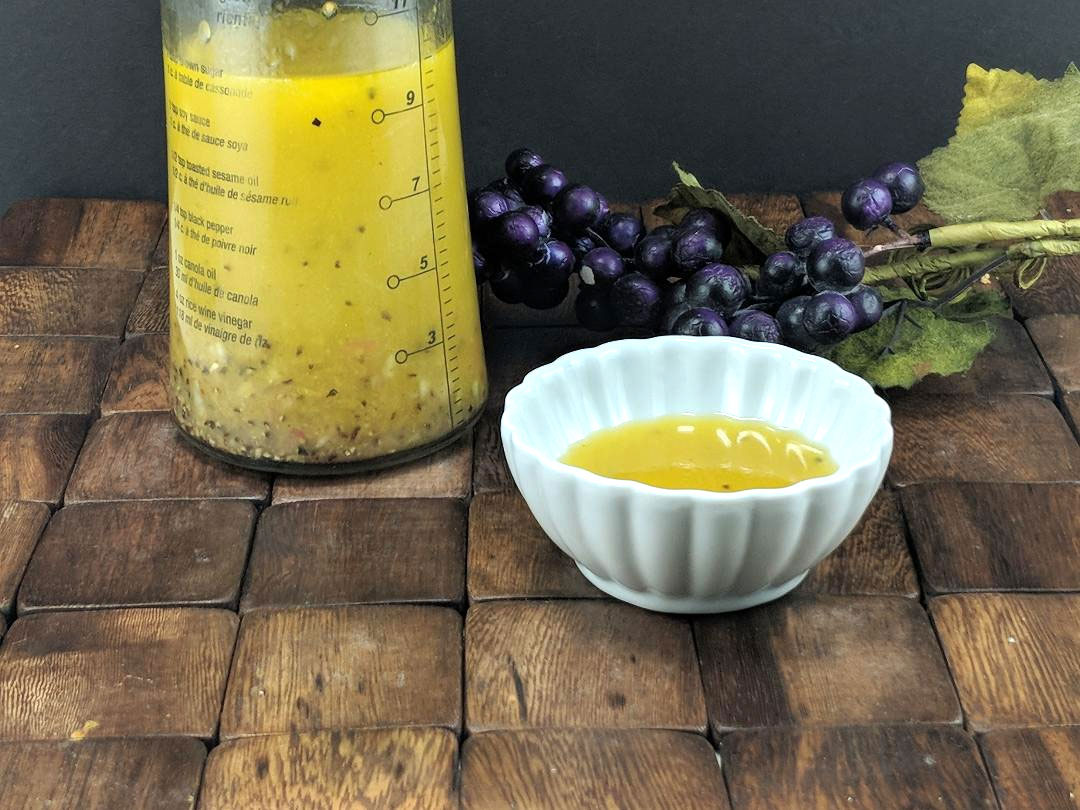 Try this recipe! You will LOVE it! Make sure to make my Lemon Vinaigrette to dress your salad. I spent hours perfecting it, and think it damn near perfect!

Print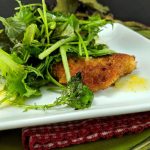 Chicken Milanese
---
Description
This recipe is addictive. Super crunchy tender chicken, topped with dressed delicate lettuce and cherry tomatoes, drizzled with Lemon Vinaigrette.
---
6 boneless, skinless chicken breasts
1 cup all-purpose flour
1 teaspoon kosher salt
1/2 teaspoon freshly ground black pepper
2 extra-large eggs
1–1/4 cups seasoned dry Panko bread crumbs
1/2 cup freshly grated Parmesan cheese, plus extra for serving
Unsalted butter
Good olive oil
Salad greens for 6, washed and spun dry
Cherry Tomatoes, halved
Lemon Vinaigrette Dressing:
8 Tbsp fresh lemon juice
3 tsp agave or 4 tsp sugar
2 tsp Dijon mustard
4 tsp. White Balsamic vinegar
1 tsp salt
16 Tbsp Extra Virgin Olive Oil
1 tsp black pepper
4 tsp minced shallots
---
Instructions
Make the lemon vinaigrette.
Pound the chicken breasts until they are 1/4 inch thick. You can use either a meat mallet or a rolling pin.
Combine the flour, salt, and pepper on a dinner plate. On a second plate, beat the eggs with 1 tablespoon of water. On a third plate, combine the bread crumbs and 1/2 cup grated Parmesan cheese. Coat the chicken breasts on both sides with the flour mixture, then dip both sides into the egg mixture and dredge both sides in the bread-crumb mixture, pressing lightly.
Heat 1 tablespoon of butter and 1 tablespoon of olive oil in a large sauté pan and cook 2 or 3 chicken breasts on medium-low heat for 2 to 3 minutes on each side, until cooked through. Add more butter and oil and cook the rest of the chicken breasts. Toss the salad greens and cherry tomatoes with lemon vinaigrette. Place a mound of salad on each hot chicken breast. Serve with extra grated Parmesan. Drizzle with lemon vinaigrette.