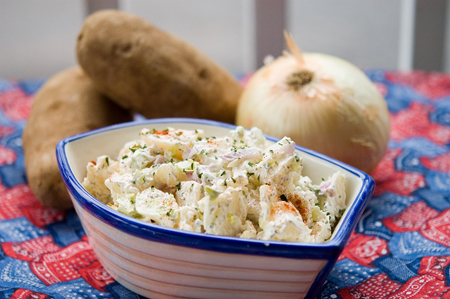 I feel like I've been making potato salad forever! After all, its the one of those basic foods  you think of for summertime entertaining, no matter where you live. Everyone has their favorite recipe. I've tried quite a few such as, French style with Dijon mustard and herbs, which is delicious and Italian style with Italian dressing, which is also delicious. But I like plain mayonnaise based potato salad the best. To me, its as American as the Fourth of July!
Potato Salad
2 lbs red potatoes, peeled and cut in half
1 large onion, chopped
4 stalks celery hearts, chopped
Mayonnaise
sour cream
fresh parsley, chopped
celery seed
salt & pepper
Place potatoes in a large saucepan and cover with water. Cook on high until boiling and reduce to med high and cook until done. Drain and spread out on tray in a single layer and cool fully.
When cooled, cut potatoes into bite sized pieces. Add celery, onions, celery seed, parsley and salt & pepper. In a separate bowl, mix mayonnaise and sour cream until well combined. Add to potatoes and mix together well. Season further to taste.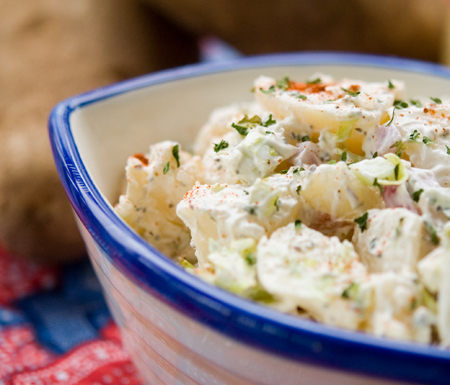 Red potatoes are the best to use for potato salad as they stay moist and hold together well even after mixing.