You have to try these Potato Pancakes! When I saw this post for Potato Pancakes from Cooktoria, I knew I had to make them! I had all the ingredients and it was Saturday, so I got going.
I've had Potato Pancakes before made from leftover mashed potatoes. They were always way too mushy for my liking. These are not the same as they don't have all the milk etc that goes into mashed potatoes that end up making Potato Pancakes a mushy disaster!.
They are super easy to make. I just boiled the potatoes and let cool completely.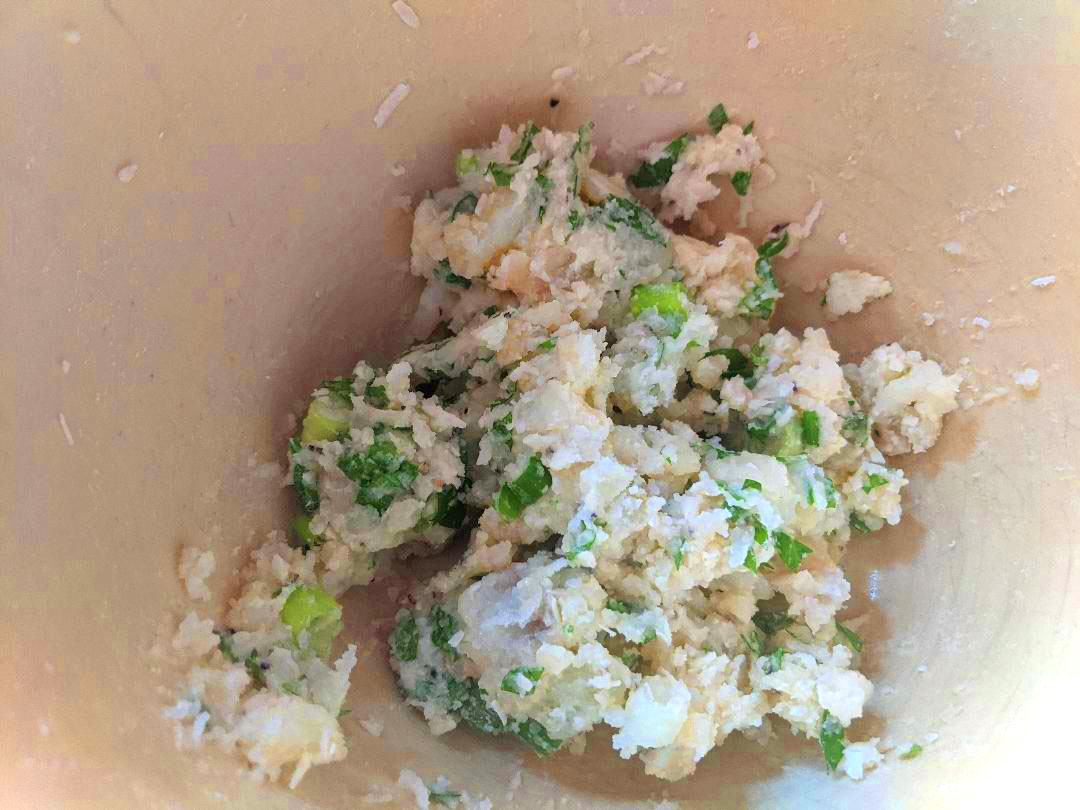 When potatoes are cooled, you just mash and add the rest of the ingredients. Form into a thick patty and press both sides into the fresh Parmesan.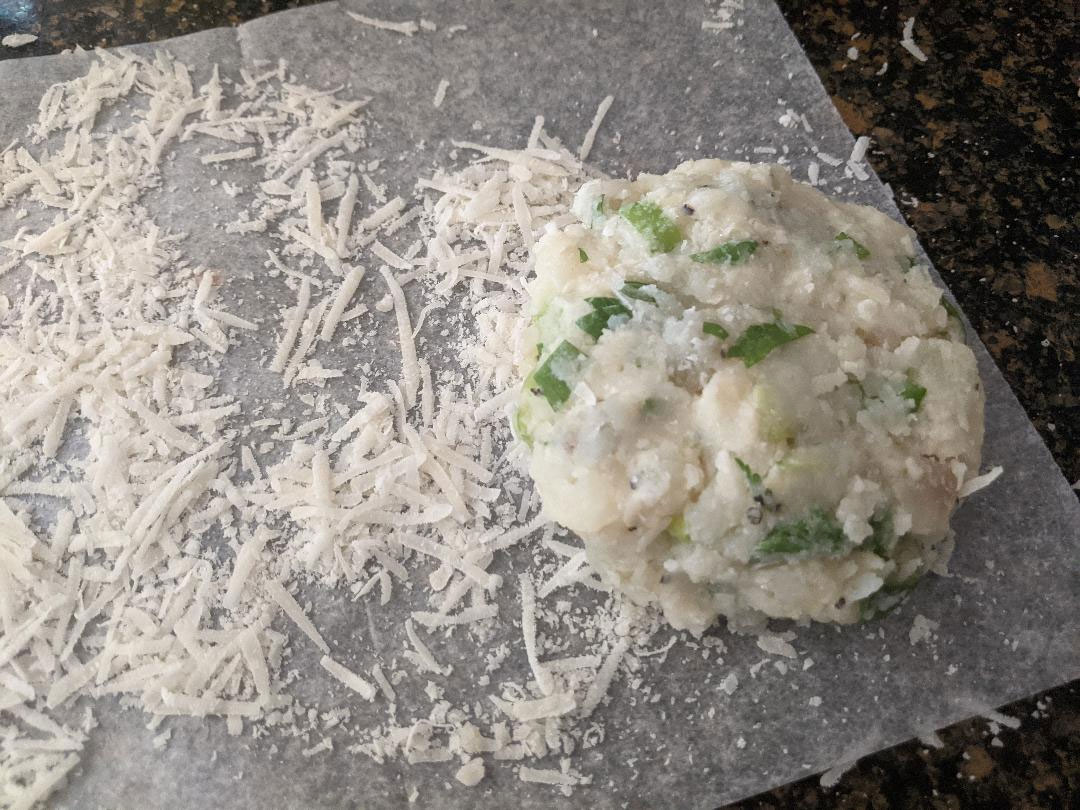 Cook in a little oil until golden brown on both sides.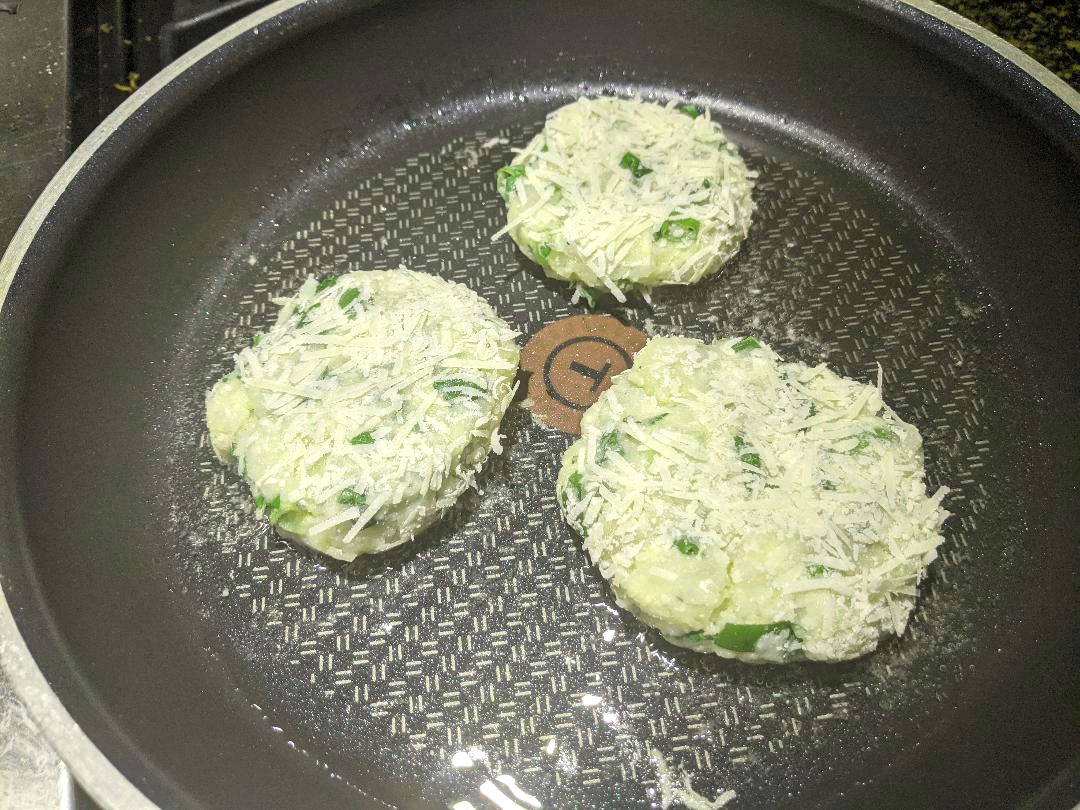 These potato pancakes are sooo delicious! Words cannot say. I served with sour cream. They almost remind me of potato skins, but in a different form. Crispy outside, moist and soft inside. You could even make smaller diameter patties (but make sure they are a decent thickness) for an appetizer platter.

The only thing I changed from the original recipe is that I cut down the Parmesan in the potato mixture by half. You can certainly use the full cup in the original recipe if you choose.
These are so delicious you will definitely be putting into your regular recipe rotation!
Print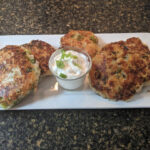 Potato Pancakes
---
Description
Wonderfully crunchy on the outside, moist on the inside, with the perfect balance of seasoning.
---
2 large potatoes about 1 lb.
1 egg
1/2 cup freshly grated Parmesan + extra ½ cup for dredging
¼ cup chopped fresh parsley
¼ cup sliced scallions
¼ cup all-purpose flour
½ tsp. salt
½ tsp. pepper
3 tbsp. olive oil for frying
---
Instructions
Cook the potatoes in gently boiling water until tender, about 20-25 minutes, depending on the size. Let them cool down completely. Peel.
Place the potatoes in a medium mixing bowl and mash well using a potato masher.
To the same bowl, add the egg, Parmesan, parsley, scallions, flour, salt, and pepper. Mix everything well.
Scoop up about a ½ cup of the potato mixture and form it into a patty.
Place about a ½ cup of Parmesan into a shallow dish. Roll the patties in the Parmesan to coat.
Heat up some olive oil in a large, non-stick skillet over medium heat. Add the potato patties, and fry for about 3-4 minutes on each side, until they turn golden brown.
Notes
I used red potatoes. You could also use Russet. Make sure you try and use a really good quality Parmesan cut fresh off the wheel and grate yourself.