This is my 100th post!  How fitting it celebrates one of my favorite herbs… basil. I grow lots of it every year, although some years it does better than others. This year, is one of those "not so good" years, so thank goodness the farm stands are loaded with it, and for much cheaper prices than the rest of the year.
At this time of year, with all that basil you've been growing (or purchasing at your local farm stand like me), it's the perfect time to maker pesto. You can freeze and use it all year. I especially use it in my Pesto Tortellini (recipe to follow). I got the recipe from a friend who served it for brunch, and I make it all the time now.
This recipe is easy to make. And tastes so good. Just make sure you use fresh extra virgin olive oil and fresh pine nuts. Both can spoil if kept too long, and will ruin your recipe. Its always better to start fresh, so your recipe will turn out perfect. The addition of parsley helps keep the pesto a brighter green color.
Pesto
2 c. fresh basil leaves
2 Tbsp. fresh parsley
3 garlic cloves, peeled
1/4 c. pine nuts
2/3 c. extra virgin olive oil
1/2 c. Romano or Parmesan cheese (or, a mixture of both), grated
Place basil, parsley, garlic and pine nuts in the bowl of the food processor. Process until blended. Add 1/2 c. oil and process until smooth.
If using right away, add remaining oil and mix in cheese.
If freezing, put mixture in an airtight container and put remaining oil over top. Freeze up to 3 months. When ready to use, thaw and stir in cheese.
Note: If I don't have time, and don't have any in the freezer, I do admit I use the pre-made pesto from Buitoni. It's really good in a pinch. Another great product if you just need a small amount is Pesto Paste from Amore. That too is convenient and comes in a tube , so you can squeeze out what you need. Both products are certainly great when you need them, but home made is always the best.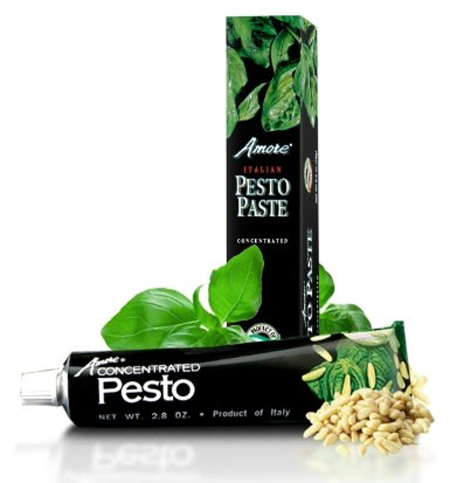 Freezing Pesto

A great way to freeze pesto for use in cooking, is to fill a plastic egg tray with a tablespoon of pesto. Freeze and either keep in the egg tray for future use, pop out of the tray and put in a zipper top freezer bag. That way , when you need one, just take one out of the bag and use in soups, stews, or anything that calls for basil.