There's a great place I go to for apples and other produce, pies and pastries and, oh ya, my favorite Caramel corn ever from… Hutchinson's Candy which has the best caramel glaze ever! OK, back to Mann's. I've been coming to Mann's with my family since I was a child. I can remember buying a cup of cider out of an old wooden barrel with a tap on it. While my Mom was buying apples, I was getting my cup of cider. Those were the days!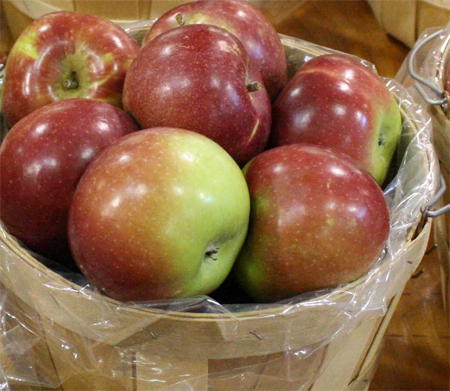 There's been lots of changes since then, and Mann's doesn't make their own cider anymore on site. They now have it made for them with their same special blend of apple varieties and sweetness. Every time I go there, no matter ehat time of year, I get some apple cider.
A lot has changed since the good old days. Mann's doesn't just sell apples and other fruits anymore. They moved from the location I remember… twice, into a brand new huge facility, that has something for everyone. Not only do they have fruits and vegetables, they have freshly made pies and pastries, soups and prepared foods, jams, jellies and honey and they even make lunch if you're in the area. The apple trees still surround the area, so not everything has changed. And it certainly has changed for the better.