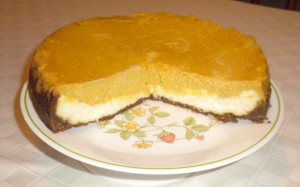 I got this recipe out of one of those supermarket checkout cookbooks. Decided it would be perfect to try at holiday time.
Layered Pumpkin Cheesecake
Crust:
2 c. gingersnap cookie crumbs
1/3 c. butter, melted
Filling:
4 pkgs (8 oz) cream cheese, softened
1-1/2 c. sugar
4 eggs
1 c. canned pumpkin (not pumpkin pie mix)
1-1/2 tsp ground ginger
1 tsp ground cinnamon
1/4 tsp ground nutmeg
Heat oven to 300 degrees F. Grease a 9 inch spring form pan with shortening. Wrap foil around the pan to catch drips. In small bowl mix cookie crumbs and butter. Press crumb mixture in bottom and 1 inch up sides of pan. Bake 8 to 10 minutes or until set. Cool 5 minutes.
In large bowl, with electric mixer, beat cream cheese on medium speed, just until smooth & creamy (do not over beat). On low speed, gradually beat in sugar. Beat in eggs, one at a time, just until blended. Spoon 3 cups of the cream cheese mixture into pan, spread evenly.
Stir in pumpkin, ginger, cinnamon, and nutmeg into remaining cream cheese mixture, mix with wire whisk until smooth. Spoon over mixture in pan.
Bake 1 hour 25 minutes to 1 hour 30 minutes, or until edges are set but center of cheesecake still jiggles slightly when moved.
Turn oven off, open oven door at least 4 inches. Leave cheesecake in oven 30 minutes longer. Remove from oven; place on cooling rack. Without releasing side of pan, run knife around edge of pan to loosen cheesecake. Cool in pan on cooling rack 30 minutes. Cover loosely; refrigerate at least 6 hours but no longer than 24 hours.
Run knife around edge of pan to loosen cheesecake again; carefully remove side of pan. Place cheesecake on serving plate. Store cheesecake covered in refrigerator.
16 servings
The Verdict:
This cheesecake was excellent. It tastes just like pumpkin pie. The gingersnap crust is the perfect crust for it also.