This is a great stuffed loaf for New Years Eve parties, sports parties, holiday gatherings or basically anytime. It is basically everyone's favorite; fresh baked bread, savory pepperoni, with sauteed peppers, onions, mushrooms & freshly grated cheese. You can replace any kind of meat, veggies, or cheese  for the ones in the recipe… just be careful not to put too many veggies, as they retain water and will make a soggy mess. Precooking the veggies will help eliminate the moisture. Don't eliminate the vinegar as it really helps the peppers stand out. I use the frozen pre-made pizza dough from the supermarket. I take it out of the fridge and let it thaw. Spreading in the jelly roll pan will take some patience though…but it will stretch to a jelly roll sized pan.
Pepperoni Stuffed Loaf
1 -1 lb loaf thawed frozen, pre-made, or home-made bread dough
1 green pepper, sliced
1 medium onion, sliced
4 oz. fresh mushrooms, sliced
2-3 Tbsp oil
Dash or two vinegar
salt & pepper
1 egg, beaten
1 tsp Italian seasoning
1-10″ stick pepperoni, sliced
1/2 c. or so grated fresh Mozzarella & Provolone cheese mix
1/2 c. or so grated fresh Parmesan cheese
Sesame Seeds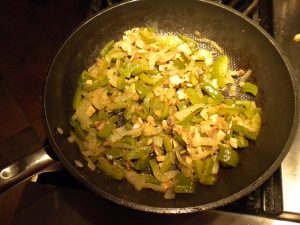 Saute green pepper, onion & mushrooms in 2-3 Tbsp oil. Sprinkle a dash or two of vinegar & season with salt & pepper.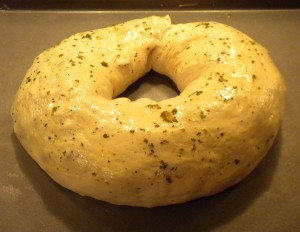 Preheat oven to 375 degrees F. On greased 15″ X 10″ jelly roll pan, spread the dough with hands nearly to the edges. Mix egg (reserve a very small amount for top of loaf), with seasoning & spread half over dough. Cover with pepperoni, then with green pepper mixture, then with cheese. Roll lengthwise, stretching dough at end to pull over & seal. Place seam side down, form a ring & lap one end inside the other. Glaze with remaining egg wash & sprinkle with sesame seeds.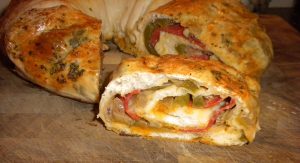 Bake for 25 minutes until golden.