I saved this great recipe for Fettuccine with Peas, Asparagus, and Pancetta that appeared on the cover of Bon Appetit 9 YEARS AGO! Nobody can say that I'm not a saver!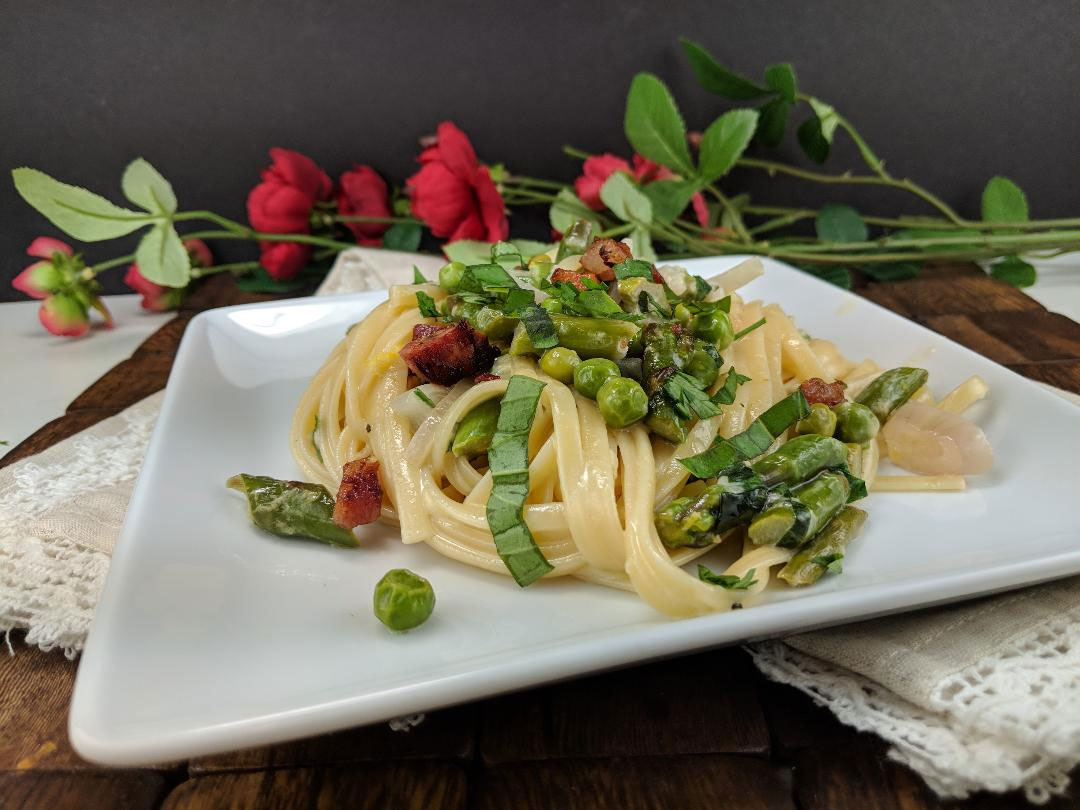 This recipe looked DELICIOUS on the cover so I saved it for "some day". Well. today is "some day"…
First I will say, this is one of those recipes you have to get all the ingredients ready ahead of time. It will make the process of making the dish much easier.
Secondly, use the ingredients listed on the recipe. I used shallots instead of green onions. Even though the recipe turned out delicious with the shallots, the green onions are a must!
Because I didn't get everything ready ahead of time, my veggies that were crisp tender when I was done cooking, ended up being way overcooked for this recipe, because I was running around getting my ingredients.  Next time I will get everything ready ahead of time.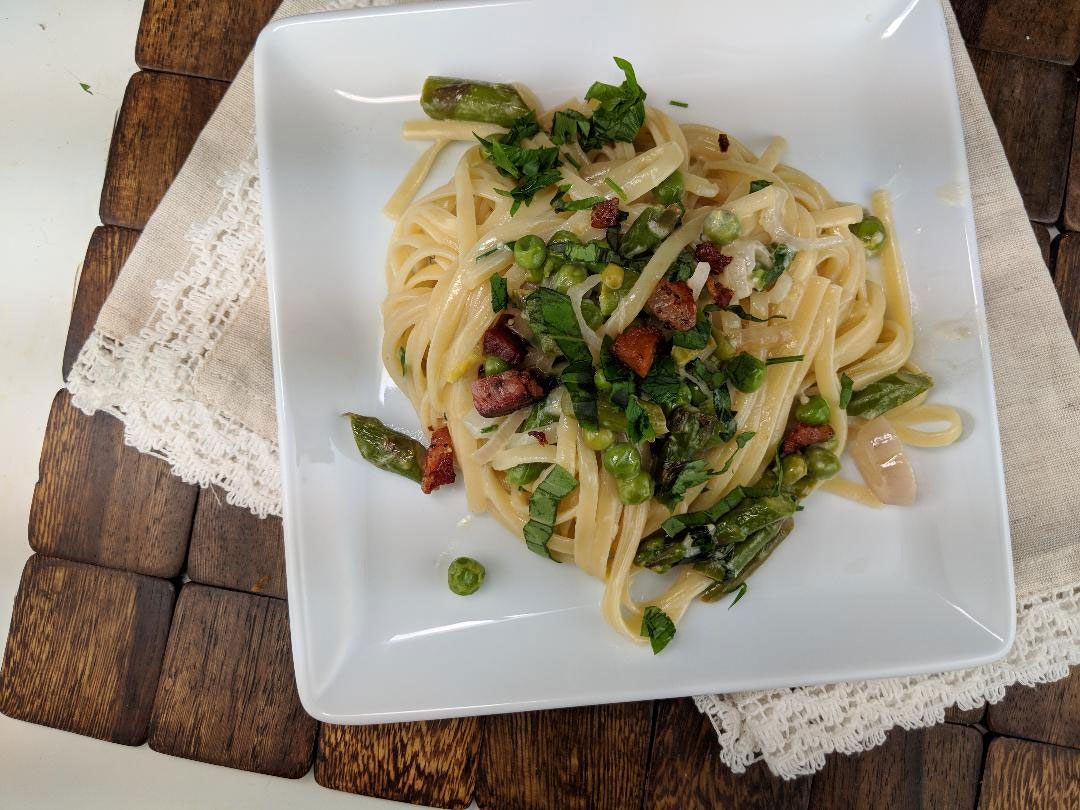 I put jarred Parmesan Cheese in the recipe but would recommend freshly grated for topping…there's nothing like it.
This recipe is not overly heavy as there is very little heavy cream in it. It definitely has lemon under tones in it, hence the fresh lemon juice and the lemon zest.
Really delicious. Just make sure you keep the vegetables crisp.
Ingredients
12 ounces fettuccine or penne
3 ounces pancetta or bacon, chopped
1 1/4 pounds asparagus, trimmed, cut on diagonal into 1-inch pieces
2 cups shelled fresh green peas, blanched 1 minute in boiling water, drained, or frozen peas (do not thaw)
1 bunch green onions, thinly sliced, white and pale green parts separated from dark green parts
2 garlic cloves, pressed
1/2 cup finely grated Parmesan cheese plus additional for serving
1/3 cup heavy whipping cream
3 tablespoons extra-virgin olive oil
3 tablespoons fresh lemon juice
1 tablespoon finely grated lemon peel
1/4 cup chopped fresh Italian parsley, divided
1/4 cup thinly sliced fresh basil, divided
Instructions
1
Cook pasta in pot of boiling salted water until just tender but still firm to bite. Drain, reserving 1/2 cup pasta cooking liquid. Return pasta to pot.
2
Meanwhile, cook pancetta in large nonstick skillet over medium heat until crisp. Using slotted spoon, transfer pancetta to paper towels to drain. Pour off all but 1 teaspoon drippings from skillet. Add asparagus to drippings in skillet; sauté 3 minutes. Add peas, white and pale green parts of green onions, and garlic; sauté until vegetables are just tender, about 2 minutes. Remove from heat.
3
Add vegetable mixture, 1/4 cup pasta cooking liquid, dark green parts of green onions, 1/2 cup Parmesan, cream, olive oil, lemon juice, lemon peel, half of parsley, and half of basil to pasta. Toss, adding more cooking liquid by tablespoonfuls if needed. Season with salt and freshly ground black pepper. Transfer to large bowl. Sprinkle pancetta, remaining parsley, and basil over. Serve, passing additional Parmesan cheese.