This Blueberry Crumb Cake has a crumby interior, huge blueberries, and a buttery cinnamon crumb topping with a little crunch.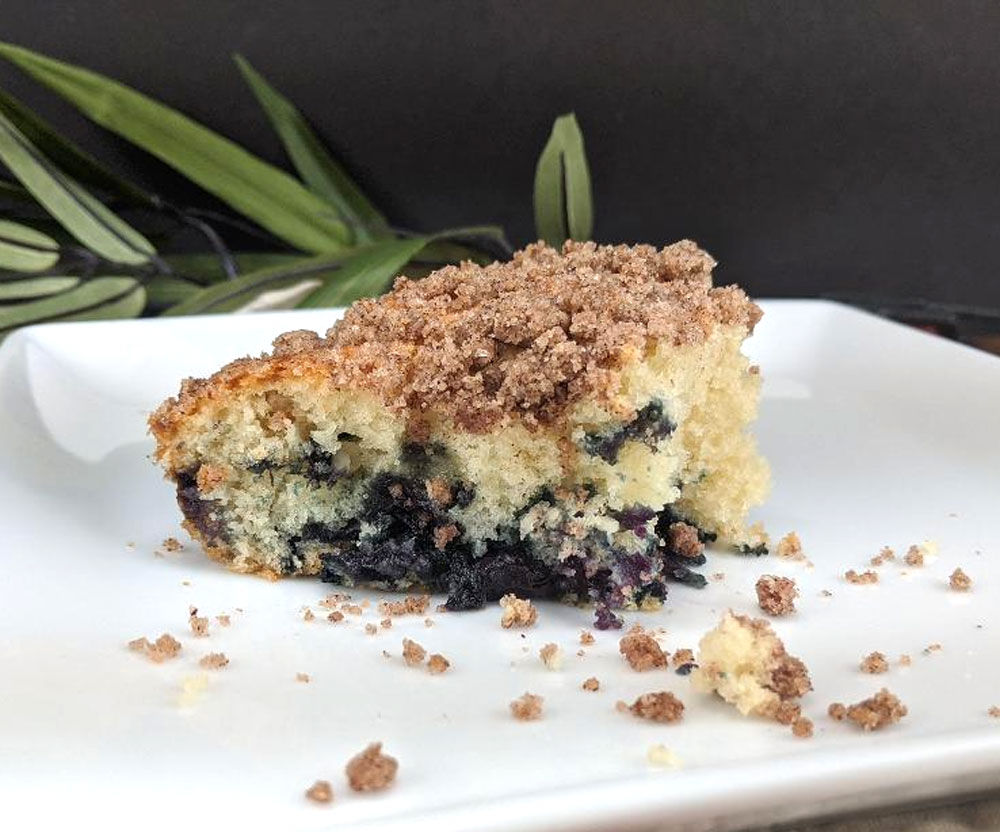 It is super easy to make, simply cream sugar and butter, add vanilla and egg, and then alternate the dry and wet ingredients. Mix until blended. Mix crumb topping and top crumb cake.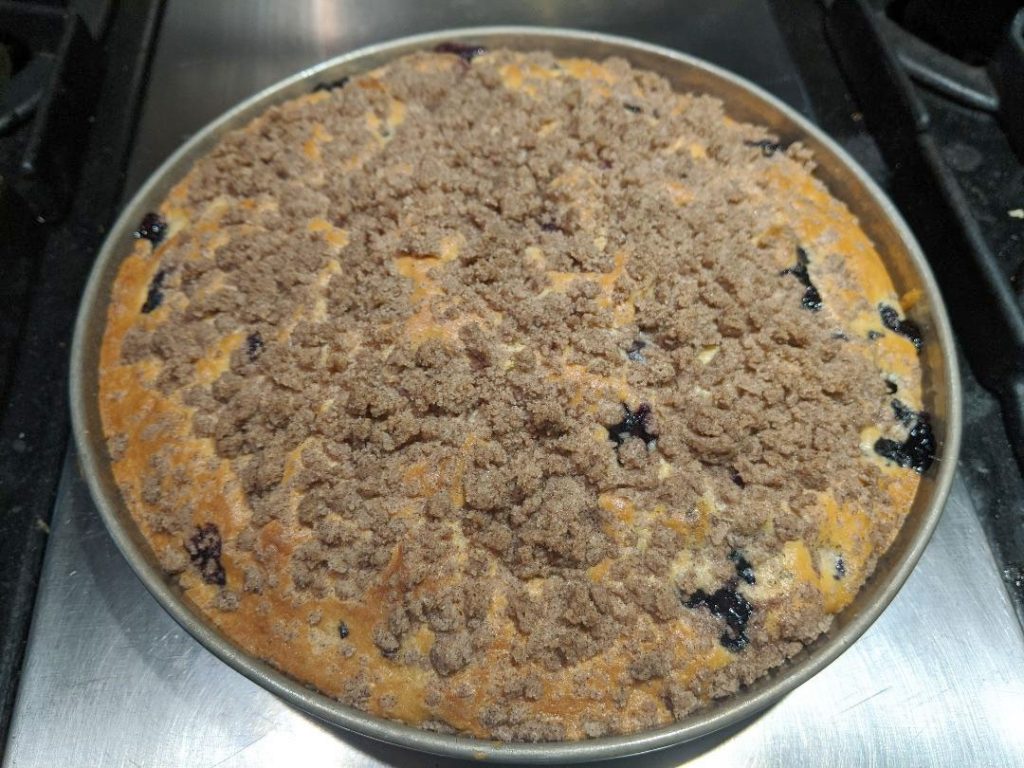 What's best of all is it's made in a 9″ round cake pan. Just the right amount for only two people!
Just a reminder to check the dates on your baking powder and baking soda. I put the date purchased on the top of the containers and only use for 6 months. Some say 9 to 12 months but it's very aggravating to make a recipe and find out that your leavening ingredients are out of date. If your not sure if your baking powder is any good test by stirring about half a teaspoon of baking powder into a cup of hot water. It will immediately start to fizz and release carbon dioxide gas if it's still fresh enough to use.

If you don't have buttermilk fresh on hand, you can make buttermilk by adding 1 Tbsp lemon juice or white vinegar to a cup of milk. This recipe calls for 3/4 cup so I used a little shy of a tablespoon vinegar.

When I use blueberries in a recipe, I rinse under cold water and dry slightly. While still moist, I add a little flour to coat all of them. This helps the berries absorb some of the fruit's liquid, making them less likely to sink.

This coffee cake is equally moist and delicious the next day!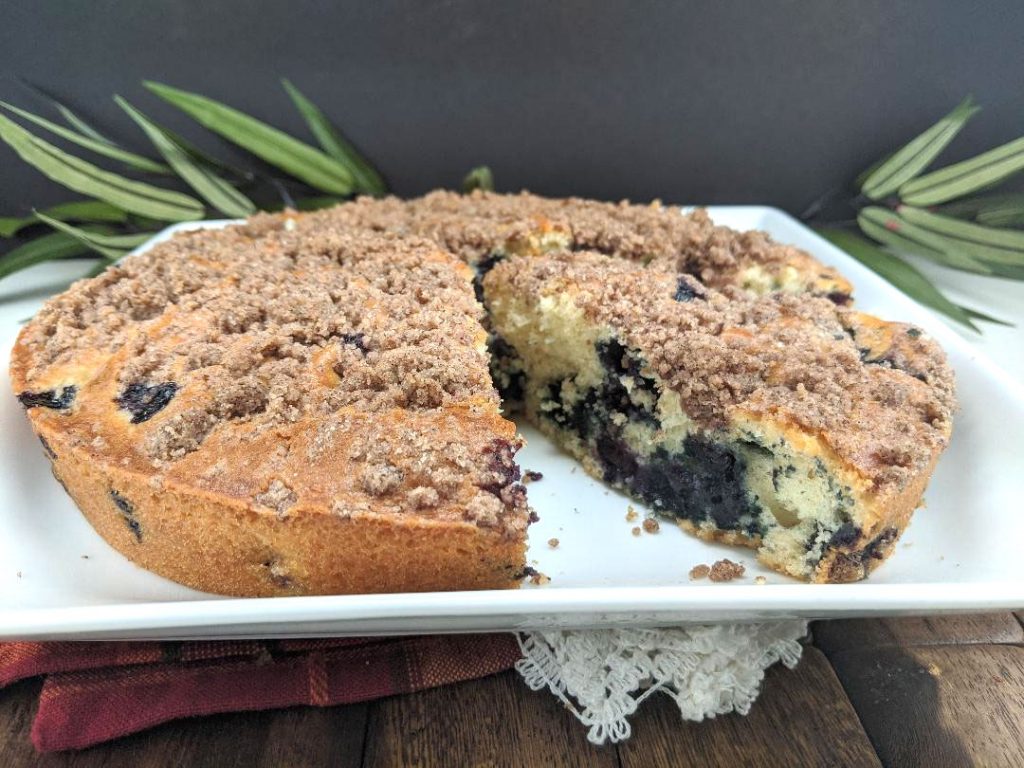 Ingredients
Cake:

Cooking Spray

2/3 c. sugar

1/4 c. butter, softened

1 tsp. vanilla extract

1 large egg

1-1/3 c. all purpose flour

1 tsp baking powder

1/4 tsp baking soda

1/8 tsp salt

3/4 c. buttermilk

1 cup blueberries

Crumb Topping:

3 Tbsp granulated sugar

3 Tbsp all purpose flour

1 Tbsp butter, melted

1 tsp ground cinnamon
Instructions
1
Preheat oven to 350 degrees F.
2
Coat a 9" round pan with cooking spray; line bottom with wax paper and spray the wax paper with cooking spray.
3
Beat 2/3 cup sugar and 1/4 cup butter at medium speed of a mixer until blended (about 5 min). Add vanilla and egg; beat well. Combine 1-1/3 cups flour, baking powder, baking soda and salt. Add flour mixture to beaten creamed mixture alternately with buttermilk, beginning and ending with flour mixture. Stir in blueberries.
4
Pour into prepared pan. Combine 3 Tbsp sugar and remaining topping ingredients in a bowl; stir until mixture resembles coarse meal. Sprinkle sugar mixture over batter.
5
Bake at 350 degrees F for 40 minutes or until a wooden pick inserted in center comes out clean. Cool on a wire rack.