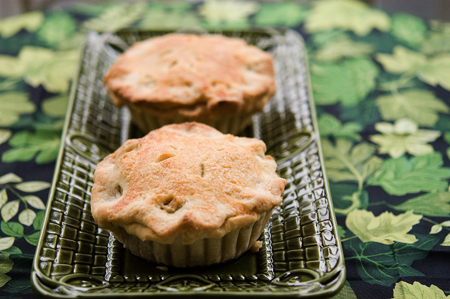 I loved the Mini Apple Pies I made a short while ago, but I had a really hard time binding the top and bottom crust together and an even harder time getting them out of the pan without the top coming off. I really love the concept though, so thought I'd try with a 4″ removable bottom tart pan.
I will say they were a lot easier to work with, and easier to remove them from the pans. Just push on the bottom plate and out they come.
And most importantly, they were sooo good to eat!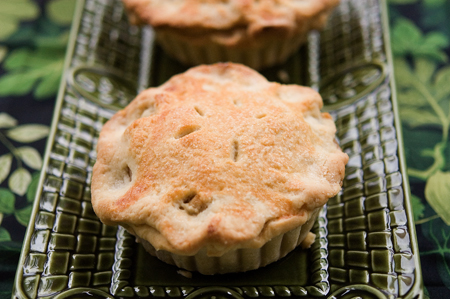 Apple Pie Tarts
One recipe Double Foolproof Pie Crust
Filling:
About 6 Granny Smith Apples (or 3 Granny Smith and 3 Gala or other type apple), peeled, sliced sand cored
3/4 c. sugar
2 tsp. Apple Pie Spice
3 Tbsp flour
few pieces butter
1 egg, beaten with a little water added
Preheat oven to 425° F.
Peel, slice and core apples. Add other ingredients to apples except butter. Mix together. For a 4″ tart pan, cut a 6″ circle of dough and place in tart pan. Mound apples in pie shell and top with a small piece of butter. Top with a slightly smaller circle of dough. Fold over excess in toward pie, and crimp edges together. Cut 4-5 small slits in top.
Brush each top with a little egg mixture and sprinkle with a little sugar. Place on a jelly roll pan or any  pan with edges that will catch drips.
Bake at 425° F. for 15 minutes. Turn oven down to 375° F. and cook for an additional 15 minutes, or until tops are lightly browned.
When cooled, simply push on bottom plate and push pie out of tart pan. Makes 6.
Note: I always use my apple corer, slicer from Pampered Chef. You can purchase many other places as well, but this kitchen gadget is truly a time saver when making anything with sliced apples. The apples are sliced fairly thin, and cook more evenly than with hand cut apples. I wouldn't make anything with apples if it wasn't for this tool!