I've only made one sheet cake in my life and it was delicious! So, when I needed a dessert in a hurry, I thought of the Texas Sheet Cake, I've been wanting to make.
This has got to be the easiest cake ever! And, it bakes in 15 minutes! Then, you put the frosting on the warm cake, and you're done!
It is easy, quick and delicious. I have a ton of different flavor sheet cakes on my agenda to make, but this Texas Sheet Cake is the gold standard when it comes to sheet cakes.
This recipe is definitely something to try for your next function!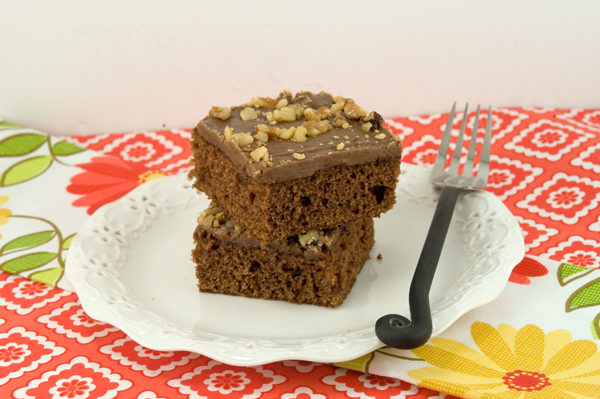 Texas Sheet Cake
Author:
Prep time:
Cook time:
Total time:
Quick, easy and delicious.
Ingredients
Cake:
1/2 c. butter
1 c. water
4 Tbsp cocoa
1/2 c. buttermilk (or 1/2 c. sour cream)
2 eggs, beaten
1 tsp vanilla
2 c. flour
2 c. sugar (I used 1/2 granulated and half Coconut Palm sugar)
1/4 tsp salt
1 tsp soda
Icing:
1/2 c. butter
6 Tbsp milk
4 Tbsp cocoa
1 c. chopped nuts (opt–I left these out)
4 c. powdered sugar
1/2 tsp vanilla
dash of salt
Instructions
For the cake:
In a large saucepan, bring butter, water and cocoa to a boil.
Mix and add, buttermilk beaten eggs and vanilla (make sure to temper egg mixture with some of the hot cocoa mixture, so eggs don't curdle).
Add flour, sugar, salt and soda. Beat well.
Pour into a greased and floured cookie sheet (11×17– with sides).
Bake in a preheated 400 oven for 15 minutes.
While the cake is baking, make the icing:
Bring to a boil, butter, milk and cocoa.
Add chopped nuts, powdered sugar, vanilla and salt. Beat well.
Spread icing on cake while cake is still warm.