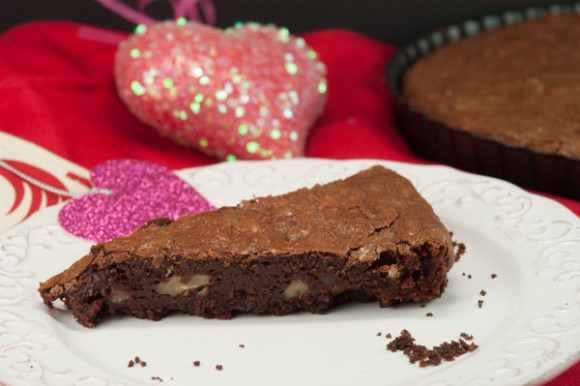 Chocolate…what can I say? It's an addiction! Especially this time of year!
I've had this Fudge Truffle Pecan Tart for some time now, and have never got around to making it. I'm not sure why, because it is the easiest thing to make.
And it reminds me of a giant Brownie! Only it's a little gooier (is that a word?) towards the middle. And who doesn't love brownies, gooey or not?
Do yourself a favor…make this for your special someone, whether its Valentine's Day or not. This is super delicious anytime of year!

Fudge Truffle Pecan Tart
Ingredients
2 cups (12 ounces) semisweet chocolate morsels, melted
¾ cup firmly packed light brown sugar
½ cup butter, softened
3 large eggs
1 teaspoons vanilla extract
1 cup finely chopped pecans
½ cup all-purpose flour
2 teaspoons instant coffee granules
Chocolate Tart Shell
Instructions
Beat butter and brown sugar at medium speed with an electric mixer until blended; add eggs, beating well. Stir in melted chocolate, vanilla, pecans, flour and coffee granules. Pour into baked tart shell.
Bake at 375° for 20 minutes. Cool on a wire rack 30 minutes.
Beat whipping cream at high speed until foamy; gradually add sugar, beating until soft peaks form. Stir in remaining 1 teaspoon vanilla. Serve with warm tart.
Chocolate Tart Shell
Ingredients
1-1/4 cups chocolate graham cracker crumbs
½ cup butter, melted
Instructions
Combine ingredients; press into bottom of a 11 inch tart pan with removable bottom.
Bake at 350° for 6 minutes. Cool on a wire rack.