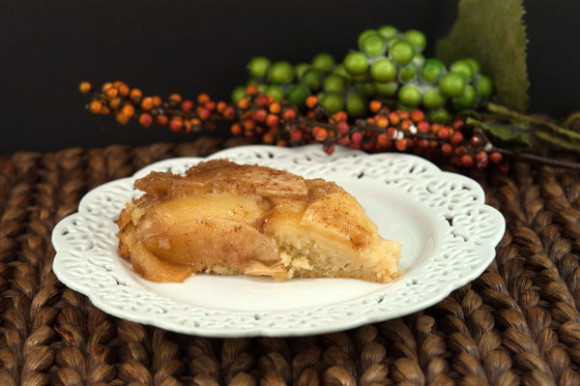 When your in the middle of a blizzard, and lucky enough to still have your power, you bake…What else is there to do?
I had already made some Beef Stew in this great Stoneware Crock my Mom gave me for Christmas.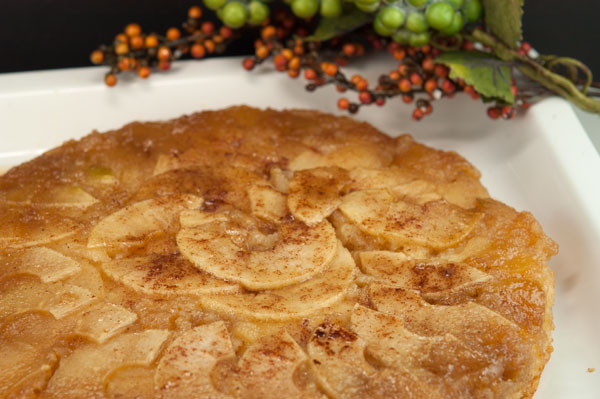 I had some apples and remembered this awesome Pineapple Upside Down Cake recipe I have made in the past. It's an old Amish recipe that I got from a cookbook. The cake has Mace in it, which gives it a fabulous spice flavor. It actually makes the entire cake, so don't even think of eliminating it! I thought I would replace the apples for the pineapple.
I can't think of a better reward for all that shoveling! 24 inches and counting,,,ugg…can't wait for Spring!!!

Apple Upside Down Cake
Ingredients
3 apples, cored, peeled and sliced
⅓ c. butter, melted
1 c. brown sugar
½ tsp. cinnamon
1-1/4 c. flour
⅔ c. sugar
2 tsp. baking powder
½ tsp salt
¼ tsp mace
½ c. milk
1 egg
⅓ c butter, softened
1 tsp vanilla
Instructions
Preheat oven to 350 degrees F.
Grease a 9" round or square pan.
Add melted butter and brown sugar to bottom of pan. Mix and even out on bottom of pan. Arrange sliced apples on top of brown sugar/butter mixture; sprinkle apples with cinnamon.
In the bowl of an electric mixture, add flour, sugar, baking powder, salt and mace.
Add softened butter, milk and vanilla. Beat on low speed for 2 minutes, then add egg and beat 2 minutes more.
Spread batter on top of apples and even out batter with the back of a spoon (batter will be thick).
Bake for 35 to 40 minutes, or until and cake tester comes out clean.
Remove from oven, loosen edges and invert immediately. Let cool before serving.