I've had this recipe I cut out of a magazine for some time now, and finally decided to make it. It has three versions of cranberry in it. The description in the magazine said "this tangy version" and, "intense flavor". They are not kidding. This is not your average cranberry sauce.
I made the recipe exactly how the recipe reads, and the finished version is pretty thick and VERY tart (for me anyway)! My mother also tried it, and said the consistency  would be perfect on a turkey sandwich. I however, like it a little juicier and a little sweeter. So I tried it again, and added a little more sugar and added more liquid.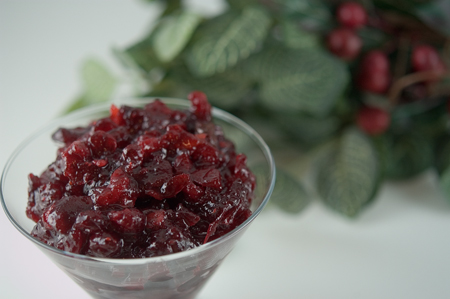 Triple Cranberry Sauce
1 c. frozen cranberry juice cocktail concentrate, thawed
1/2 c. water
1 c. sugar
1- 12 oz. pkg fresh or frozen cranberries, rinsed & drained
1/2 c. dried cranberries (about 2 oz.)
3 Tbsp orange marmalade
rind of 1/2 orange
1/4 tsp allspice
Combine cranberry juice concentrate, water and sugar in a heavy medium saucepan. Bring to boil over high heat, stirring until sugar dissolves. Add fresh and dried cranberries and cook until dried berries begin to soften, and fresh berries begin to pop, stirring often, about 7 minutes. Remove from heat and stir in orange marmalade, orange rind and allspice. Cool completely. Cover; chill until cold, about 2 hours. (Can be made 3 days ahead. Keep refrigerated.)
For the original recipe: decrease sugar to 1/3 c. and omit the water. The original recipe also called for 2 Tbsp orange juice, which I omitted because I thought it tasted too orangy.