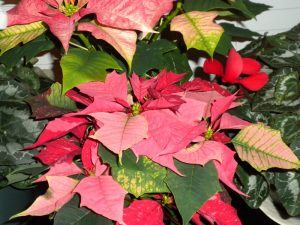 No matter what your tradition, Christmas brings out the best in all of us.
Traditions!
Besides baking, what is your Christmas traditions that make every Christmas so special? For me its several things. Tradition to me are my aunts and cousins annual Thanksgiving weekend shopping trip to NH and Maine, the spritz cookies my mother makes, prime rib roast for dinner, how special church was on Christmas Sunday and Christmas Eve, collecting food and clothing for neighbors in need, the flowers, decorations, music and the real meaning of Christmas that complete Christmas.
Sights!
Flowers such as Poinsettias are most definitely a part of my Christmas. At Christmas I can't have enough of them. This year, in incorporated red and white cyclamen to my tabletop filled with amaryllis and poinsettias. When you walk through the door you are welcomed by this dazzling display of red, white, pink and green flowers that welcome you and your visitors home.
Sounds!
The same goes for traditional Christmas music. There's something about those corny old Christmas songs from artist's you wouldn't otherwise listen to, that gets you right in the spirit. Whether you're singing along in the car, singing them in church, or humming away in the stores while Christmas shopping, you can't help yourself. It's Christmas!
Steppin out!
What about the traditional Nutcracker, Trans Siberian Orchestra, or the Radio City Spectacular? I've been to all of them and they really put the icing on the Christmas cake!
Decorating the Tree!
One of the most special traditions for me is decorating the tree. Nobody takes it more personally then me. Over the years, I have collected all kinds of ornaments through the years, most of which seem to coordinate with the decor of my living room, or have a special meaning to me in the years of my life. When the kids were young they made ornaments in school that I still hang proudly on my tree. I put some Christmas music on, and take my time hanging each ornament in a special place and remember what each ornament means to me. I have ornaments of my pets, past & present. I even have an ornament of my grade school, which happens to be a historical landmark in my town.
Memories!
Remember past Christmases and the people in them? For me its my grandmother's and grandfather's. My great aunts & uncles, aunts & uncles, and my beloved father. Remember that special toy you always wanted as a child that Santa was so kind to bring you?
No matter what Christmas means to you, enjoy a wonderful season, and be thankful for everything and everyone you have in your life.