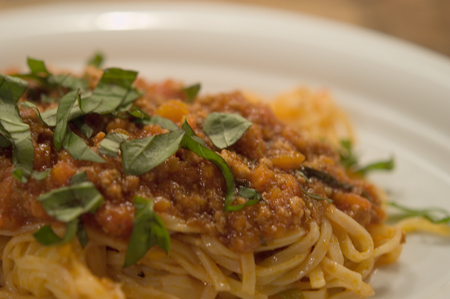 I love Bolognese sauce. However, I've got it many times in restaurants and really didn't care for their versions. Then I saw this recipe for Bolognese sauce on Christina Ferrara's Big Bowl of Love show on OWN Network. It looked so delicious. I decided to try it. I'm glad I did. I made a few changes from the original recipe and thought it was great!
The Best Bolognese Sauce
1/3 c. extra-virgin olive oil
1 large white onion , cut in quarters
3 garlic cloves, minced
2 small carrots , chopped into large pieces
1 celery rib , chopped into large pieces
1 lb. ground chuck
1/2 lb. ground pork
2 tsp. table salt
Cracked black pepper , to taste
1/3 c. white wine
1 c. whole milk
2 Tbsp. tomato paste
1 can (28 ounces) tomato puree or crushed tomatoes
1 tsp. sugar
1 tsp dried oregano
1 Tbsp dried or 3 Tbsp fresh chopped parsley
1 tsp dried basil
Fresh basil , for garnish
8 oz pappardelle , (or favorite pasta)
In a food processor, pulse-chop the onion until fine and set aside. Then, pulse-chop the carrots and celery into small pieces and set aside.Heat a saucepan on medium-high heat. Add the olive oil until hot, add onions and garlic, turn down heat to medium and sauté for 2 minutes. Add carrots and celery, sauté for 25 minutes. Add the ground beef and ground pork, breaking up the meat as much as you can while in the pan.
Sprinkle on the salt and pour in milk. Keep breaking up the meat throughout. Cook the milk all the way down until the meat starts to sizzle. Once sizzling, add white wine. Mix and cook the wine down by half and lower the heat to a simmer.
Add 2 tablespoons of tomato paste. Stir in completely, mixing for approximately 30 seconds. Add the tomato puree, sugar, oregano, parsley, dried basil and 1 1/2 cups water. Mix well. Cover with lid and let simmer on very low heat for 1 hour, stirring often. If sauce becomes thick, add more water, about 1/4 cup at a time to maintain desired consistency.
Cook the pasta according to the package directions. Drain well. Mix in the sauce and freshly grated Parmesan cheese on top.
Garnish with chopped fresh basil. Serve immediately.