I saw this great Easy Wedding Soup recipe on the Chocolate Moosey blog, and it looked so delicious, I knew I had to make it. I've made this recipe twice now, and both times it came out DELICIOUS!
The ingredients for the meatballs are perfectly seasoned and proportioned!
This soup is so easy, you won't believe it tastes so good. The most time consuming is the meatballs. And I try to make those ahead and freeze, so when you want to throw together a soup, it's super quick.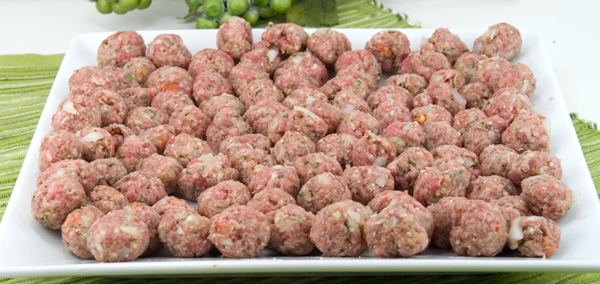 I used the small 100 round stainless squeeze scoop to make the meatballs, and cut them in half and roll, to make small enough for the soup. The mixing together is nothing, and once the rolling is done, I throw them either in the refrigerator if using right away, or in the freezer for future use. If freezing, make sure to freeze separately on cookie sheets, and then once frozen, throw in Ziploc bags. Otherwise, they'll all be stuck together. As with meatballs, I never cook by frying or baking ahead of time. I think the browned crust ruins the taste of your soup, stew or sauce. I simply throw them into the hot liquid or sauce and they cook nicely, with no burnt or browned taste. That is the way my husbands grandmother did it (who is 100% Italian), and that's the way I do it.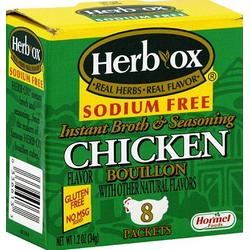 Along with the chicken broth, I use some Herbox Sodium Free Chicken Granulated Bouillon in some water. I like the flavor of the Bullion along with the canned chicken broth. But, you could also use the chicken base diluted in water. Or you can use home made chicken stock which is preferred…if I only had enough time:)

Basically, once the meatballs are made, you saute the veggies, add the broth and boil. Add the meatballs. Cook slightly. Add the pasta and spinach, and you're good to go.
Thanks Moosey, for a great recipe. I'll keep this for years to come!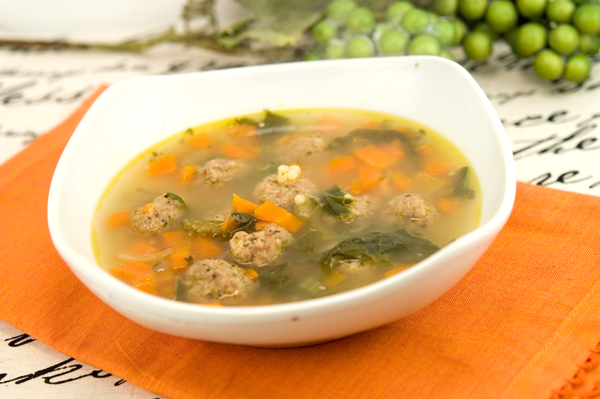 Print
Meatballs: (can be done ahead of time)

1/2

pound ground beef

1/4 cup

onion, chopped

1

clove garlic, peeled and minced

2 Tbsp

grated Parmesan cheese

1/2 tsp

salt

1 Tbsp

plain bread crumbs

1/2 tsp

dried basil

3/4 tsp

dried parsley

1

egg
Soup:

1 Tbsp

butter (substituting olive oil, as I did would work as well)

1/2 cup

onion, chopped (roughly

1

small)

1/2 cup

carrot, peeled and sliced into coins (roughly

2

carrots)

2

cloves garlic, peeled and minced

6

–

8

cups chicken broth
Salt and pepper for seasoning

1

–

2

Tbsp dried parsley

1/2 cup

acini di pepi (can use orzo)

10 ounces

frozen spinach, thawed
---
Instructions
Make the meatballs: In a large bowl, mix together the beef, onion, garlic, cheese, salt, bread crumbs, basil, parsley, and egg until combined. Shape into tiny bite-sized meatballs, roughly 1/2 inch in diameter. Place onto cookie sheets (or plates) and refrigerate until ready to use. Refrigerating will keep them from falling apart in the soup.
For the soup: In a large stock pot, melt the butter. Add the onion, carrots, and garlic and cook until tender but not too soft, about 5 minutes.
Add 6 cups of chicken broth and bring to a boil. Turn down the heat to simmer, cover, and cook for 30 minutes. Taste and add salt and pepper as needed.
Drop in the meatballs and cook 7 minutes (longer if frozen*). Add acini di pepi and cook 5 minutes then add spinach. Cover and simmer for 30 minutes. If you need more broth, add the remaining 1-2 cups.
Notes
If you are not going to use the meatballs the same day you make them, cover them until you are ready. You can even freeze and drop them frozen into the soup. Just add a few more minutes to the cooking time.