There is nothing like toasted bread with a hint of garlic, marinated fresh tomatoes in a little balsamic, with fresh basil and fresh mozzarella.
The Tomatoes:
Roasted cherry tomatoes….Way too mushy and made the bread too soggy. 
Sliced and diced fresh tomatoes….Not a fan but will do in a pinch. 
Cherry tomatoes cut in half…..Much prefer this type tomato although any will do…. Whichever tomato you use, make sure to drain in a colander to get the juices out.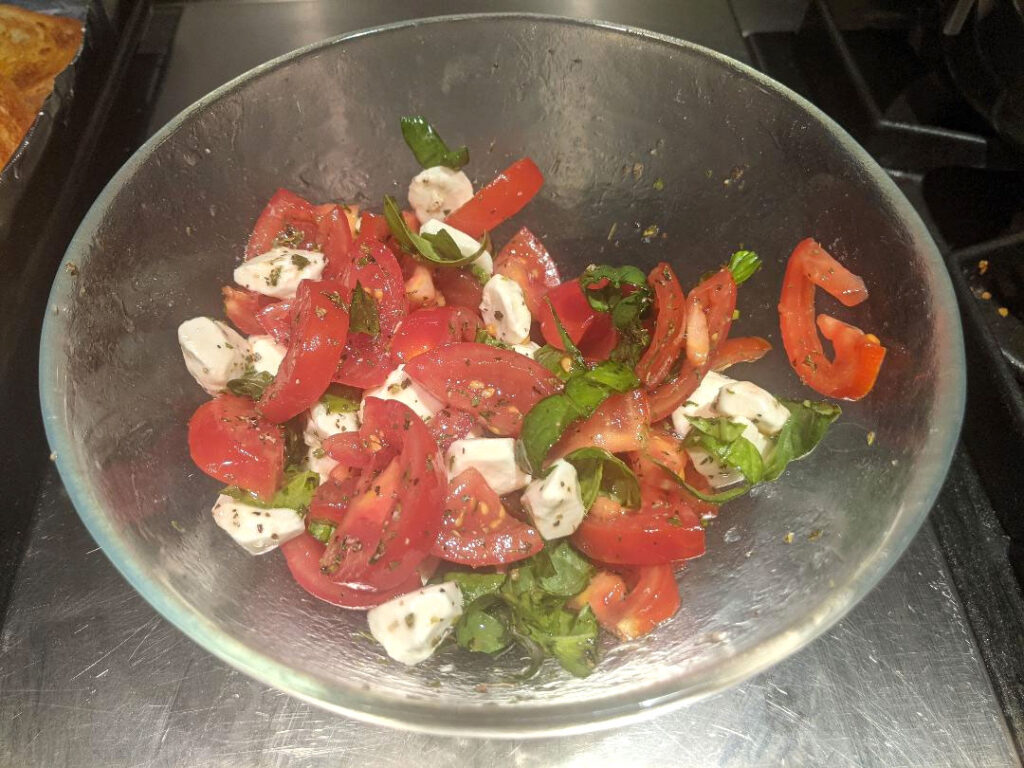 The Cheese:
A schemer of ricotta cheese on the bread before the tomatoes. I wasn't a fan of this at all for some reason.
A Mozzarella ball, sliced and placed on bread before tomatoes. Again not a fan. I have a thing with mushy foods and did not like.
Tiny Mozzarella Pearls mixed in with the tomatoes. This is the method I love!

The Bread:
I have tried a hearty Salilio or Ciabiatta bread, sliced and toasted. I found the bread to be very sturdy for the tomato mixture, but too hard to eat. By the time you bite into or cut the bread, the tomato mixture has fallen off the bread and there's a mess everywhere.
I have tried a sturdy white bread which was too flimsy and didn't hold the tomatoes well at all.
I have tried with the Italian or French sticks that the grocery stores bake in store. You can also use a Scala bread. I but a whole loaf and cut into slices on my own. When toasted they seemed to be more tender to bite into or cut but were still crispy. This is the bread I prefer!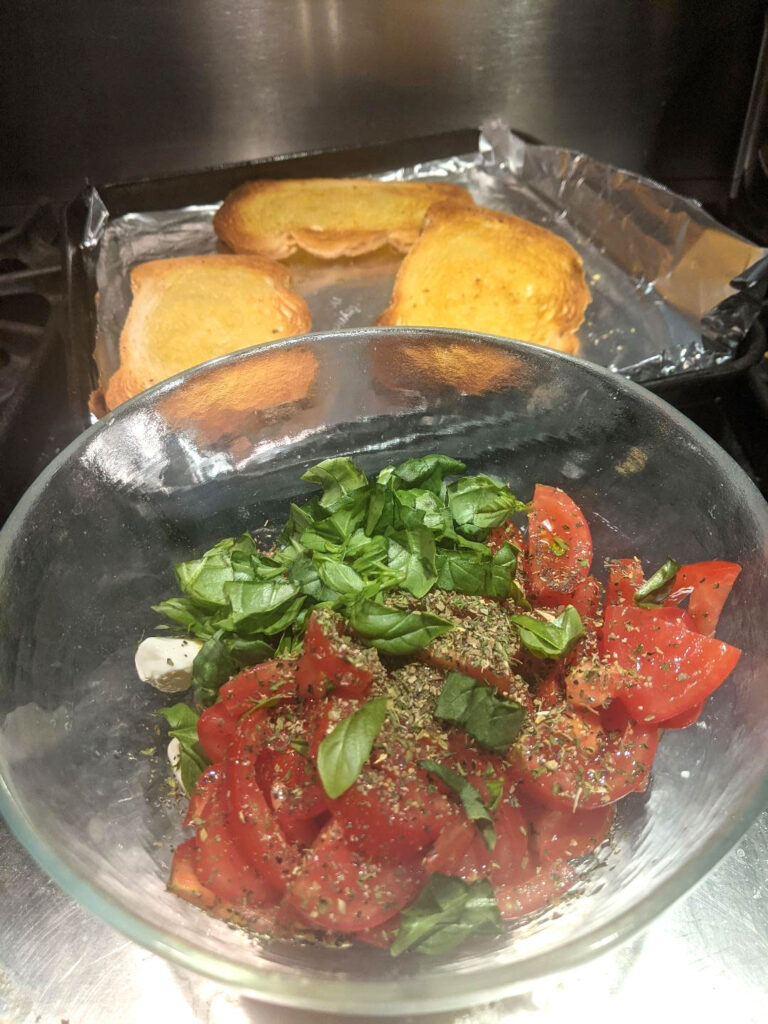 Oil and vinegar:
I have tried balsamic vinegar in the tomato mixture but found that it splashed all over my clothing. Then I decided to try putting Balsamic Glaze into the tomato mixture. It gives it a wonderfully Balsamic tang but is not watery and will not go all over your clothes. You can also get White Balsamic Glaze if you prefer it. I always add the leftover garlic oil from the bread and a little oregano if you prefer. 

If you choose, you can top each one with some 'fresh" shaved Parmesan. Try to buy really good aged Parmesan Cheese!

My tried and true recipe wins again!
Print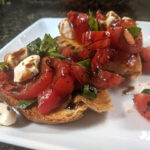 Bruschetta al Pomodoro
---
Description
This recipe is tried and true. It's also one of those recipes you don't measure. It all depends how many Bruschetta you are making. Its also one of those recipes you cant mess up. This recipe is quick ,easy and delicious.
---
Slices of Scala bread
Olive Oil
Garlic clove or two
Cherry tomatoes, halved or a couple slicing tomatoes, diced
2 Tbsp or so Balsamic Glazed Vinegar
2 Tbsp or so Extra Virgin Olive Oil
Sprinkle of Dried Oregano
Salt and Pepper
8-12 leaves or so of fresh Basil, chopped
1/2 cup or so Mozzarella Pearls
Optional: Shaved Parmesan
Balsamic Glaze
---
Instructions
Take 1/4 cup or so olive oil in a small container and mince a garlic clove into the oil. Cook in microwave approx 30 seconds to 1 minute or until the garlic gets fragrant but not burnt.
Take a silicone basting brush and brush the Scala bread on one side. Broil until slightly browned. Flip to other side and slightly brown.
While bread is toasting, mix tomatoes with Mozzarella, Basil, herbs and the Balsamic glaze.
When bread is toasted, top with tomato mixture and glaze with more Balsamic Glaze.
Top with optional shaved Parmesan cheese.
Notes
You're going to find out there's no wrong or right way to make this. You can mess this up!