What's better than a blueberry muffin, bursting with fresh blueberries, with the consistency of a doughnut, double dipped in lemony icing that oozes into the muffin??? Not much, in my opinion. Blueberries and lemon have been best buddies forever.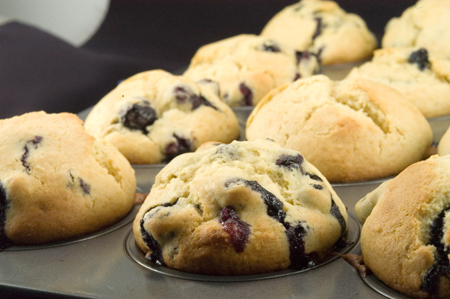 The texture of these muffins are more like a doughnut, than a muffin. But that's "A OK" for me. As with cupcakes, I love the velvety texture of cakes and muffins. And I think the blueberries tart and delicious taste, shines much more with a finer textured cake or muffin. Throw in the tart, lemony thin icing, you've got combination that truly brings out the flavor of the blueberries. Don't forget to dunk twice in the icing, the first coat seems to sink in to the muffin! I changed the icing recipe slightly, decreasing the vanilla to half, and increasing the lemon juice by a half.
These muffins are delicious any time of day. It doesn't have to be morning. I found this recipe on Pinterest from Jamie at My Baking Addiction. I am so glad I did. Her posts on Pinterest are so inspiring (and fattening!) you'll want to try several of her recipes. Thanks Jamie for a wonderful recipe!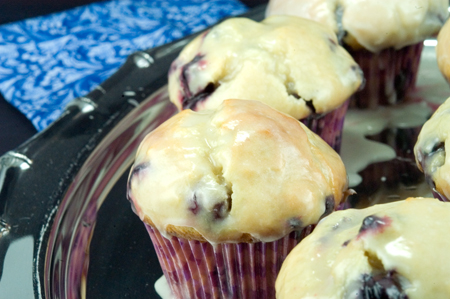 Print
Double Dipped Blueberry Doughnut Muffins
---
Description
These muffins are bursting with blueberry and lemon flavor!
---
zest of

2

lemons

1/2 cup

granulated sugar

1/3 cup

brown sugar

1/4 cup

unsalted butter, softened

1/4 cup

vegetable oil

2

large eggs

1/2 tsp

. pure vanilla extract

2

–

2/3

c. all-purpose flour

1

–

1/2

tsp. baking powder

1/4 tsp

. baking soda

3/4 tsp

. salt

1

c. milk

1

–

1/3

c. fresh blueberries
Glaze:

3 Tbsp

. unsalted butter; melted

1

c. confectioners' sugar; sifted

1/4 tsp

. pure vanilla extract

2 Tbsp

. freshly squeezed lemon juice

1 Tbsp

. warm water
---
Instructions
Preheat the oven to 425°F. Lightly grease a standard muffin tin, or line with 12 paper muffin cups.
In a medium bowl, combine the lemon zest and sugars. Use your fingertips to incorporate the zest into the sugars until it is moist and fragrant.
In the bowl of a stand mixer fitted with a paddle attachment or in a large mixing bowl with an electric mixer, cream together the butter, vegetable oil, and sugars until smooth. Add the eggs and vanilla, beating to combine.
In a medium bowl, combine the flour, baking powder, baking soda and salt. Stir the flour mixture into the butter mixture alternately with the milk, beginning and ending with the flour and making sure everything is thoroughly combined. Fold in the blueberries.
Spoon the batter evenly into the prepared pan, filling the cups nearly full.
Bake the muffins for 15 to 17 minutes, or until they're a pale golden brown and a cake tester inserted into the middle of one of the center muffins comes out clean.
In a medium bowl, prepare the glaze by mixing together the melted butter, confectioners' sugar, vanilla, lemon juice and water. Whisk until smooth.
When muffins have cooled slightly, dip the muffin crown into the glaze and allow the glaze to harden. At this point, you can leave them as is or go for the double dip. I glazed them twice.
Serve warm, or cool on a rack and wrap airtight. Muffins will keep at room temperature for about a day.