Who doesn't love chocolate and almond? These Chocolate Almond Cannoli (or should I say Sicilian Cannoli) are off the charts!
Whether you make your own shells or fill prepared ones, the fillings the king here.

Making your own shells is super easy though. All you need is cannoli tubes and a few ingredients. BUT…if you don't have the time or the patience….you can use prebaked shells. I used shells from Modern bakery. They know Cannoli.

But, I get bored with the vanilla, chocolate and ricotta varieties. I want something sensational!

This recipe for chocolate Almond Cannoli from Giada fits the bill.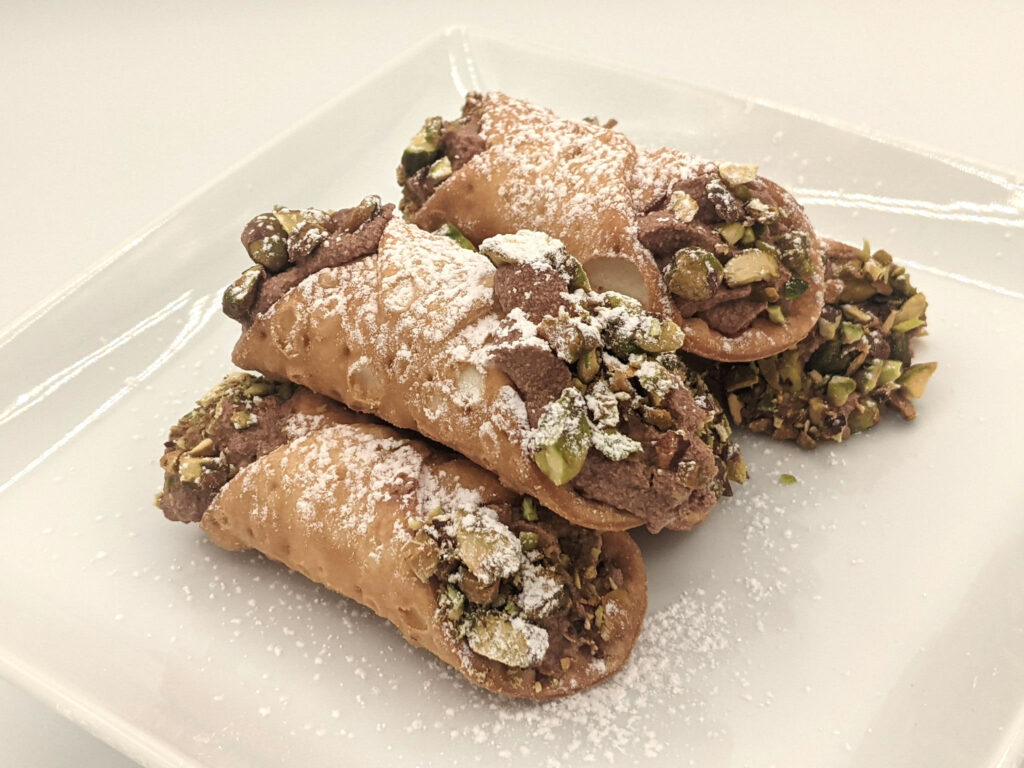 Add some chopped pistachios or sliced almonds and you will be in heaven. Trust me.

I make the mini ones as I have a thing with mushy texture and want the ratio of crunchy and mushy to equal out. That's just me. You can make these with the large or small size cannoli shells. 

When shells are filled, drizzle with some melted chocolate and sprinkle with some finely cut pistachios or almonds and a few raspberries. 

If you want an elegant dessert for your next party or even to WOW everyone at your next potluck, these cannoli are perfect!


Print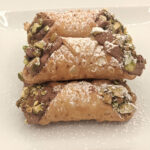 Chocolate Almond Cannoli
---
Description
Super delicious authentic Italian cannoli is perfect for any event. Your guests will ask what bakery you purchased from!
---
---
Instructions
Put the chocolate in a medium bowl. Heat the heavy cream in a small saucepan over medium heat until just beginning to simmer. Pour the hot cream over the chocolate and allow to stand for 1 minute before stirring with a rubber spatula until smooth and combined. Place a piece of plastic wrap directly on the surface of the mixture and allow to cool to room temperature. Once cooled, add the powdered sugar and whip to soft peaks with a hand mixer.
In a second medium bowl, whisk the ricotta and amaretto until smooth and combined. Gently fold in half of the chocolate whipped cream to incorporate. When just a few streaks remain, add the remaining chocolate cream. Continue to fold until completely combined.
Spoon the mousse into a 1-gallon resealable plastic bag or piping bag. If using a resealable plastic bag,  massage it toward one corner. Snip off the corner. Insert the snipped tip of the bag into the middle of a cannoli shell and gently squeeze to fill the shell, pulling out as you go. Repeat on the opposite end of the shell. Dip each end in the chopped nuts. Repeat with the remaining shells.
Serve immediately or chill in the fridge for up to an hour. Sift some powdered sugar over the top before serving.