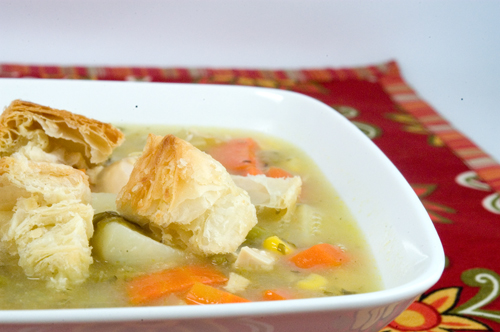 My husband and I were at one of our favorite restaurants, Red Blazer the other night, and my husband got Chicken Pot Pie soup. It smelled so good when brought to the table, just like chicken pot pie! They have such a great menu there, everything is made fresh, and lots of unique entrees to choose from. I decided to make the Chicken Pot Pie soup the next day, knowing I could make no problem with no recipe. Stews like that are right up my alley, and usually don't need a recipe to make that sort of thing.
It came out beautifully. I think this soup will be my next best friend! It is super easy to make! I even made the puff pastry croutons they had on top, which really makes it! The puff pastry is soaked on the bottom with the delicious chicken stew/soup broth. Delicious!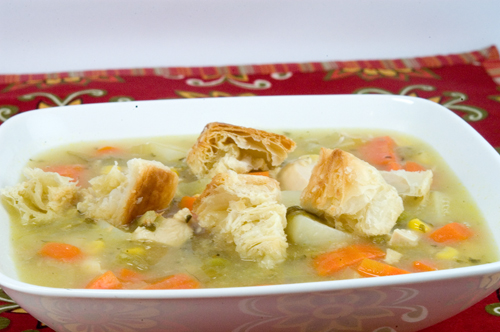 Print
3

–

32

oz containers low sodium chicken broth

3

–

4

chicken breast halves, boneless and skinless

2

Russet or red potatoes, diced in a small dice

1/2

large onion, diced

2

–

3

celery stalks, diced (I use celery hearts)

4

carrots, cut in to very small pieces

1/2

c. frozen green peas

1/2

c. frozen corn

1 Tbsp

dried parsley

1 Tbsp

dried celery flakes
salt & pepper
couple sprigs of fresh parsley

1 tsp

celery seed

1/2

c. heavy cream

3 Tbsp

or so cornstarch

1

sheet frozen puff pastry, thawed
---
Instructions
Cook chicken in chicken broth in a large stockpot on medium heat on top of stove. I also threw in a whole carrot, celery, and half an onion for flavor, to be discarded after cooking chicken. Cook approx. 20-25 minutes until chicken is cooked.
Remove vegetables and chicken. Shred chicken and put back in to broth. Add remainder of vegetables, herbs, salt & pepper and parsley (if you have it).
Cook soup until vegetables are tender, approx. 45 min or so.
Add heavy cream soup (make sure to add a little hot soup to the cream at first to temper the cream; then add to the soup).
Mix the cornstarch with a little water, and add to soup to thicken a little. Do this a little at a time until it is thickened to your desired consistency. Soup will thicken more when cool, so less is more.
Preheat oven to 400 degrees F. Cut puff pastry into small bite sized pieces, and place on a baking sheet. Bake for 10 minutes or so, until golden.
Add to the top of soup right before serving.
Notes
Puff pastry croutons tend to get soggy very quickly. Although they taste excellent soaked in to the chicken broth, they do get soggy quite quickly.